The Top 10 Best Online Batman Games for Kids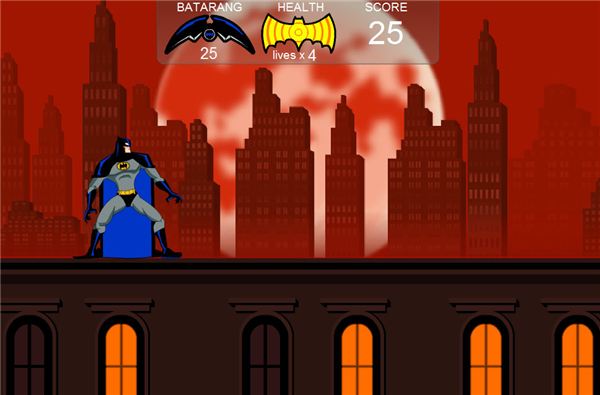 Batman: The Cobblebot Caper
Cobblebot Caper puts you into the shoes of the Dark Avenger to stop the devious plans of The Penguin and his gang. Using your keyboard, you can make Batman glide, kick, punch and throw batarangs at his enemies. However you will need to collect these modified boomerangs every moment to ensure you have a huge stock to kill the main bosses at the end of each level. The game is quite addicting and allows you to score plenty points, but later levels are slightly more challenging, and scoring points as well as collecting batarangs can be tougher than previous levels.
While playing Batman: The Cobblebot Caper, you will notice a stark similarity between artwork of Batman: The Animated Series and the game graphics. This aspect has been noticed in most Batman games released by Warner Brothers. Besides giving an original, retro look, it makes the game more interesting. All in all, this fun Flash game promises to be a super smash hit in the casual online gaming circuit.
Streets of Gotham Full Throttle
I have to admit I have never seen such an amazing 3D car racing game. And it's a double treat when you have Batman and other DC comic characters riding their way through deserts, streets and the sky. You can feel the adrenaline rushing through your veins while zipping through mountains, city streets and challenging racing tracks in the 3D environment.
Full Throttle is a fun racing game that allows players to take part in the Gotham Grand Prix. Yes, you read it right! You will zip and fly along City's wildest rides. Before you hit the streets, choose the car or bike that matches your riding style. There are plenty of motorbikes and attractive four-wheelers to choose from. This includes the Dark Knight's Batmobile and Batcycle as well as Catwoman's Catmobile and Joker's car. There are a few surprises too, including a sleek Batjet, which has to be unlocked first. You can unlock this beast of a flying machine by achieving the first rank in any one of the flying tracks (yes, In the Batman universe races take place in the skies too).
If you just love racing games and are a big Batman fan, you must play this game. It has everything a 3D car and bike racing game has, albeit the visuals are not on par with the big titles. Nonetheless, Full Throttle is worth spending a few hours and enjoying a decent Gotham Grand Prix. (Note: You will have to install Unity Web Player first before playing this 3D game.
Batman Vs Mr. Freeze
This game doesn't have any plot but focuses on one-on-one icy brawls between the Caped Crusader and his diabolical enemy. With graphics and artwork very similar to The Animated Series, the game is rather challenging because Mr. Freeze has a strange aerial craft that can create ice blocks out of thin air, thanks to the deadly "ice-rays". Batman has to stop Mr. Freeze's dangerous plan to control Gotham City and you will have to help the Gotham Knight defeat his archenemy.
Throughout the Batman vs. Mr. Freeze game, the main focus is to defeat Mr. Freeze by throwing batarangs towards his aerial craft. But the ice-ray always tends to block Batman's path to victory. To remove ice-blocks, you will have to use Batman's strengths to destroy those ice blocks. You can also create a ladder with these ice blocks to reach Mr. Freeze's aerial craft. Doing this will allow you to have an up close and personal encounter. You can play this free online batman game using your keyboard only, although the controls consist mainly of arrow keys to walk and jump and the space bar to punch those ice blocks.
Batman Skycreeper
The Joker's gone berserk and has trapped the Gotham knight between two skyscrapers. It's all up to you to help batman escape the clutches of the maniac clown by using the falling concrete blocks and metal beams to climb to the top of the skyscrapers. The blocks fall from a great height and so the speed at which they fall is faster than you can imagine, mainly because of the Earth's gravity.
In Batman Skycreeper, it's all about timing and so a good ploy to tackle these falling objects would be to plan your jumps and press the key at the right time to cling to the surfaces of blocks and beams. Oh, and avoid those deadly gas bombs thrown at you. You will have to climb quickly to avoid breathing the poisonous gases, but be careful not to get crushed under the falling concrete blocks, and if you aren't careful enough, it's game over!
Ultimate Rescue
Of all gadgets tucked neatly within Dark Knight's utility belt, the grappling gun or Batcable helps the caped crusader to swing through skyscrapers, rappel down and climb up tall buildings. In this game, the grapnel gun has a different role to play. You will have to use it to rescue other crime fighters from the criminals. Just click to grapple down from the top of the skyscraper and save Batman's friends. But be careful of the occasional bombs thrown at you. The more friends you rescue, the more the chances of going to the next level. The game is short, but fun and shows the many uses of the Line gun.
Mystery of the Batwoman
The mystery of the Batwoman needs to be solved and Batman is all set to uncover the truth of her origins. But before he does, The Penguin and his gang kidnaps Batwoman. You will have to help the Dark Avenger rescue the batsel in distress from the grip of the vile old Penguin and find who the lady bat is.
Mystery of the Batwoman has some cool visuals. The graphics are quite similar to the artwork seen in Batman: The Animated series. In fact, most of the best online Batman games for kids use the same visual style to give a cartoony look to the game. The keyboard controls are easy and the use of each key is explained at the beginning of the game. The Flash game loads quickly and is a good platformer suitable for kids and teens.
Batman Dynamic Double Team
We have seen Robin accompanying Batman in his daring adventures, but this time the Blue Beetle took up his mantle. However, he won't be there every time to rescue Batman. You will have to beat up a few aliens and collect blue scarabs. The more scarabs you gather, the quicker the Blue Meter fills up. Once it fills ups, press the Space tab to invoke Batman's new sidekick.
Make sure you call in Blue Beetle at a time when the caped crusader is surrounded by those ugly baddies. When your sidekick enters the battle arena, the screen freezes for a few seconds and he unleashes some of his most deadly punches and kicks to defeat the enemies.
This cool beat 'em up can get challenging after completing the first few levels of gameplay. The addictive game requires the latest Flash plug-in and a good browser, preferably Chrome.
Batman: The Dark Ride
The Dark Knight is all set to ride through steep hills and you will have to help him reach the target. Dark Ride gives you a chance to guide his bike through various obstacles, collect points and perform some acrobatic stuff to earn points. A flip here and a flip there will add more points to his kitty, but the road is bumpy and you will have to use your keyboard arrow keys carefully.
The Dark Ride has some amazing visuals. Every new level has a unique and vibrant background. The game will blow you away with its splendid artwork and the awesome flip animation. Packed with amazing visuals, sound effects and challenging levels, this game is a must-play for all Batman fans.
Batman Thief Locator
When Minesweeper meets Batman, you get Thief Locator - a fun game that allows you to scan the streets of Gotham City to hunt down his archenemies. In each level, you will be tasked to locate a super villain by clicking on a square grid. Each click will give you clues about the villain's whereabouts.
But there's a twist in gameplay - you will have only 20 spare clicks to use and will have to track and locate Batman's archenemy within these clicks. A few good clues might help you come closer to the thief, but some of them can be misleading and may lead you to a trap. So use your logic and track down his enemy in as few clicks as possible.
To make things a bit easy, the game offers bonus items hidden in blank squares. There are bonus squares that grant extra moves, cash bags, and free squares to help you save your clicks. There are booby traps too and if you accidently come across these traps, you will lose one, or worse, three moves. The game can get very interesting and challenging once you've solved the first few cases.
Gotham Dark Knight: Total Blackout
Just like Batman vs. Mr. Freeze, Total Blackout is a single frame one-on-one brawl between the caped crusader and his archenemy. This time it is Batman's most dreaded foe–The Joker, whose plan is to blow the Power plant in Gotham City. Only you can help Batman save the city from this menace.
The game does not focus on platforming; neither allows you to have a dig at Joker. It tests how quick you are in defusing bombs placed by Joker at every corner of the Power plant. In each level, The Joker plants 3-4 bombs in different areas. Each bomb has a timer, which triggers a blast when it ticks down to zero. You will have to be quick enough to defuse each bomb before the timer runs out. Total Blackout is different from other free online Batman games for kids and seems quite challenging than the rest. Happy defusing!
References
This post is part of the series: The Top Online Flash Games Featuring Your Favorite Superheroes
Your favorite comic book superheroes are now online, thanks to the efforts of Flash game developers. You can now play Justice League, Spiderman, Wolverine and Batman games online. All you need is a good browser, the latest version of Flash or Shockwave player and a good Internet connection.