The Best Free Online Superman Games: Fun for Kids & Adults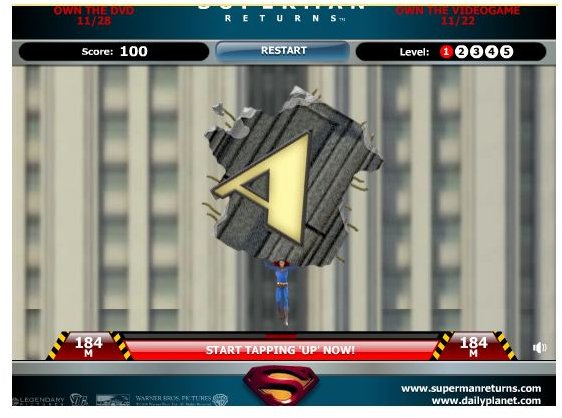 Superman, the first comic book superhero, has ruled the hearts of millions of comic book fans. Seen as an American cult icon, Superman first appeared in Action Comics (June 1938) and subsequently appeared in various television series, cartoon strips and radio shows. The iconic superhero is the brainchild of Joe Shuster and Jerry Siegel and has a significant cultural impact on the minds of people. The name "Superman" and other popular names such as Brainiac and Kryptonite are used to explain invincibility, intelligence, and weakness.
Superman has also appeared in numerous board games as well as video games. The first board game, called The Adventures of Superman, was released in 1940 by Milton Bradley, and the first video game was designed for the Atari 2600 in 1978. Later, action Superman games were released for the Commodore 64, Nintendo Entertainment System, Sega Mega Drive, and Windows platforms. Superman also made special appearances in Mortal Kombat vs. DC Universe and the Justice League Heroes console games. The online universe also has a wide variety of Superman games for kids and teens. These Superman online games are action-packed and sport excellent 2D graphics. Here are some of the best free online Superman games:
Superman Returns: Save Metropolis
The fictional city of Metropolis is in danger and it's up to Superman to save citizens from the dangerous falling debris and wreckage. This nice action game completely relies on your quick reflexes. You will have to press the press the right and left arrow keys to steer Superman and smash the falling debris. While smashing concrete debris, be careful not to hit any falling Kryptonite, since it deducts 500 points from your total score.
Once you have disposed of all debris, huge wreckage comes rushing towards Superman. To overcome the weight and dispose the wreckage, you need to tap the up arrow key constantly to raise the red-color bar to the maximum level. Once it reaches the max level, Superman slows down and throws away the wreckage to earn bonus points. Superman Returns: with 5 levels of intense button mashing fun, Save Metropolis is one of the most entertaining free online Superman games on the Internet.
Play Superman Returns: Save Metropolis
Superman Returns: Stop Press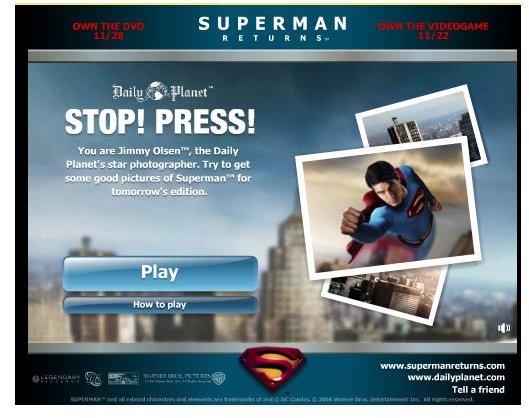 Step into the shoes of Jimmy Olsen, Daily Planet's photographer, to capture the best shots of Superman in action. You get points when you take the best photographs from an in-game digicam. Use the mouse to move and aim the camera and click to take a picture.
The best shot receives the good ratings out of 10 and the photograph makes it to the front page of the Daily Planet. You can also use the '+' key to zoom in and take a close-up shot, which further enhances your photo-taking capabilities and earns you more points. There are different levels with excellent scenic backgrounds from cities like Sydney, London, Hong Kong and even the fictional Metropolis. Compared with other Superman online games, Superman Returns: Stop Press is fun to play and will certainly appeal to kids.
Play Superman Returns: Stop Press
Superman: Metropolis Defender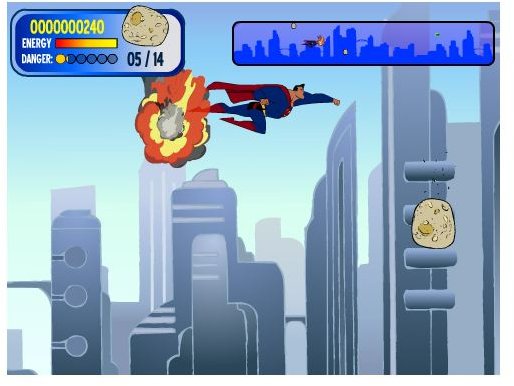 If you have watched any of those Superman animated cartoon shows, then Metropolis Defender will certainly make you feel at home. This free online superman game sports 2D graphics similar to the animated series. Players have to help Superman save Metropolis from meteors using his heat vision. Smashing meteors with Superman's powerful fists is also a great option to get rid of the rocks, but gamers have to make sure they don't miss any meteorite. A missed meteor raises the danger bar and the game ends when the bar reaches the maximum level.
You will have to use arrow keys to move and spacebar to unleash heat vision. This special power is only used against meteors made from kryptonite. You can speed up Superman by pressing the Shift button. Among the best free online superman games, Metropolis Defender is the most playable online game on the Internet.
Play Superman: Metropolis Defender
This post is part of the series: The Top Online Flash Games Featuring Your Favorite Superheroes
Your favorite comic book superheroes are now online, thanks to the efforts of Flash game developers. You can now play Justice League, Spiderman, Wolverine and Batman games online. All you need is a good browser, the latest version of Flash or Shockwave player and a good Internet connection.