The Best Free Online Brain Games: Free Online Brain Teaser Games and Websites for Kids and Adults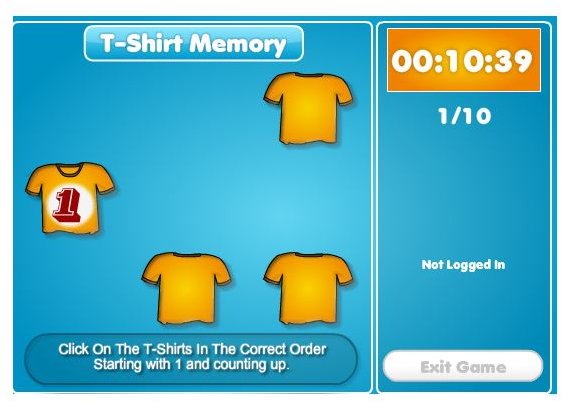 Free Online Brain Games
The human mind is one of the most complex mechanisms of the human body. According to Tony Buzan, author of Head Strong, "The human brain has the capability of initiating ideas more than the number of atoms in the known universe." The human brain works much better and quicker than imagined, and that's why we need to boost our intelligence, memory and sharpness in solving difficult day-to-day problems. Various self-help books, board games and puzzle games have been devised to train the brain, but we can only boost our intelligence and memory if we "exercise" our grey cells regularly.
We humans seek different ways to train our brains, be it solving crosswords or scratching our grey cells to solve a Sudoku puzzle. With the PC and internet revolution, brain games have evolved from simple paper-pencil puzzles and brain teasers to online brain teaser games with attractive graphics and play value. A simple logic puzzle like Sudoku now has different online variations that make everyday puzzle-solving much entertaining and fun. Brain teasers have also evolved in the form of online room escape games, which tests your intelligence by providing few solutions to escape a locked room. Today, there are several online brain games and brain teaser games over the internet. Numerous sites are dedicated to provide the best teasers, puzzles, riddles and other brain games to sharpen your deductive logic kills and improve your intelligence. Here's an excellent compilation of free online brain games and free websites that have a nice selection of brain teaser games:
Best Online Brain Games: Brain Training Gym
You can consider this free flash game a mini training ground to boost your intelligence and memory. Brain Training Gym tests your observation, intelligence and memory through a series of online brain games, math puzzles and memory tests. The Quick Play mode lets you play four games: Stroop Test, T-shirt Memory, Calculations, Piggy Bank. The T-Shirt memory game tests your brain by presenting a group of numbered T-Shirts that need to be clicked in the right numerical order as quickly as possible. Other games like Calculations and Piggy Bank tests you mathematical skills and intelligence. Each game has a timer which measures how quickly you solve them. At the end of every brain game (read 'test'), a box will display your results along with the top score of the day. You can either go for the Quick Play mode or register to get more free online brain teaser games from the website itself.
Switchman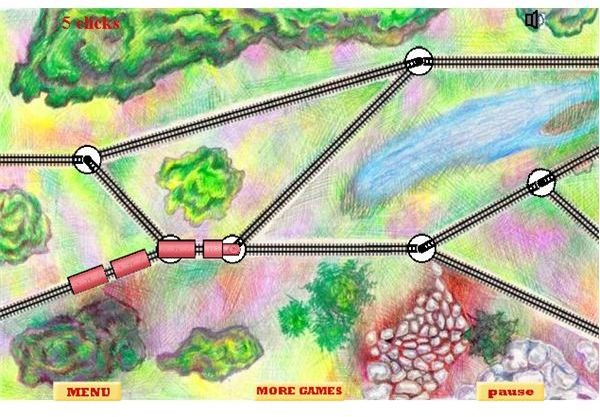 Switchman is one of the best free online brain games for kids. It tests the information processing speed of your brain. In this game, you are a switchman whose goal is to lead the train to the right destination by switching tracks. At first, switching tracks will be easy as there's only one train involved, but it can get difficult as there will be more trains in later stages, which means you will have to be quick enough to switch tracks and lead them to their destination. Switchman boasts minimal 2D graphics, but the gameplay can be very addictive, especially if you select the Career mode.
Best Sites for Brain Teaser Games
Besides free online brain games, there are numerous sites that host free online brain teaser games for kids and adults. These games range from classic logic puzzles like Sudoku, GridWorks and StrimKo to everyday trivia riddles and loads of brain teasers. Here are some of the best websites that have a nice collection of online brain teaser games:
Games for the Brain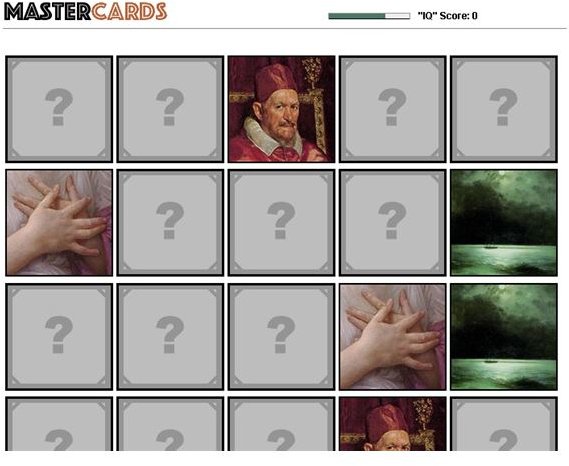 This unique website is the central hub for your daily dose of free online brain games. Games range from simple jigsaw puzzles to classic games like checkers, chess and Mastermind and different memory games. The unique aspect of this site is a tiny IQ score bar located at the top right corner of the screen. If you take time to solve a particular puzzle game, the IQ bar will decrease, which will mean less scores for less IQ.
Puzzles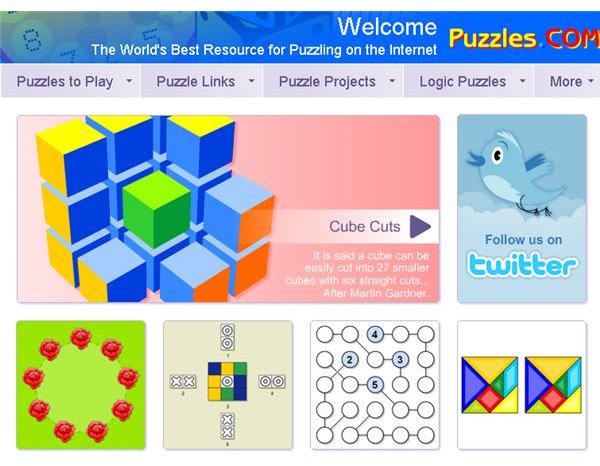 The site is exclusively for those who love to solve intricate logical puzzles like GridWorks and Strimko. There are over hundred challenging Gridworks puzzles that can be downloaded in printable format as well as played online. There are numerous innovative free online brain teasers created by puzzle moguls such as the brilliant Lewis Carroll, Martin Gardner, Mel Stover and Nob Yoshigahara. You can download the printable version or play online, but mind you these deceptively looking puzzles are very tough to solve, especially because these are created by puzzle legends.
Braingle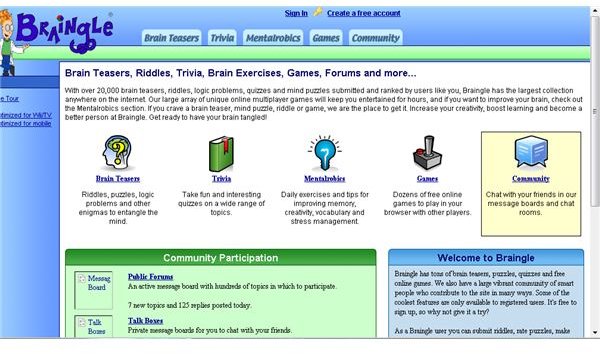 If you are looking for the largest collection of user-submitted brain teasers, riddles and puzzles, then Braingle.com is the right puzzle hub for you. With an array of online multiplayer games, quizzes, unique optical illusions and mind puzzles, this site is a Mecca for puzzle lovers. Puzzle fans craving for mind-bending free online brain games and looking to increase their puzzle-solving skills, creativity and want to boost their learning skills will love Braingle to the core.