Fish Isle Basics
If you have played Facebook games such as Farmville, then Fish Isle will be very familiar to you. This game also has some neat concepts such as the ability to add land to your island and develop it anyway that you wish. You can use the selection to select all your fish nets for quicker harvesting and releasing of eggs and your nets must be cleaned before you can use them again.
Playing The Game (4 out of 5)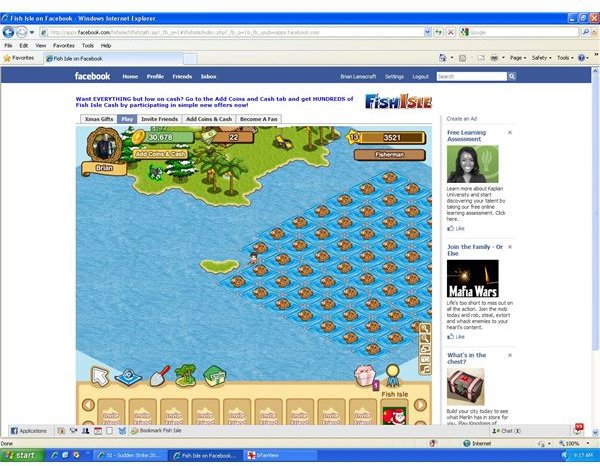 In Fish Isle you have two areas, the sea and your little island. On the sea you can do your fish farming, while your little island area can be decorated the way that you want. You can add a house, trees, hut, tent, and other buildings to your island for some variety. Not only can you add items to your little island but you can also add land tiles to the island. This allows you to mold your island the way that you want. You could even make several small little islands using the tool. The ability to shape your game play area makes this game unique among the farming style games on Facebook.
Farming Your Seafood (5 out of 5)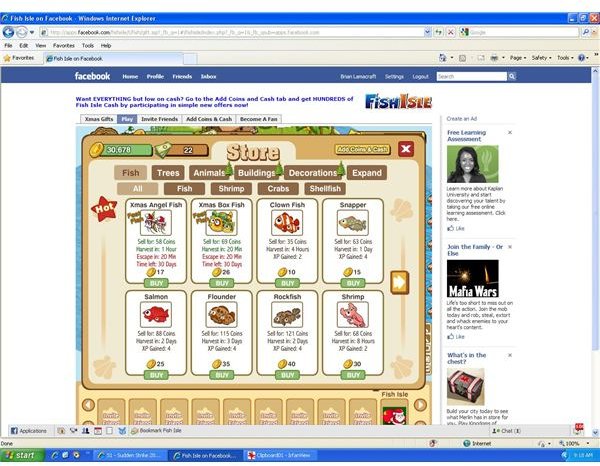 The basic idea of Fish Isle is to farm some fish and other seafood. To do this you simply lay down some nets and fill them with whatever fish you want to add. You can chose from salmon, sardines, snapper, flounder, crab, clams and others. Each seafood type will take a certain amount of time to develop from eggs. If your going to play every day then you will want seafood that you can harvest right away. If your going to be away from Facebook for a few days, you might want seafood that takes one or two days to develop so your catch doesn't spoil. Once your seafood is ready you can harvest it, clean the nets, and your set to go again. If you have many nets use the auto-release selection tool to quickly fill all nets with the seafood that you want. With this feature you can only fill all nets with one seafood type you can't mix it up. So for example, if you auto-release flounder, all your nets will be filled with that fish.
Fish Isle Game Interface (4 out of 5)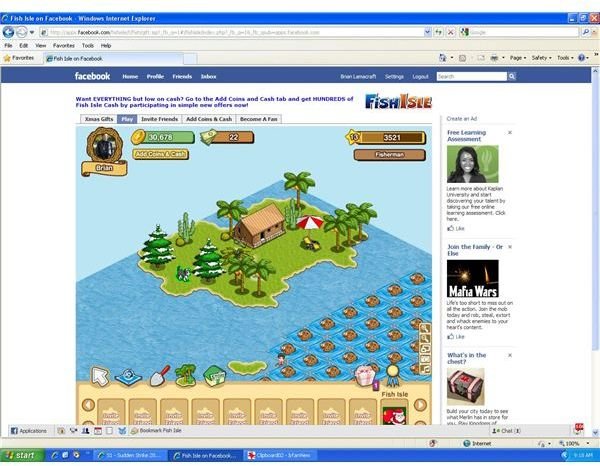 The interface of Fish Isle works like many Facebook games and has the same basic tools. You can zoom in out, take a picture, turn off music, and toggle full-screen if you wish. These tools are located on the far right hand side on the interface. Let's look at each of the main tools and find out what it does.
Multi Tool – Use this tool to auto-harvest, auto-release, and auto-clean your nets. This options will save you time but you can't pick and choose which nets you want maintained it does them all at once. If you want to auto-release fish you can only pick one fish type using this feature.
Cast Net – With this tool you can put down your fishing nets one at a time. This tool is great if you want to auto manage each net and not auto-release.
Delete Tool – Dees what it says deletes any tile of it's contents.
Island Tool – Use this tool to add pieces of island one title at a time to your water area. You can even make a bunch of small islands if you want to.
Store – Standard storefront found on many similar Facebook games. Here you can purchase your decorations and seafood for your nets.
Gifts/Awards – These two icons allow you to manage your gifts and see any ribbons you have won in the game.
Fish Isle Decoration Options (4 out of 5)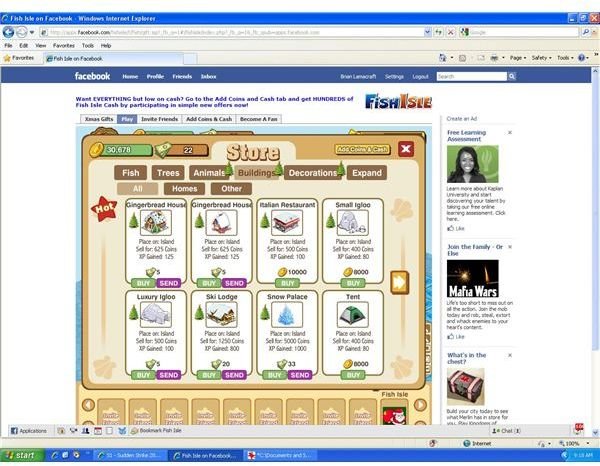 Fish Isle provides many decorations and items for your island as well as many seafood types. You can decorate your island with trees you can harvest, different buildings, animals, boats, buoys, fences, chairs, and statues. The selection isn't quite as good as with other Facebook games in this style but you will find some quality items to add to your island area. Some of the decorations are ocean area only so you have the option of making your ocean tiles a bit more colorful too.
Conclusion
Fish Isle provides many different gifts you can send to your friends and also has theme gifts you can send during holidays. You can invite your friends to the game and visit their farms. The game doesn't have a help section that I could find and this needs to be added for new players. I liked the music theme with the ocean sounds and mellow guitar playing which was a switch from someof the moreannoying tracks on other games. The ability to create your own islands givestis game aunqiue twist on other farming style games found on Facebook making Fish Isle worth playing.