Hints and Tips for the Fishdom Game - Using Bonus Pieces, Selecting Fish Tank Items, Earning Money and other Match Three Game Hints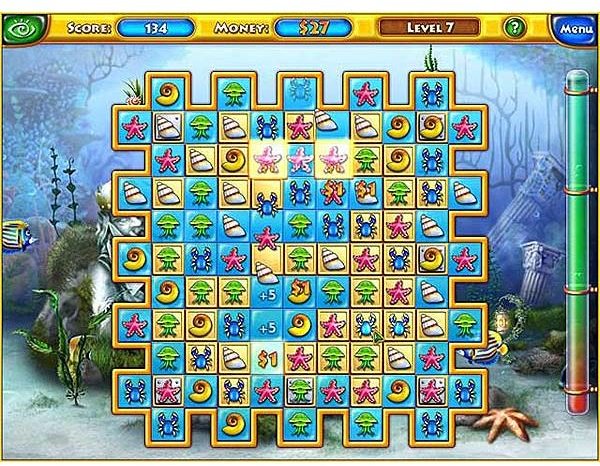 Playing the Fishdom Game
Fishdom is a match three style game where building the ultimate aquarium is your main goal. In an aquatic themed environment, match lines of items to removed gold tiled background pieces in the gaming grid area. Bonus pieces can be earned by completing a particular number of matched items. Each level is timed. As you progress in the game, obstacle pieces are placed in the grid which increases difficulty.
Successful completion of a level earns money. Scored is tallied by time, number of matched lines and use of bonus pieces. In between levels you can go to shop for items needed in your aquarium. You can use money to buy items that improve the beauty, comfort or number of fish in your tank.
New tanks become available in the Fishdom game as you completely equip your existing tank. You must have enough items in each of the purchase categories to equal 100%. An indicator lets you know your current percentage with each type of item.
The game has a lot of replay ability and seems to have an unlimited number of levels available. However, you can feel a sense of completion once all three fish tanks have been unlocked. The tanks you create can also be used as a screensaver for your computer.
Game Hints and Tips
The firecracker bonus item destroys all items within a one tile radius. This item appears randomly as you earn match three game grid lines. Activate it by clicking on it or dragging it to an adjacent location.
The depth bomb bonus item destroys all items within a two tile radius. You can earn this item by matching a line of five tiles.
To unlock tanks faster, buy the most expensive items. The comfort item category can be completed quicker than the others.
Clicking on the icon at the upper left corner of the screen will pause the Fishdom game.
Locked pieces will require two matched lines to remove. The first match unlocks the piece and turns it into a regular gold tile. Your second match will get rid of it completely.
The lightning bonus item can be earned by using seven explosives (such as the depth bomb) on a game level.
Double locked pieces require three matched lines to remove. The first couple of item matches will unlock the piece and turn it into a gold tile. The third match will remove it completely.
Game match hints are indicated by red arrows pointing to a specific set of tiles.
Finishing game levels in the fastest amount of time earns higher scores. Failing to complete a level does not earn or lose you any money.
The fishes in your tank let you know what they need by thought bubbles that appear above their heads while you are in the shop screen.