Fishdom Frosty Splash Game Hints and Tips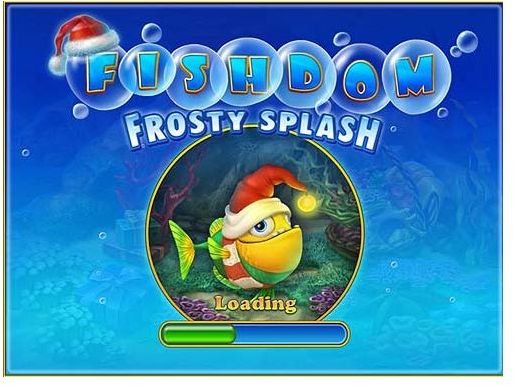 About Fishdom Frosty Splash
In this version of Fishdom you solve match three puzzle game levels in an icy Christmas style environment. With the money you earn during play customized fish tanks can be built with winter themed decorations, fish and other interesting looking items.
How to Play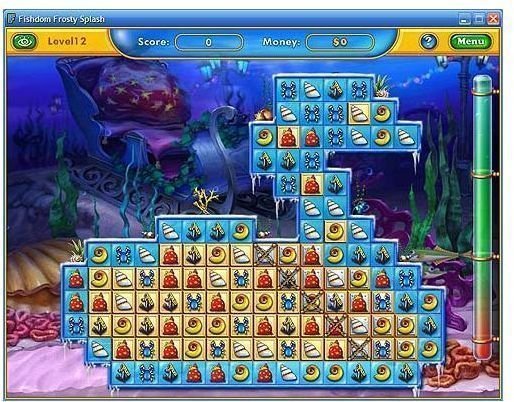 Game play is consistent with the other Fishdom games in the series. In each level you will need to remove gold tiles by creating matches of three or more like items by clicking and moving icons to adjacent positions on a game board.
As levels progress, obstacles and odd shaped game boards add to the challenge of the match three puzzles. To help you out, bonus explosive items can be earned by creating matched lines of four or more items.
At the end of each successfully completed level a summary screen will show total amount of money you earned.
With this money you can purchase items in the Shop that will go towards your customized fish tank. Buy new fish, decorations and comfort items to keep your fish happy. New fish tanks become available to you once you earn a bronze trophy for adding enough variety of items to your current tank.
Game play can continue indefinitely since there are unlimited levels and fish tanks in Fishdom Frosty Splash.
Game Hints and Tips
Earn more money by completing each level in the shortest amount of time.
Use explosives by double clicking or moving them to an adjacent location.
Locked tiles have a gold tile hidden underneath them. The item on the tile cannot be moved directly. The gold tile can be revealed by destroying the lock with an explosive or by matching.
Depth Bombs are explosives that can destroy everything within a radius of two tiles. You can earn them by matching lines of five like items or more.
The Firecracker explosive destroys all items within a radius of one tile. You can receive them when five or more items drop down as a result of a match.
Failing to complete a level successfully does not result in loss of life or money.
Silver tiles can be removed through matching or explosives. However, the item on the silver tile can be moved directly.
Pause the game and view the background scenery of the board by clicking on the eye icon in the top left corner of the screen.
Get the lightning bonus by using seven explosives of any type on the same level.
The Warhead explosive destroys every item icon within a radius of four tiles. Earn this bonus by creating matched lines of seven or more like item icons.
Double locked tiles can be removed by creating two matches or activating two explosives. Alternatively, you can use a combination of a single match and explosive.
Image Credit
Fishdom Frosty Splash screenshots were taken by Sheila Robinson.