Youda Camper Flash Game Review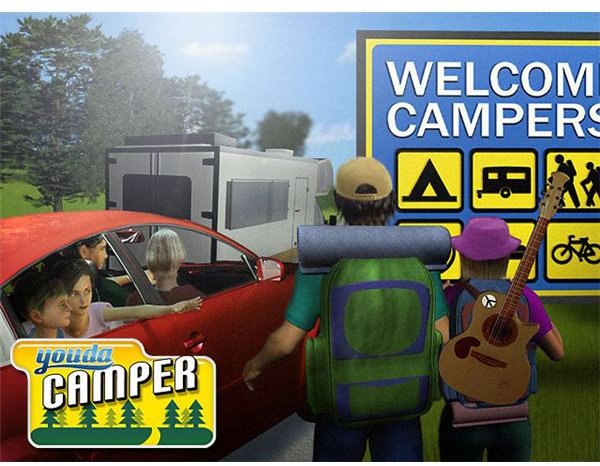 (4 out of 5)
Youda Camper is a resource/time management game, where you have to set up a camp site, invite campers and earn rents collected from the campsite. The longer the campers stay the more rents you earn. From building tents to constructing entertainment complexes to managing customer complaints, the game tests your time and resource management capabilities.
Gameplay (4 out of 5)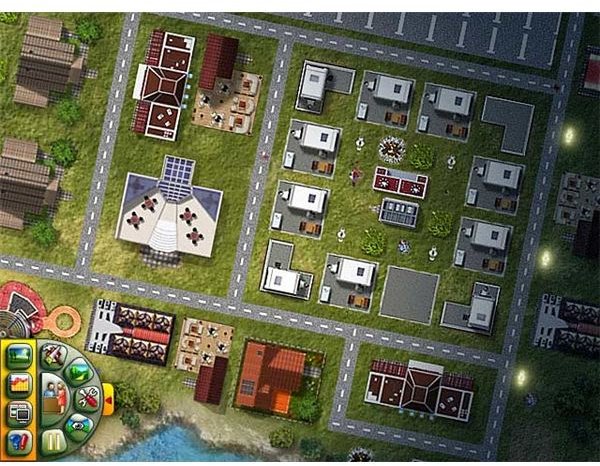 The gameplay mechanics in Youda Camper will remind you of Build-a-Lot games. You have a barren piece of land where you build tents and facilities for campers. You don't have to worry as the travelers will automatically park their cars outside the campsite. All you have to do is build a tent first, click on a camper's car and drag it to the tent area. But, you will encounter many nagging customers and cleanliness obsessed campers who either want their car parked far away from any natural settings or want a trash can located near the campsite. You will have to build roads and car parking areas and plot trash cans besides every tent to make sure you meet the requirements of your customers. If any customer gets disappointed with your services, it will vacate your tent immediately and cause some loss to your flourishing business.
At the first level you will taste the complexities of a typical time management game in Youda Camper. Campers will keep on coming and you will find yourself tangled between building tents for new campers and satisfying existing campers' demands. If there's a slight delay in putting new campers into vacated tents, they will leave immediately. You will not be able to earn any rent from such campers. However, a new car will be parked—ready to be put into a new tent.
The key challenge in this game is managing resources and space. You will have to construct tents in such a way that it allows space for other tents and facilities. In later levels, you might also have to build entertainment complexes—a unique diversion in a game like Youda Camper. You can construct discos and bingo halls to enhance the camper's entertainment value. This will help you receive better rent and longer stays. Additionally, you can enhance the campsite's value by broadcasting and publishing ads in television and magazines to attract more travelers.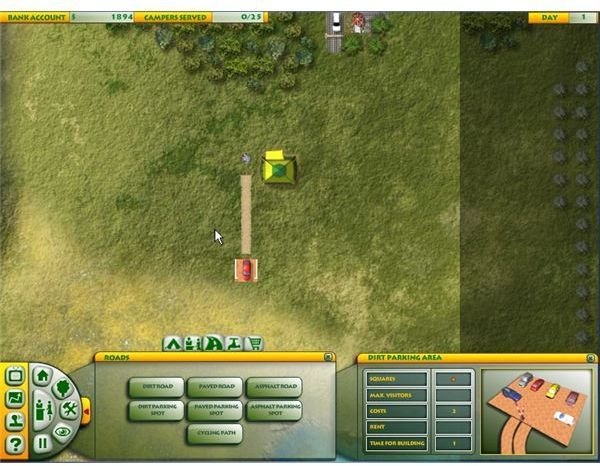 The game is very challenging as you will have to plan a camp site early on. One minor flaw in setting up a camp site can cause fewer customers and huge losses. For beginners, the game will not be easy. However, the on-screen help can provide some suggestions on basic gameplay touches. The controls are very easy. You have a good menu interface which helps you navigate through various options easily. You can also press hot keys to build tents and other complexes. The game is worth a try, but a trial Youda Camper free download is recommended before purchasing the full version.
Graphics (3 out of 5)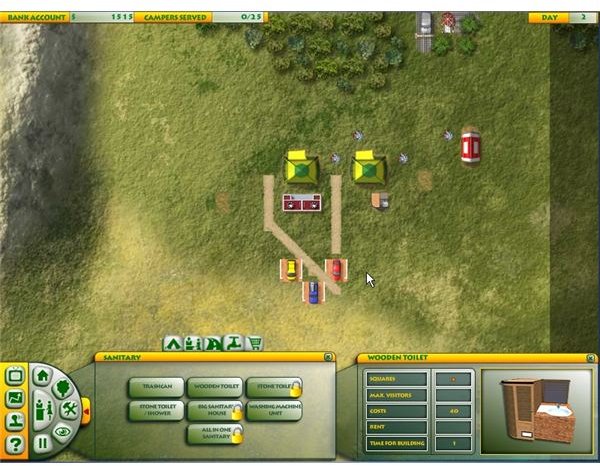 Played from a bird's eye view (i.e. top view), Youda Camper boasts very simple graphics. The tents, cars, and buildings look like play toys. Sadly, there's no zoom option to have good control on each tent. You won't notice much animation, except very tiny people that require a magnifying glass and static buildings. The low-resolution graphics look more like an architectural mini map where architects plot toy structures to devise a building plan. Nonetheless, the greenery and the landscape will certainly make you feel you are playing a camping game.
Sounds (3 out of 5)
The chirping birds and other nature sounds are done nicely. The developers have succeeded in their attempt to create a campy atmosphere. The construction sounds can be a bit pain in the ears, so it is better to keep the volume low when playing Youda Camper. You can tweak the audio settings and increase the FX volume to have a chirpier environment. Unfortunately, there are no specific music options. Only one background music keeps on running in the background, so it's better to turn it off than hear the repetitive music.
Overall
Youda Camper is a good game for kids, girls and all casual gamers who love playing time management games. However, if you compare it with games like Build-a-Lot, you might feel this game is a bit weak, particularly in the graphics and sound department. Before you buy, I would advise you to play Youda Camper online free or download the trial version before buying it.