Free SpongeBob SquarePants Computer Games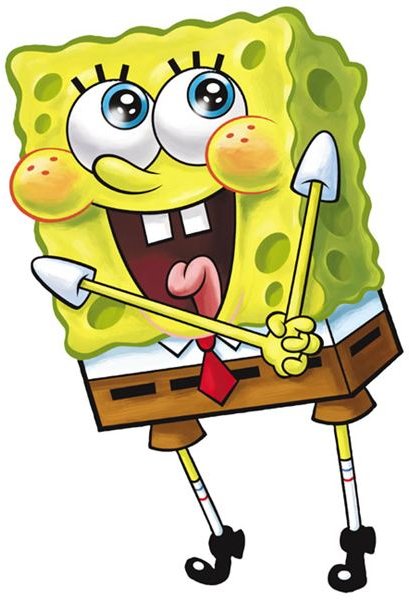 SpongeBob SquarePants Animated Series
Animator Stephen Hillenburg created SpongeBob SquarePants for Nickelodeon back in 1999. The series quickly became a fan favorite and popularity grew until SpongeBob SquarePants became its own franchise. The show remains the highest rated cartoon series for the Nickelodeon network and will soon become the network's longest running animated series with the completion of its eighth season.
The show is centered around its main character SpongeBob SquarePants and follows the exploits of him and his friends. SpongeBob lives in a little undersea community called Bikini Bottom where his home is a pineapple. His trusty pet snail Gary, as well as his best friend Patrick Star are normally featured and are sometimes the cause of SpongeBob's problems. The main theme that runs through each episode is the positive spin and extra helping of enthusiasm that SpongeBob brings to living his life everyday. From working at the Krusty Krab to sitting in an empty box with Patrick and playing make believe, SpongeBob always gives his all.
Because the show is such a popular one for Nickelodeon, the network has developed its own domain that features plenty of free games and activities.SpongeBob 's site features over one hundred free computer games for kids. Here we are going to take a look at the five best games that are available.
For more on popular kids games, check out PBS Kids Free Online Gaming and Free Chowder Games For Kids.
Picture Day Disaster
SpongeBob is getting spiffed up for picture day down at the boating school. His only worry is that he may not make it through town walking there without getting a little dirty. In for a big surprise, SpongBob will soon find out that there a lot of obstacles out there just waiting to get him dirty for picture day.
From paint balloon throwing teenagers, jelly fish and random holes in the sand there are many things that SpongeBob needs to get through. Try your hand at playing SpongeBob and see if you can get him all the way to boating school in his fresh and clean state. Click through to play here: Picture Day Disaster
Invasion of the Patty Snatchers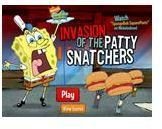 Plankton is up to his same old scheme of grabbing a krabby patty. This time though, he has created a robotic army from the Chum Bucket that will descend upon the Krusty Krab en mass. SpongeBob's job is to use all tools available to him which include his favorite spatula, ketchup, lettuce and even a spork to defend the Krusty Krab.
Make sure that none of the robots leave the restaurant with a krabby patty. This game is mouse controlled and the next level can only be obtained by killing all of Plankton's robots. Make it to the next level and SpongeBob will have earned more money to add more robot killing tools. Game play is offered in three modes from easy to hard. Get started with this game and see if you can save the Krusty Krab. Click through to play here: Invasion Patty Snactchers
Dirty Bubble Busters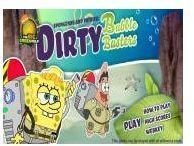 This computer game was created for part of Nickelodeon's The Big Green Help promotion that sheds awareness on being environmentally friendly. In this game, dirty bubbles full of unrecycled trash are floating through the sea upon Bikini Bottom. SpongeBob and Patrick decide to work together using their vacuum blowers to suck up these bubbles of dirty trash before they pop and spread trash all over the town.
Arrow key and mouse controlled, this game provides plenty of hands on game play. Additional obstacles include fish that have become infected with the trash bubbles who end up throwing more trash around. Become Patrick or SpongeBob and start cleaning up Bikini Bottom now! Click through to play this kids computer game here: Dirty Bubble Busters
Fiery Tracks of Fury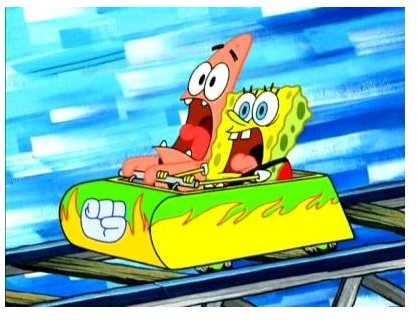 In this kids computer game, Patrick and SpongeBob are trapped on a ride in Glove World. Having gotten up the courage to try the roller coaster The Fiery Fist of Pain, it turns out that the two best friends are stuck on the ride and its gone out of control. Watch out for the Fiery Fist as it could pound the two in their roller coaster car at any moment!
SpongeBob and Patrick will have to collect as many cotton candy treats and red balloons as they can to gather points and make it through the ride. This game is mouse controlled and using the left mouse button will make the roller coaster car jump. Check this online computer game out and click through to play here: Fiery Tracks of Fury
The Krab-o-Matic 3000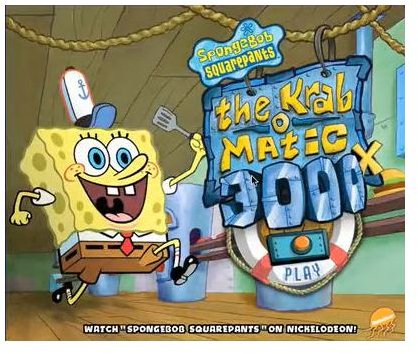 This computer game has SpongeBob working away at the Krusty Krab. He needs to make enough krabby patties before the clock runs out in order to make it to the next level. Two challenges in this game for SpongeBob is that he constantly has to make sure that each machine is filled with enough ingredients to make a krabby patty and he has to always be on the look out for Plankton, who will try to sneak into the kitchen and steal the secret krabby patty formula.
The game is keyboard controlled through the arrow keys and spacebar. Make enough krabby patties and you can move on to the next level. If you don't make enough krabby patties SpongeBob will get yelled at by an angry Squidward. Find out how many krabby patties you can make and click through to play this computer game here:The Krab-o-Matic 3000
*all images used are provided by and ©2009 Viacom International Inc.