Play Worthy SpongeBob Games Online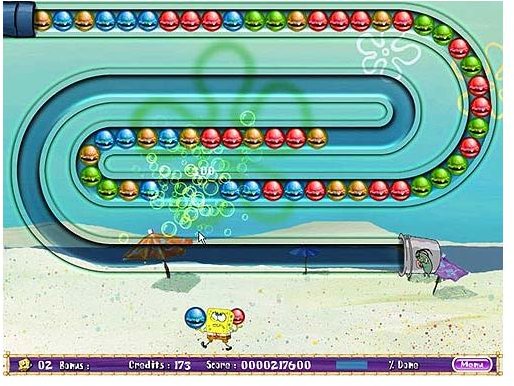 PLAY WORTHY SPONGEBOB GAMES ONLINE
SpongeBob SquarePants Bubble Rush
Mr. Krabs has designed a super machine that can instantaneously produce Krabby Patty burgers. However, Plankton has his eyes on it and wants to steal it for himself. Play as SpongeBob and protect Mr. Krabs machine by collecting all the Krabby Patty burgers it produces so Plankton cannot figure out the machine's secrets. Each level appears as a large conveyor belt. Burgers are encased in bubbles and drop down towards the bottom of the screen. Spongebob collects them by matching three or more like colored burgers and other items. Actions are controlled by arrow keys to move Spongebob in a horizontal direction underneath the conveyor belt. Matches are created by shooting the items held in Spongebob's hands by left and right clicking with the mouse. Levels become more challenging as a greater number of burgers are placed onto the conveyor belt in various directions and speeds. Try or purchase this Spongebob game online through the Arcade.Nick.com or Big Fish Games.com website.
SpongeBob SquarePants Diner Dash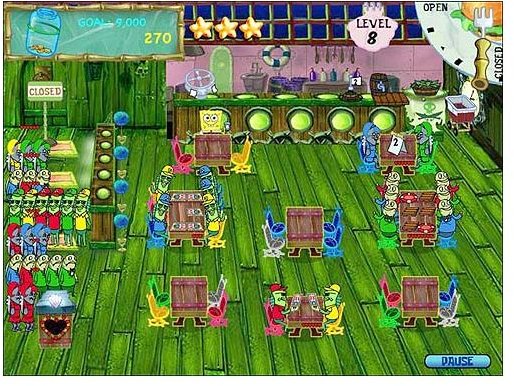 In this spinoff from the Diner Dash series, SpongeBob SquarePants works with Mr. Krabs to help him build a chain of restaurants. Play in time management game style by directing SpongeBob to serve food and help customers through pointing and clicking actions. In each level you need to successfully earn a specific amount of money and points within a limited amount of time. Higher scores earn gold, silver and bronze trophies. Play a trial version of SpongeBob Diner Dash or purchase it through the Big Fish Games.com website.
SpongeBob Atlantis SquareOff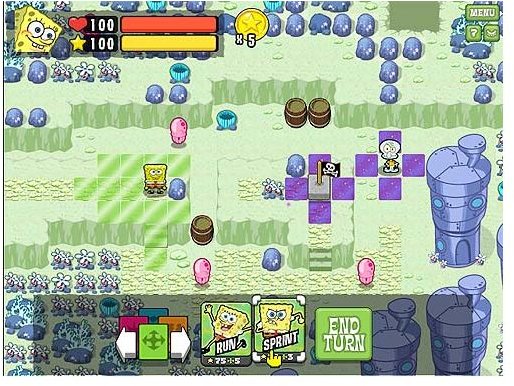 SpongeBob Atlantis SquareOff is an adventure game played with online cards. The lands of Atlantis have been occupied by the tyranny of Plankton. SpongeBob must free Atlantis by defeating Plankton's army of minions and reclaiming its lands. Battle Deck cards are used by SpongeBob to attack, move and defend himself through areas on the game board. To complete each level Spongebob needs to reach a flag while eliminating enemies that attack and get in his way. The game provides a lot challenge as players can use multiple types of attacks, such as a Bad Breath and Bubble Punch which are funny to watch when activated. To try this Spongebob game online, go to the Big Fish Games.com or Arcade.Nick.com website.
SpongeBob SquarePants Obstacle Odyssey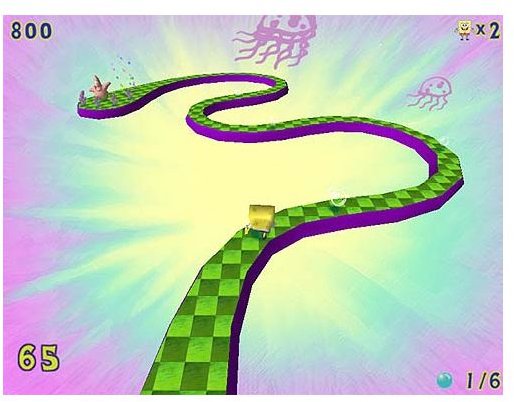 In this downloadable PC game found at Shockwave.com, help SpongeBob find his way through challenging underwater mazes while avoiding rocks, enemies and other obstacles that try to block his path. The mazes move and twist in multiple directions which adds additional challenge to the game. Control SpongeBob with a computer mouse and try to score the most points by completing each level in the shortest amount of time.
Ultimate Enemy Face-Off SpongeBob Game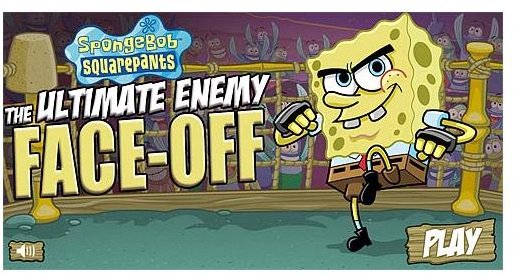 Ultimate Enemy Face-Off is an online SpongeBob game where you can create a customized character by selecting their head, body, arms and legs. The game is played by fighting enemies in one on one battle rounds. Actions are controlled by using the arrow keys on your PC keyboard. Each round continues until one or the character's life bar runs out. Check this game out by visiting the SpongeBob.Nick.com website.
Image Credit
Screenshot images for the SpongeBob games online article were created by Sheila Robinson.