Wii Golf Goes Crazy: We Love Golf! Review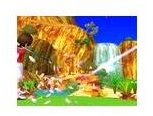 The best parts of We Love Golf (3 out of 5)
The Wii motions involved are free flowing, easy to learn and once you have them and practice for awhile, hitting good shot after good shot is a sure thing, which means any age can learn this game.
Cute, entertaining characters from familiar games playing on themed-courses, well animated and detailed enough for the kids, and funny and entertaining for adults.
Nice variety of modes, including an on line play against opponents from around the world, friends and family, using your Mii or one of the characters in the game.
The bad parts (2 out of 5)

Hard to believe that I could complain about a game being too easy, but after playing scores of hours and nailing the required motions with the Wii remote, We Love Golf! has lost its effect on me. Playing against other opponents on line using my Mii is about the only fun left for me, but since it can be hard to find opponents, I've moved on.
We Love Golf's graphics (3 out of 5)

The game-themed courses in We Love Golf! have a clear graphical presentation that will thrill the kids and maybe make you smile a little, with bright colors that certainly make the eyes jump, and game physics designed to entertain, rather than be realistic.
The characters are familiar faces you might recognize, depending on the games you play, but their animations are good enough to be reasonably entertaining for all ages.
We Love Golf's sounds (3 out of 5)
Good character voices making funny comments is always a hit and We Love Golf! has this element, with familiar characters from popular Capcom games, often a little out of their normal roles and element.
Nice, audible presentation of sound effects, cartoonish, but fun and entertaining just the same.
The sound track was familiar from playing other Capcom games, I couldn't always nail down the exact game, but they certainly used familiar material from earlier Capcom titles.
How does We Golf play (3 out of 5)

We Love Golf! comes with a tournament play mode, ring mode, target mode, near pin content mode, character mode, single player or multiplayer modes, and on line play using your Mii against the world. A polished title with helpful assists and game-guides to make the game easier to learn and play, once you learn how to play it becomes hard to miss.
The single player, target mode, ring mode, and near pin contest mode were the easiest modes, followed by the character mode, while the tournament mode wasn't much harder. The multiplayer and on line play was the best, with matches against on line opponents around the world that can provide a brief challenge.
The bottom line (3 out of 5)

A fun and enjoyable game from a proven maker of interactive entertainment, We Love Golf! isn't going to have Tiger Woods PGA Tour players booking a course time, but then it's really designed to be light and fun entertainment for the younger mind. With so many modes to play, We Love Golf! can keep the kids occupied through out a rainy day or cold winter day, and give them a little confidence that they can succeed.
Kids, parents and gamers who have played previous Capcom games will love the fact they can play against, and as some of the characters they have grown to love from Capcom's lineup of quality and fun interactive entertainment. The golf is easy and quick to pick up and not overly-picky, so after awhile you and the kids will be scoring birdies, eagles and maybe even a hole in one.
Those who have enjoyed We Love Golf! and other sports games may also enjoy We Ski.
References
All references and screenshots from We Love Golf!