Reviewing the Nintendo Wii Golf Kit with Sound Plus and Nintendo Wii Baseball Kit with Sound Plus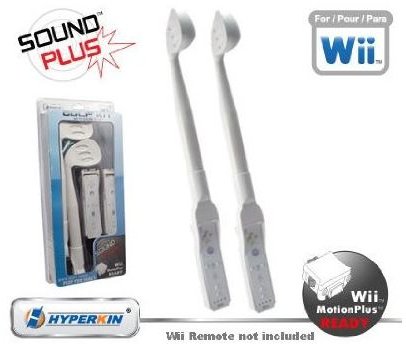 Batter Up…I mean "Fore" - Which "Sound Plus" Accessory Has Your Name On It?
Nintendo Wii accessories are designed to increase the "suspension of belief" when we're playing a game that requires something we normally would grab in our hands. The Nintendo Wii Golf Kit with Sound Plus and Nintendo Wii Baseball Kit with Sound Plus aren't too tough to dope out – one's a set of golf clubs while the others'a baseball bat. It's the "Sound Plus" that's tricky, what is it? And how does it enhance our gaming in a way that other similar peripherals don't? Before we get to that, we should define what exactly we're pulling out of that plastic clamshell.
What You See - Or How Close Are You Gonna Bring that Golf Club or Baseball Bat Anyway?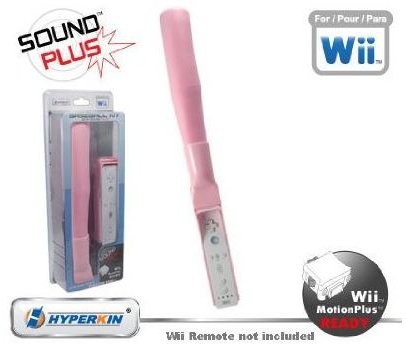 Structurally both the Golf kit and the Baseball kit are similar to plain-jane accessories that have already been put out: you get two golf club heads that attach to to a pole for holding, with the same basic functionality for the baseball bat. Both of these are made of soft foam in case somebody mistakes another person's head for a golf ball or baseball.
In all cases the club and bat are "representations" of the reality they represent since both are more "kid-sized" than "real-sized." You might say size doesn't matter and you could be right.
I appreciate that the bat comes in a choice of colors (which is to say it's the foam that does, not the white plastic handle), because frankly the pink wouldn't go over well in my house. The golf clubs come in white, pink or blue - and frankly I can see getting the ladies attention via color is a good way to attract a demographic that might not be so keen on golf. Here it's two golf clubs and two handles. The baseball bat goes the distance with blue and pink and white too so as long as you like those three colors, you're it.
Fore or Home run - We're Doing What Comes Naturally…To A WII Peripheral Controller (5 out of 5)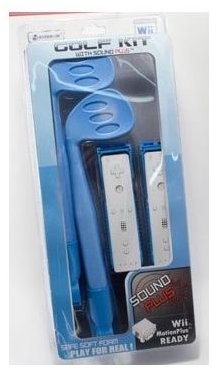 As you'd expect since these are Wii accessories, there has to be a way for the golf club or the baseball bat to interface with the game console. Which is where the trusty Wiimote (Wii remote) comes in: you fit the remote inside of the shell of the club/bat and use the entire club/bat as one much larger controller. The way the Wii fits into the club or bat is pretty simple and easily accomplished by anyone old enough to be holding one of these plastic/foam peripherals. But just in case… the foam golf club or baseball bat attaches to one end of the plastic handle while the Wiimote goes into the other end.
Accessing the other controls of the Wii is no more difficult since those relevant parts of the Wiimote are exposed rather than confined. The real issue is that unless you have that second Wiimote, you're only going to be getting half of the enjoyment from the peripherals - though some might say the sight of two pre-teens wielding golf clubs randomly doesn't bode well for pets or furniture.
And the Wii Motion Plus isn't put out of the picture since the accessories are designed so that it can be attached if desired. That's a pretty sensible thing to do even if few people seem to have gotten excited enough to go out and buy one.
We're Listening - What You Hear When Playing (5 out of 5)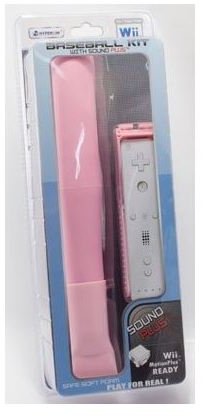 The real attraction of the Golf kit and the Baseball kit is the "Sound Plus"– which is to say that there is an audio speaker and rumbler effect working inside each of these that integrates with the Wiimote and what is happening onscreen.
It's not only smart but sensible - the "thunk" effect of a ball hitting a bat or the "twak" of a cub striking a ball both are experiences that are almost ingrained into our subconscious - we expect to hear that sound and feel that throbbing along our muscles. The bass rumble and (apparently) less than sophisticated rending of the effect is perfectly suited for these two accessories - not to mention keeping the price down to a manageable amount.
Were this to have been attempted for something more subtle, like paddle tennis for example, the effect might not register as realistic enough, even with the suspension of belief we all invest our gaming with. Of course this theory gets blown all to heck if Hyperkin makes a paddle set with Sound Plus…oh, they do?As Rossana Dana used to say, "Never mind."
Play, Play, Play
As you'd expect, there's no real value to using either of these "Sound Plus" as lightsabers (yeh, we tried, geeks that we are) or other [games](/tools/M-Rated Wii Games - Top Five Wii Games for Adults) - where they excel is when golf and baseball is zipping through the Nintendo's circuitry. Sound really does make a difference - so that's why golfers and baseball fans will find these peripherals worth having.