The Best Interactive Halloween Pumpkin Carving Games Online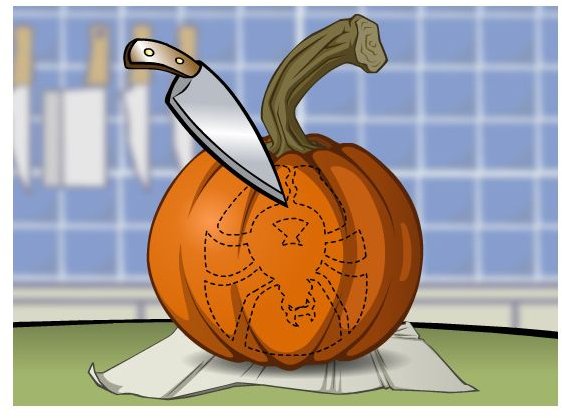 Carving Jack O' lanterns is one of the best kid-friendly Halloween activities. In North America, pumpkin carving is celebrated by many families who love to carve different faces and designs on a pumpkin. The pumpkins are quite large and are available in plenty and so most kids love to carve a pumpkin into something comical or frightening. Today, this fun activity can be enjoyed online as there are plenty of pumpkin carving games available free on the Internet.
While you may find many printable stencils of various designs and shapes available free online, there are many virtual pumpkin carving games available on the Internet. These include pranks and fun games that requires your creativity and sense of humor to carve Jack' O lanterns online.
Virtual Pumpkin Carver
Don't get confused with the game's title; it is not a video tutorial, but an online pumpkin carving game that teaches you how to carve an actual pumpkin using different knives and other household items.
In this game, you will have to select a knife, choose the design and then carve it over the stencil. But, wait, there's a special surprise waiting for you! So, get your virtual knives and carve the design of your choice in this fun online interactive game.
Flash Pumpkin Carving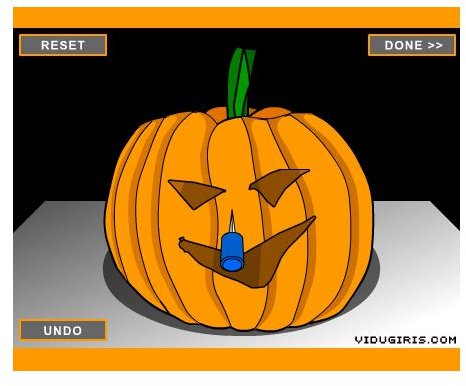 This is a nice little virtual pumpkin carving game that just requires your mouse to carve the pumpkin into the design or face of your choice.
Using your virtual carver, you can create various designs. Once you finish, click on the Done button on the top right corner of the screen to witness a lovely glowing Jack-o'-lantern.You can press the reset button, if you don't like your newly created design or the undo button if you want to undo an error.
Pumpkin Carver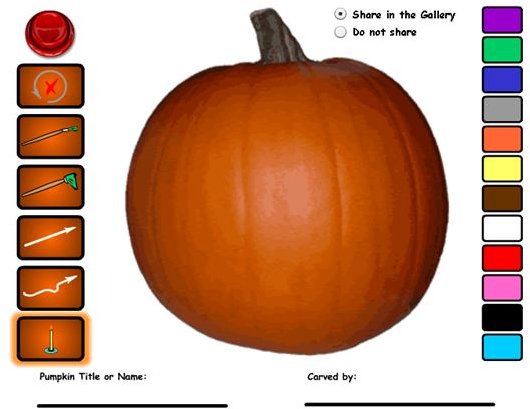 This is a great free online pumpkin carving game with plenty of carving options, including carving styles, brushes and candles.
You can paint your virtual pumpkin with a variety of colors and then carve something scary or downright funny using different tools. There's no flashy graphics, just a plain kid-friendly activity interactive chart to keep your child's creative juices flowing.
Carve Your Pumpkin Online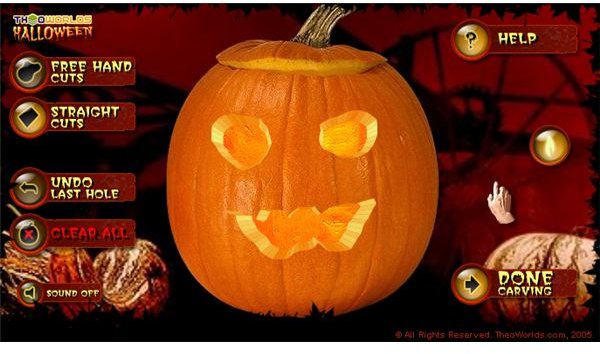 This game lets you create your own carved pumpkin using different knife styles. You just have to hold the knife with your mouse and carve any design on the pumpkin. What's more, you can also choose the background, write a special Halloween message and email the carved pumpkin to your near and dear ones.
This unique pumpkin carving game gives you two choices: straight cuts and free hand cuts. Choosing the free hand cut allows you to hold the virtual knife with your mouse and carve free-hand designs, whereas straight cuts lets you cut precise straight lines on the pumpkin.
Once you have finished carving the pumpkin, click on the candle button to put a virtual candle inside the Halloween pumpkin and make it glow. You can then share the glowing pumpkin with your friends and relatives via email.
References