The Best Free Online Santa Claus Games to Play This Christmas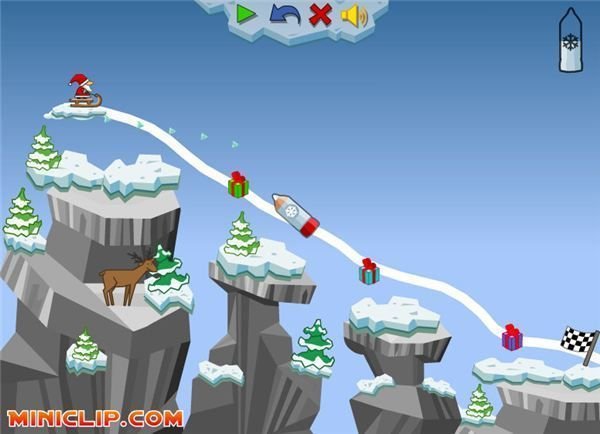 Santa Claus is coming to your town this Christmas eve! And surely, there will be loads of fun and gifts to receive. You can now start tracking his "flight" or just wait for his sleigh to hit your chimney this December 25th. But if you are too restless, why not play some of the best Santa Claus games online? Well, he may live at his plush abode in the North Pole with countless number of cute elves, but he has made his presence online, thanks to Flash game developers who felt the need to create some cute and fun games for kids. Here are four best online Flash games for children:
Snow Line
Santa does not go anywhere without his sleigh. But, this time Santa Claus's reindeers are ill and there's no one to guide him. It is all up to you to guide Santa's sleigh and collect all gifts. With the help of your mouse, draw snow lines to guide Santa to his destination and collect all gifts.
But make sure you draw the shortest and the surest path for our dear Santa. There's an ink meter, so be careful and draw a short, but complete path with as little ink as possible. The shortest path you draw, the more points you earn at the end, as the half-empty ink meter will determine your overall points. After drawing the path for Santa, hit the green play button. If you have drawn the right path, without any breaks or uneven lines, then the sleigh will ride smooth, otherwise Santa will tumble-down the snowy mountains. The game's fun and requires you to use your judgment to draw the right path for Santa's sleigh.
Boing Boing Santa
This fun Santa game is quite addicting and does not requires any complicated controls. All you need is your mouse. You will have to keep our dear Santa away from the cold wet snowy ground by clicking on him. The longer the clicking goes, the more points you will earn. You can also earn bonus points by clicking on gifts falling from the sky occasionally. However, make sure Santa doesn't touch the ground. Boing Boing Santa has really some funny and cute Santa artwork, and is suitable for children.
Santa Claus Jumping Game
Santa Claus Jumping game requires players to press the space bar and help Santa jump over chimneys and collect gifts. This fun Flash game is the easiest game to play, but requires sheer timing. Make sure you press the space button on time, else Santa will trip and fall and the game will end abruptly. Santa Claus Jumping Game's 2D artwork is beautifully done and the animation is perfect, but you cannot control the way Santa runs. You just have to press the space bar at the right time to avoid Santa from tripping over chimneys and at the same time collect those magnificent gifts. The game's quite addictive and is suitable for kids.
Sled Shredding
A nice little platformer, Sled Shredding is one of the best free online Santa Claus games for kids. They will just love to press the arrow keys and the space bar to ride Santa's magical sledge over the rooftops. At the top of the screen, you will see how many miles and yards the sled has traveled, and the XP bar, which tracks the experience points. Once the bar becomes full, it indicates you have completed the level. You also unlock several new control options, achievements and other goodies after each level. This online game is designed exclusively for kids who would love to ride a virtual sled this Christmas.
References