Get Ready to Play Free Christmas Games Online
Santa Flibrinks
Poor Santa I think he is forgetting things again. He definitely has a lot on his plate. These free Christmas games online are great eye and hand coordination exercises. You will be presented with a board of sliding blocks that showcase different images of Santa, Rudolph, candy canes and all that Christmas jazz. You have to keep those images in your mind and uncover the matching picture pairs in the row below. You want to be quick because the rows will increase quickly. Each matching pair will earn you 25 points. To begin helping Santa with his memory click the following link.
image Credit: Kaboose
Artic Antics
I bet you have never seen a walrus bounce in the middle of the Artic before. Well you will certainly have the opportunity in Artic Antics, where you will help these twin penguins keep a walrus, polar bear and penguin bouncing on a trampoline for as long as they can stand it. You will move the arrow keys to navigate the penguins from left to right as they try to avoid the bouncer from crashing on the hard ice. That could definitely hurt. To begin this holiday bouncing delight click on the following link.
Deep Freeze
Somebody control Santa he is chasing down his enemies with a gun! A water gun that is. There are some bandits in the North Pole that are planning to ruin Christmas. You will have to help Santa freeze these guys with his trusty water gun. He will be jumping from row to row with the focus to clear these bandits out and move on to do what he does best, spread Christmas cheer. To begin freezing evil bandits with Santa click the following link.
Santa Vs Jack Frost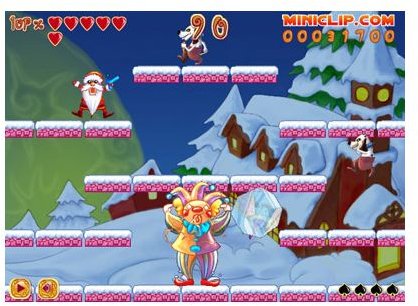 There is so much work Santa has to do on the 24th of December, but Jack Frost is making his life very difficult. Can you help Santa deliver his gifts from house to house in one piece? The reason I say this is that Jack Frost will do anything in his power to make sure Santa is diced to pieces as he tosses icicle knives at the sleigh ! Help Santa out as you navigate with your arrow keys around his dastardly act and deliver as many presents as you can. To begin these adventurous and free Christmas games online with Santa click on the following link.
Image Credit: [Gamesandgames](https:// www.gamesandgames.net/.../)
Polar Jump
It's always important to reach high goals in life. This is the case with this little polar bear who must simply jump as high as he can, with your help of course. This simple game involves the mouse control only. You will have to keep the polar bear in mid air by clicking on him as he jumps. When he comes down you will have to quickly click on him to keep him jumping higher and higher. Pretty simple? Try it and remember to shoot for the stars. To begin jumping click on the following link.