In Kongregate, just like in many other social gaming sites, your avatar is your visual identity. If it's unique, people can recognize you by the picture alone. Your Kongregate avatar can be photos, art, or animations that you feel best represent yourself. It may be plain and personal like a picture of your favorite comic character, or it may be more abstract or just something you find funny or intriguing that day/week/month.
The procedure for changing an avatar is simple: you can change your Kongregate avatar through your profile, or, even easier, through a Flash game other users have uploaded offering a selection of default avatars or letting you draw your own, and set it instantly.
The Default Kongregate Avatars
There isn't just one default Kongregate avatar, but 28. One of them gets randomly assigned to you when you first sign up for Kongregate. As you can see, there's a good assortment of colors and styles, and many players quite like their default Kongregate avatar, and never change it.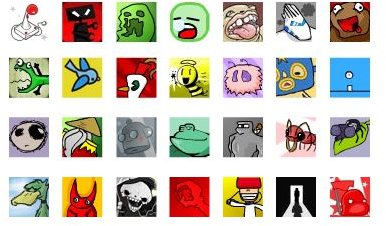 How to Change Your Kongregate Avatar
Alas, some people DO want to change their Kongregate avatar from the default. Here's how:
Log in to your Kongregate account
Hover your mouse over "Community"

Click "Change Avatar"

Click "Browse…"

This will bring up a file list on your computer. Select the file you want to use for your Kongregate avatar and click "Choose"

Click "Save" to set your new avatar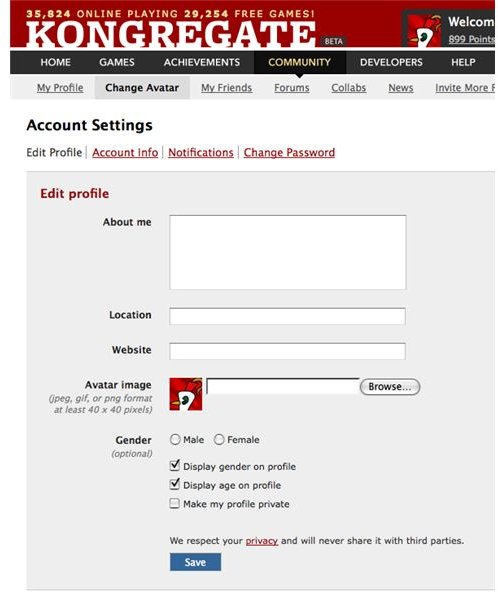 Note the Kongregate avatar requirements.
Image format:
jpeg
gif (includes animated gifs)
png
size: at least 40 x 40 pixels.
When choosing a new Kongregate avatar, think: Can I show this to my mother?
Kongregate bans avatars that are "obscene, pornographic, or seizure-inducing"
so it's a good idea to just "play nice" when picking a Kongregate avatar.
Games to Help You Draw or Pick a Kongregate Avatar
There are a couple of cool little Flash games on Kongregate that are designed to help you draw or pick a new avatar. Kongregate Avatar Creator Contest (https://www.kongregate.com/games/Lionga/kongregate-avatar-creator-contest) is a Paint-style interface with pen, ellipse, and box tools, plus colors and more. Once you've drawn your avatar to your liking, one click in the game will set your artistic masterpiece as your Kongregate avatar.
Kongregate Default Avatar Picker (https://www.kongregate.com/games/TomatoFox/kongregate-default-avatar-picker) was created by a nice fellow with some time on his hands who one day decided to figure out how many default Kongregate avatars there really were. He discovered 28 unique avatars that Kongregate uses as defaults, and put together a default avatar selector in game format. You simply click on the avatar you like to change it to the new one.
This should cover all you ever wanted to know about your Kongregate avatar. If you have any more questions, leave them below and I'll be happy to (hopefully) answer them.