Bomberman Blast Review - Best Nintendo Wii Games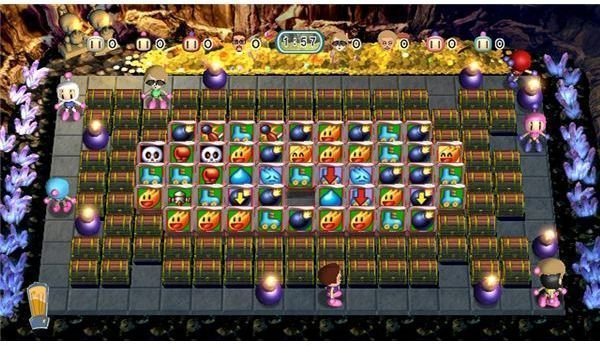 Overview
Bomberman Blast adds to the long-running Bomberman Nintendo franchise of quick paced non-stop multiplayer action. In this game you're a robot held captive working in an underground bomb factory. The only method of escape is to blast your way out. Players will be literally glued to the screen as they bomb away blocked barriers and stationed walls against other fellow gamers. This game is a must-own for every Wii system. Whether you've played Bomberman before or are new to the series Bomberman Blast is loads of explosive fun.
Gameplay (4 out of 5)
There are several game modes and matches players can enjoy in Bomberman Blast. The Countdown mode starts to time you once you've been hit with a bomb. Players must attack another opponent before their clock runs out or pay the ultimate price. In Air Raid mode players will be under a massive assault. Avoid the relentless bomb drops to win. In the King mode you must locate the sole crown item before the match is over. You can set up matches online or play in standard game mode. During Bomberman Blast gameplay players activate their rocket, shield, or bomb change by shaking the Wii Remote. Rockets send you flying into the air and the bomb change actually transforms you into a walking bomb. You can easily blow up brick passages or obstacles in your path. All battles are viewed in single-screen scenes. The diverse setting options allow private games among friends to take place by using specific 'friend codes.' Players who prefer not to play with strangers online have this feature and an array of mini-games to blast away time. The gameplay in Bomberman Blast for Wii is pure fun.
Graphics & Sound (5 out of 5)
The graphics in this game is breathtakingly beautiful. The vivid colors and shading give an extra flare to the background. All of the futuristic animations are quite adorable. Detailed stone brick walls, hedges, and blast special effects look solid. The backdrop and changing environments are well-designed. Visually it's the high quality you'd expect from a Wii game. Playful energetic melodies set the mood for Bomberman Blast. Sound effects echo nicely from the remote speaker giving players a heighten experience.
Controls (4 out of 5)
The controls are simple enough for virtually anyone to grasp. Players activate different items by shaking the Wii Remote controller. Sheer adrenaline rushes as bombs rapidly detonate at a flick of your wrist. Using the Nintendo Wi-Fi Connection eight players can combat together online. The GameCube joypad or additional Wii remotes can be used for large groups. This is a fantastic game to play at parties, with friends, or family members.
Bomberman Blast Wii Screenshots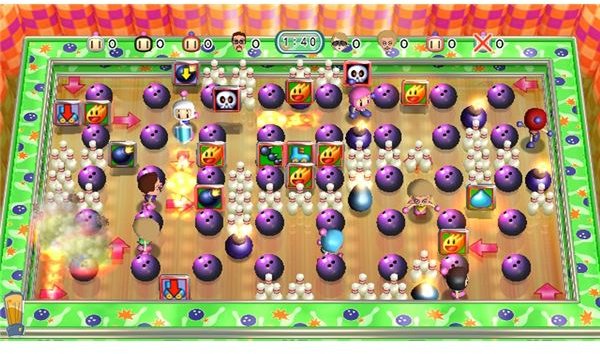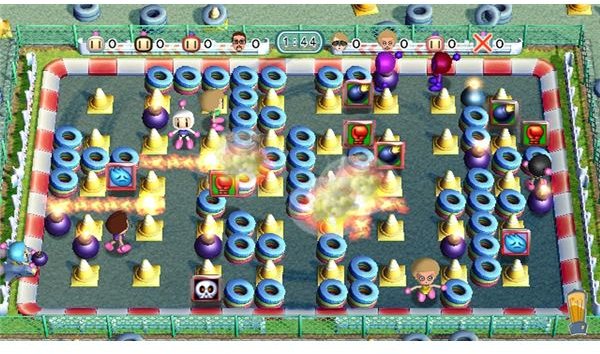 Controls (4 out of 5)
For older gamers Bomberman is a Nintendo classic released in the 80's and continues to be a fan favorite. This updated version for the Wii console and WiiWare will not disappoint. Far more visually impressive than it was on the original NES. Bomberman Blast introduces a new generation to bombing chaos. Players can customize their gaming experience by adding their own Mii caricatures into the game. Available for 1,000 Wii Points with plenty of extra features for multiplayer action it really delivers.
This post is part of the series: Bomberman Guide
More articles about Bomberman