PS2 Walkthroughs - Ben 10: Protector of Earth - Your Key To Getting Through The Game Super Fast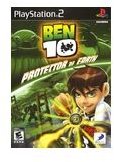 Ben 10: Protector of Earth Overview
Anyone who watches cartoons has probably heard of Ben 10. He is all over the waves, in both his old show and the newer version. And, while I actually bought this game for my boys, I ended up playing this right along with them - and loving every second of it. Just like every PS2 game out there, there are some tips and tricks that you can use to help you along and we found some of our own that we managed to use to defeat this Ben 10 game faster.
Starting Up Ben 10 Protector of Earth
When you start Ben 10 Protector of Earth up, the controls are basically the same as other games. Arrows control your movement, X is jump, O is Ben's special attack for whatever Ben 10 alien you are morphed into, square is his light attack, triangle is his heavy attack, the L1 button is for him to block, the R1 button is for him to activate his Omnitrix and change into another alien, the L2 button is to cycle the Omnitrix backward, and the R2 button is to cycle it forward.
Setting the Difficulty

To start up a new game in Ben 10, you will want to hit Start and then choose the "new game" option. Then, you will be able to choose which difficulty level you would like to play: easy, normal, or hero. I would suggest starting on easy or normal - hero is really difficult if you don't know what you are doing yet. Then, go ahead and hit that grand start button to head out on your alien fighting missions.
Playing A Two-Player Game
You can also choose to play a two-player game on this one, and it's actually a lot easier and more fun if you do. You both get to be Ben 10, which is funny, or the same Ben 10 alien. But, you need to make sure that you access the "cooperative mode" and activate it so that you can start up a two-player game. To do this, you simple make sure you have two controllers plugged in and hit "start" with the second controller while you are already in the game.
Saving Your Progress in Ben 10 Protector of Earth

To save your game, once again, hit start and choose an empty slot on your memory card. Of course, there are times in the game (such as between levels) when it will automatically save for you. You just want to make sure that you are saving your Ben 10 progress as you go along so you don't lose a level that was really hard to pass.
Finishing Up Ben 10 Protector of Earth
While these are just basics of the Ben 10 game, you'll find that once you learn them, it's so much easier to complete the game and beat it completely. In the next part of this walkthrough, we'll go over the different interface items that you'll want to know about as you play to help you know when it's time to start looking for a place to recharge.
Craving More Ben 10 Information?
There is much more to the Ben 10 games both online and offline on your favorite consoles. Here are some other articles on Bright Hub about different Ben 10 games that you don't want to miss:
Ben 10: Protector of Earth Interface
Free PS2 Cheats: Ben 10 Protector of the Earth Cheats and Tips
Parent Reviews: Free Kids Online Games on Cartoon Network.com
Nine Upcoming PSP Games - October Releases
This post is part of the series: Ben 10 Protector of Earth Guide
Ben 10: Protector of Earth is a fun game no matter what age you are. So, to help you make it through this game with your fingers in tact, here are the basics of what you need to know.