Play Euchre Online: The Best Places to Play Online Euchre for Free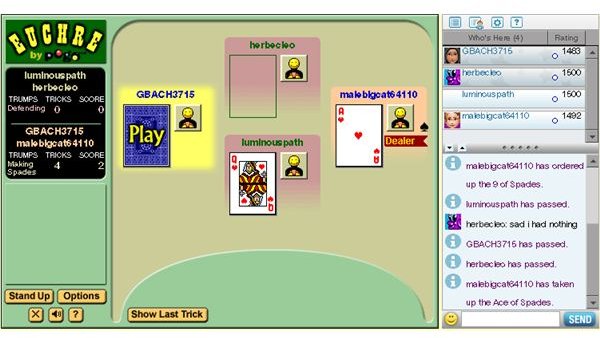 Pogo
First impressions of Pogo.com's euchre interface: small. Eye-burning colors. Bright greens and yellows. Small, hard to read fonts. This could probably be remedied a bit if I set my font-rendering settings to anti-alias at smaller font sizes. It could also be remedied by Pogo choosing fonts that read well when not anti-aliased, and not bolding them. Gameplay was a bit slow. Like all three options I'm looking at today, if you want to play euchre online at Pogo, you're going to be running a Java applet. I kind of hate Java applets. They're never coded properly. But I digress. In Pogo, computer players will join automatically if you use the "Play Now!" option. Pogo online euchre has the most options of all three sites, offering "defenders can play alone" and "dealer's partner can only order up alone" along with standards like stick the dealer. Pogo has a rooms setup similar to Yahoo's, with levels like Social, Beginner, Intermediate, and Advanced. Overall, Pogo euchre was not an unpleasant experience. Once the Java applet laods, things go along pretty well except for occasional hiccups during gameplay. The slightly garish color scheme annoyed me. I wouldn't want to stare at it for more than one euchre game.
Yahoo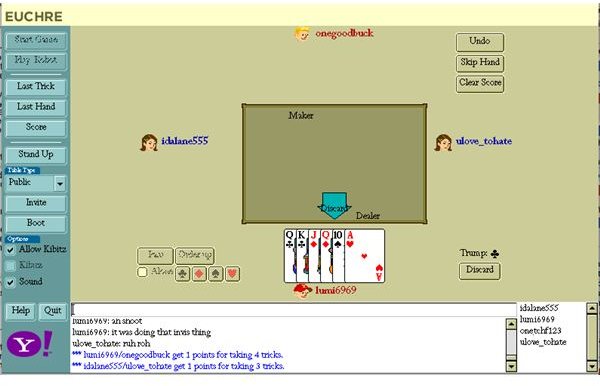 Next, I go to Yahoo.com, my old stomping grounds. I used to play euchre online here all the time many years ago. I'm both comforted and dismayed that it hasn't changed a bit. Well, the front page of the games section has a pretty Web 2.0 redesign, but once you get to the euchre page, it's the same 10-year-old interface we've been mucking about in all along. Yahoo has rankings (Pogo does too) and mine is in the snobbily high range from gaming the system long ago, so I go to a Social lounge and start an unrated game. I don't want to wreck my rank, you know. I create a room, and it takes forever to fill. Everyone wants to play ranked in Social. How annoying. How plebian. Once it gets going, though, it's the same old comfortable Yahoo euchre. This is what Pogo is trying to be. The interface is inelegant, but functional, and the colors are mellow shades of sand and teal. Scores don't automatically show; you have to open a small popup to see scoring as the game goes along. Yahoo's online euchre may be getting a boost from my past experience with it, but I still think it beats out Pogo hands down. It's quicker to load, less buggy, and easier on the eyes.
Games.com Euchre
Euchre on Games.com is another animal altogether. The extension NoScript in Firefox thought Games.com was making a clickjacking attempt, so I loaded it in Safari, and got a pleasant surprise. These people actually made a decent Java applet. And they made it within the past ten years. I like the artwork. It's 3-D and polished. It's flashy but not bright and distracting. And for some reason each suit of cards has been anthropomorphized and is a member of a band. Gameplay is zippy. It's a lot of fun thanks to the cute interface.
Final Thoughts
I was pleasantly surprised by Games.com's euchre interface. For being so pretty, it was surprisingly zippy. It's obvious that Games.com has put some effort into the code within the past ten years, which is not something I can say for either Yahoo's or Pogo's euchre interface. If I'm going to play euchre online in the future, I'll give Games.com a shot. And if I want to be really serious about it, I might go to Yahoo, with its large base of take-no-prisoners players. But even then, I might just give Games.com a shot at being my new serious outlet for euchre online.