Casino City Game on Facebook Tricks and Secrets – Virtual Gambling Fun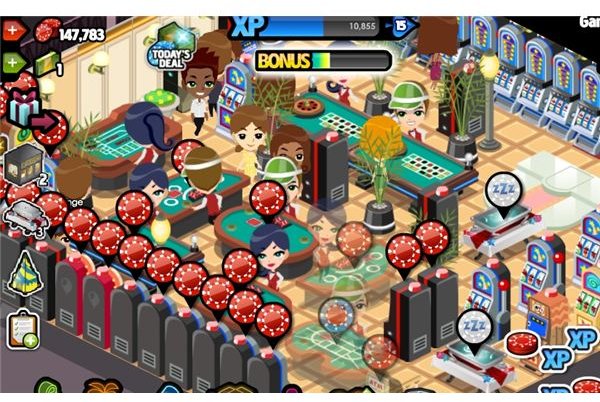 Casino City Game
In Casino City by 6 Waves players lay all their chips on the table and step into the role of a risk taking entrepreneur. Build a casino from the ground up on the infamous Las Vegas Strip. Fellow business partner Victoria starts each player off with a small establishment, three slot machines, and an ATM. Similar to My Casino owners must invest in a variety of games, decorations, and venues to bring in customers. To create a successful casino users have to generate enough income or chips while keeping their business's reputation high. This tips guide will show you how to earn lots of money, level up fast, decorate, and a few tricks for cashing out in the mini-games section.
Secrets for Leveling Up Fast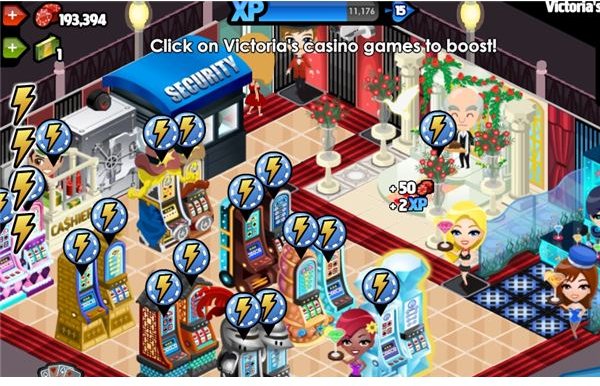 Most of the methods for leveling up fast as well as earning chips are the same. The game is centered on progression. Accomplishing tasks that will build up the casino often reward in both areas. Completing quests are important. They usually offer large chip payouts along with precious XP. Missions requiring players to buy 5 new video poker games, add several plants, or upgrade a roulette table are beneficial for expanding the casino. Quests are also a great way to win trophies. Trophies deliver sizeable chip awards with bonus experience. Changing your avatar's outfit 15 times, logging in consecutive days, and purchasing decorations easily rack up trophies. It's also essential to constantly invest in various slot machines and poker tables. Place them against the walls side by side or back to back. Spending customers will continue to visit if there's enough to do. Try to upgrade at least one unit per day if possible. Higher level stations earn more money.
Friends & Winning Video Poker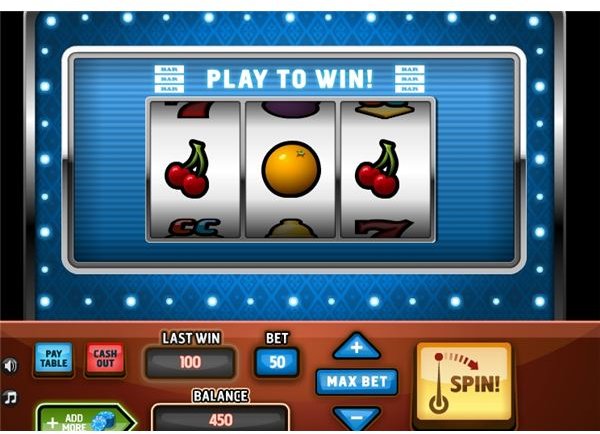 Players are allowed to visit friends' casinos daily for a little virtual gambling and to assist in keeping their slots working properly. Always take advantage of this feature. Add as many friends as possible by joining forums and designated Facebook neighbor add pages. Although it can appear like a waste of time playing the mini-games is an excellent method to boost income. Much like Zynga's Texas Holdem Poker players have a set amount of chips to gamble with when moonlighting at other establishments. The odds of winning slots are higher than other games. So if you're not a veteran gambler focus on that game in particular. Since the spending amount for neighbors are limited it's wise to cash out after the first game. If you lose all of your money at one neighbor's casino you'll forfeit the opportunity to play at other neighbors. Winning at video poker, blackjack, or slots will add to your casino chip balance boosting income.
More Casino City Game Tips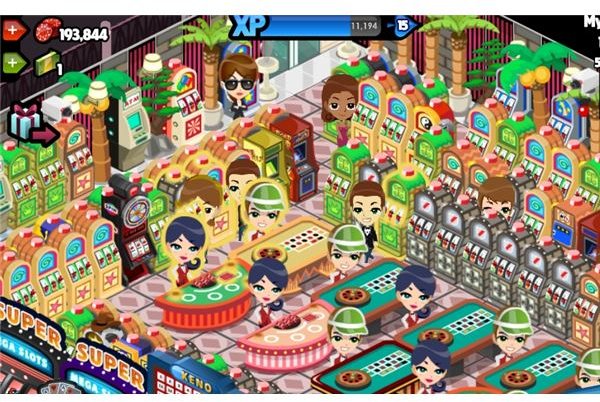 Just like any other Facebook game it takes time to master. The tips in this article cover the basics for leveling up fast plus a few tricks for generating enough chips to decorate an expanding casino. Always log in daily to collect from roulette, poker, slots, baccarat, craps, and service stations. Take advantage of the game's collections and buffet features. When collections are complete trade them in for additional XP, chips, or décor items. Set up multiple buffet tables. According to your playing schedule serve various meals to earn income. Decorate or expand your casino whenever possible. Following these steps will aid in building up your casino's reputation and make leveling a breeze. Become a true gambling mogul in the Casino City game with these helpful hints.
References
Source: author's own experience.
All screenshots from Casino City