Casino City Basics (3 out of 5)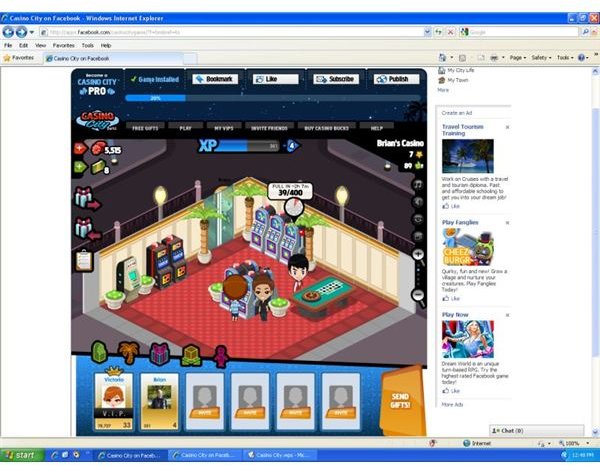 The basics of Casino City is to earn more chips to help your casino expand. You can do this by placing gambling tables such as a poker table and slot machines in your casino to earn chips from your visitors. Once your gambling station is full of chips you will be able to cash them out and use those chips to purchase new machines for your casino, add decorations, and expand to grow your casino. Different machines will take game time to completely fill up with chips. Be sure to pick up the trash on your casino floors to keep your establishment clean.
Casino Rating (3 out of 5)
Your Casino has a rating and you can increase this rating by adding more slot machines and tables to your casino. You can further add to the rating by adding decorative items such as plants and trees to your establishment. The more decorative items you have the faster your slot machines, roulette wheels, poker tables and other gambling stations will fill up with chips you can use to expand with.
Happiness Level and Goals (3 out of 5)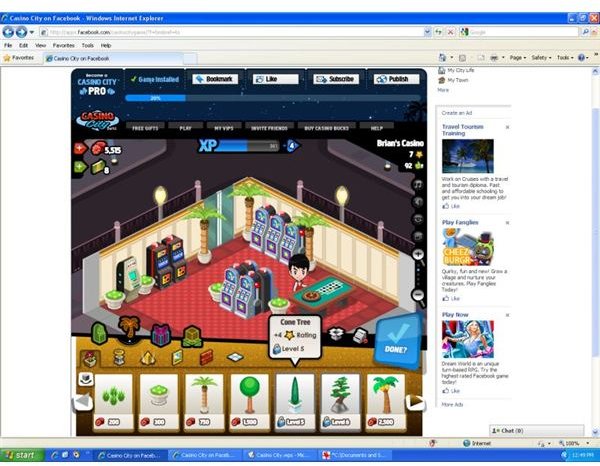 The success of your casino also depends upon a happiness level. This can be increased by making sure you have enough gambling stations free for each visitor that comes into your establishment. You can click on visitors and serve them drinks which will also increase the happiness level of your casino. Your game also features goals which you can find at the left of the game screen. These goals are essentially mini quests such as adding a certain number of slot machines to your casino for example. Once you complete one of these you will receive rewards such as bonus chips.
Gambling Stations and Customization (3 out of 5)
The game has several different gambling stations to choose from including slots, blackjack, poker, roulette, video poker, craps, baccarat, and services such as the bar which is available at higher levels or purchased with game cash. You can add numerous decorative items that not only improve your casino rating but make your casino look good too. Plants, wall decorations, windows, flooring, various objects, and even special options such as security guards and fancy signs are available for your growing casino.
Casino City and Facebook Friends (3 out of 5)
You can play mini games by visiting your Facebook friends and use your own chips to play the games. If you don't have any friends playing you can always visit Victoria the default V.I.P. NPC character and play games there. Several fun slot machines can be sent to your friends as gifts too. Having facebook friends will allow you to expand your Casino quickly or you can purcahse game cash for your expansions.
General Game Play (3 out of 5)
Casino City is a nice looking game but not stellar by any means. It is an average Facebook game just with a casino theme instead of city building, farming, or aquariums. The soundtrack gives you a nice Vegas vibe and is a highlight of the game. You will have fun building your Casino but don't expect anything groundbreaking or unique here.