Mickey's Crazy Lounge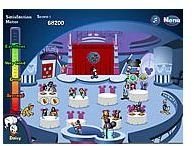 If you have ever tried to run a restaurant, you will understand what Mickey is going through. In these Disney games for kids Mickey will have to run a cabaret restaurant and prove it's success with each new customer. Can you help him out? This game is very similar to Diner Dash and you will have to use the same rules. You will use the mouse to click on the guests and then proceed to click on the table that you will seat them. Your goal is to keep the customer's happy and to take this cabaret to the next level. To play this game click on the following link.
Image Credit: FreeCookingGames
The Lost Treasure of Maroon
Mickey is on a dangerous island that is filled with all types of traps for him to fall into. He must reach his destination through this maze of adventures that await him. Your job? You must make sure he can walk across without getting hurt. You will use the mouse to prevent him from falling, drag and drop the various items to keep him from falling. To play this game click on the following link.
Mickey and Friends Super Racer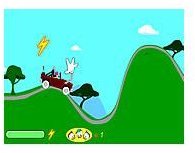 You have never seen a car race like this. Mickey and his pals are racing in a classic car which will have the color of your choice. You have to simply slide your mouse over the car to make it go. Your job is not only to get Mickey over the finish line but to grab lightening bolts to gain extra power. You will have to impress the crowd by jumping over water and bridges to get to your destination to get ready. To play this game click on the following link.
Image Credit: Ubala
Mickey Mouse Cooking
What's cooking in Goofy's kitchen? Goofy is ready in his kitchen to cook up something scrumptious. He has to make dinner for an array of hosts. Including Cinderella, Pinocchio and other popular Disney characters you may know. This series of Disney games for kids test the memory. You must remember the ingredients to make the dishes the characters are requesting. You will be presented with dishes of food that you have to prepare in the order that they appear. To play this game click on the following link.
Donald's Froggy Quest
Are you great at putting puzzles together? Well then you will be an ace at this Disney game. You will have to help Donald Duck get a frog across the water by putting together puzzle pieces. What's that you say? How will you do it? Well you will simply wait for the frog to appear on the pond and use your mouse to jump across the pond by clicking on the puzzle pieces that go together. You have to be quick so that the frog has something to jump on. Good luck ! To play this game click on the following link.