Farmandia Game Guide - 3D farming game on Facebook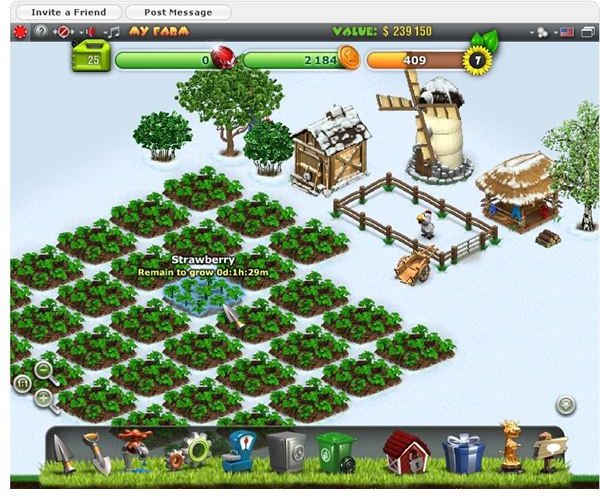 Part One – Crops
Farmandia already has a whole host of crops. Planting crops is simply a matter of plowing up some dirt first and then adding some seeds to the soil. In the game store you can buy various seeds such as vegetable, grains, flowers and some fruit seeds. Seeds will take game time to mature. Once your seeds have matured, harvesting them will yield coins that will buy more seeds and other items for your farm. The only downside is that the slowest growing crop takes two hours, which is a bit long for a farming game.
Part Two - Animals and Trees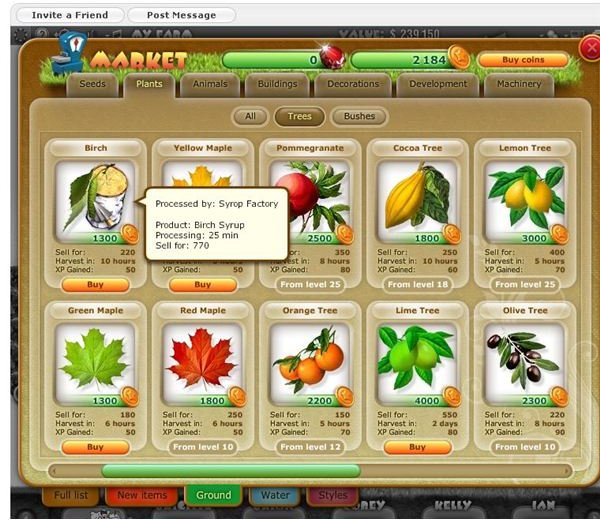 The game features animals and fruit trees that will also yield you some game coins. Apple, orange, lime, and pear are some examples of fruit trees. Other trees include maple, birch, coffee, and olive trees. There's a good mix of tress to pick from in the game already. Blackberry and raspberry bushes can be added too. On the animal side, you'll find hens, yak, cows, sheep, pig, rabbit, horse, bull, and even mythical creatures such as a Pegasus. The downside to animals is that many of them cost game cash and not coins so it's difficult to collect them all without some investment in the game. They all look terrific however and the graphics are a real standout in Farmandia.
Part Three – Factories and Buildings
One nice aspect of Farmandia is that you can make goods with your crops. For example, you can buy a cheese factory, ketchup factory, jam factory, mill, winery, grill, mill, oil press and other structures to make your goods. You'll need a good chunk of change to afford these structures or some game cash. They are worth getting however and give you something else to do besides farm crops. The coffee factory is the cheapest at 35000 coins and a good starting point for crop production. The game features many different homes from a small hut right up to a large mansion. Asian and adobe themes are some of the choices here. Sheds and other storage structures will give you more room on your farm and there are some decorative buildings such as wells. Farm machinery and fuel will cost you game cash but help you manage your crops more efficiently.
Part Four – Decorating Your Farm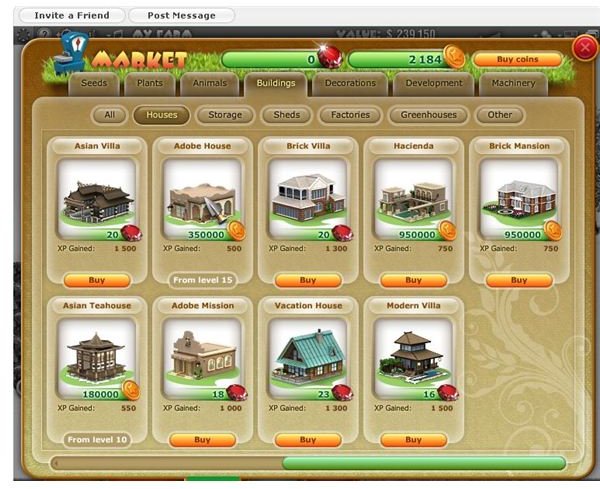 Farmandia has a great selection of decorative items including hay bales, fences, furniture, and nice sculptures. All items in the game look very nice especially the sculptures such as the Stature of Liberty, or Napoleon. Topiaries are also available in the game. Basins, carts, scarecrows, plants, pumps, arches and other decorations are available too in this game. You can add ponds and water tiles too for some nice themes.
Farmandia Game Interface
The main icons are located at the bottom of your game screen. Let's look at each of them.
Universal Tool – Used to select things.
Spade – Used to plow land before adding seeds
Water Tool – Allows you to add water tiles for ponds.
Processing – Used when you make goods from factories
Market – Use this icon to buy items such as seeds and buildings for your game.
Bank – Buy game coins and cash.
Recycling – Remove items from your farm you no longer want.
Storage – keep your unused items here.
Gifts –Send game gifts to Facebook friends and view gifts you have received.
Achievements – See the awards you have collected in the game.
Messages – Send messages to Facebook friends playing the game.
Making Money In Farmandia
Farmandia is a bit harder to make money with since there's no quick growing crops in the game and crops expire like they do in Farmville. To maximize your money you're going to have ti make sure you harvest before your crops whither and you lose a big chunk of change. Pick crops that will mature when you can be online so you have time to collect your cash. Buy plenty of trees so you always have some cash to work with when you log on. Apple tress are only 1200 coins and will be ready in nine hours with 420 coins receive from each harvest. Keep adding trees when you have spare cash. Buy goods producing buildings when you have the money available. It can be frustrating in the early stages of Farmandia to make decent money. This game isn't as easy as Farmville in the regard so give it time.
Conclusion
Farmandia isn't a hard game to play it's like an updated Farmville with great graphics. The downside is the game is more expensive with most of the nice items costing game cash and not available with coins. It can take quite some time to have a great looking farm with this game and it's one of the drawbacks to playing it.