Facebook Game Review: Garden World - Your own virtual garden on Facebook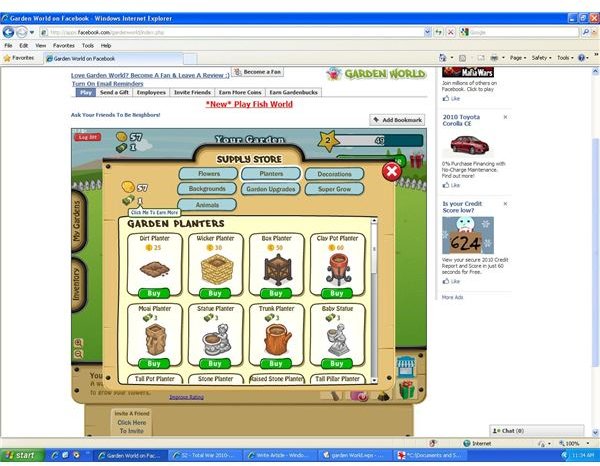 Garden World Basics (4 out of 5)
Your goal in Garden World is to buy, water, and sell flowers when they reach maturity. Your flowers will need need care and water to make sure they grow properly. You need to weed your gardens periodically which will help with your experience and earn you some extra coins. Decorations are an important part of your garden as you décor will help to increase your flowers health. You need to log into garden World on a regular basis to keep your flowers healthy and growing much like you need to water and care for real life plants.
Planting Flowers (4 out of 5)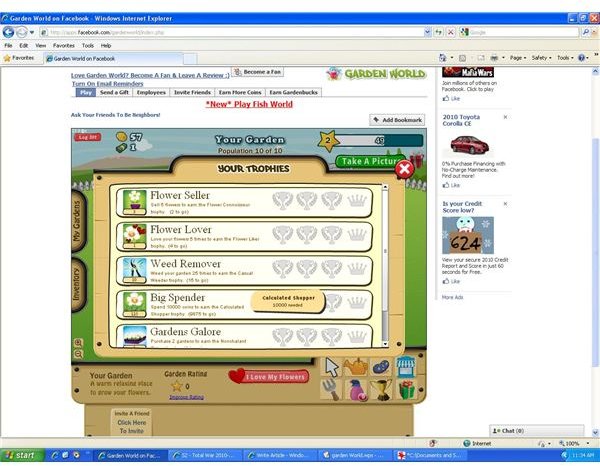 Garden World works very much like games such as Farmville only with flowers. Your job is to raise flowers and harvest them before they die and make coins from the harvest. To plant crops you need to purchase a dirt planter or a pot style planter and lay it down on your field. A dirt planter will cost you 25 coins and is the most basic planter available in the game. There are wicker, stone, box, statue and other styles of planets that will unlock as you progress through the game levels. A few of the more elaborate planters will cost real life or game cash and not game coins. You can buy flower seeds from the shop and pick from many different flower varieties. There is a chance during game play that you may discover a new flower too which you can find in the game store. To plant your flower drag the seed into your planter spot and your flower will start to grow. Be sure to water your developing flowers fully before you log for the day. Use the watering can located in the interface menu and place it over the flower and you will see the water bar fill up.
Harvesting Plants (4 out of 5)
When your ready to harvest your crops it's a simple process. Just highlight the planet with your cursor and click the green sell button and you will receive your coins for that plant. Be sure to log in on a periodic basis to water your plants and pick weeds so your plants remain happy and don't die due to lack of water. Your plants all take different times to mature so be sure to pick ones that match the time you will be online. For example if you pick plants that mature within four hours and go away for a day those plants will be dead by the time you get back so plan your garden plants according to your schedule for maximum coins.
Garden World Store
You can get extra seeds, planters another items for your flowers through the supply store. You can pick from basic flowers and ones you have discovered if there are any. There are many different plants you can buy here to spice up your garden area and give it your own feel. Decorations come in two forms basic and hedges or paths. Many of the hedges and paths cost real life coins to purchase which is disappointing. There are many free decorative items such as larger plants, shrubs, benches and other items you would normally have as garden decorations. There is a good mix of items to keep your garden play interesting. From the store you can also increase the number of flowers your garden can hold with coins or game cash. At higher levels you can purchase a fertilizer formula to help with the growth of your plants. All of these items are accessible through the game store.
Game Interface (3 out of 5)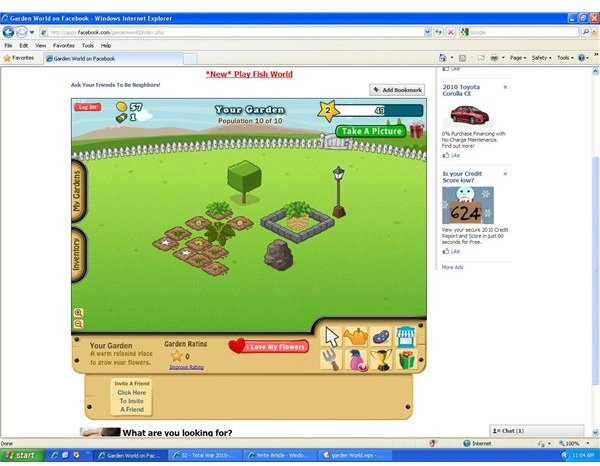 The game interface looks like many Facebook games such as Fish World or Farmville so there is nothing new here. The formula is getting a bit old so I rate it as average. It would be nice to see some new interfaces for some of these games. At the top left you will see your coins and game cash if you have any. In the middle is your surrent number of planters. You can buy room for more planters through the game store. At the far right you will find the experience bar and you can gain more experience by playing the game. lwt's Look atthe main icons at the bottom of the screen.
Select Mode - Allows yuo to select objects, move them, rotate, add to inventory, or sell.
Water Flowers - Use a watering can to water your flowers. Place it over the plant and hold it there until the flkowers water bar is full.
Buy Flower Seeds - Takes you to the game store to buy seeds for planting flowers.
Supply Store - Purcahse all your game items here such as decorations, planters, seeds and other items.
Pull Weeds - Use this tool to remove weeds from your garden and keep your plants happy. Will give you some coins and experience too.
Super Grow - Feritlizer formula used in later game stages to grow flowers quickly. Level 10 is required to use it.
Trophies - Shows the awards you have won in the game. You will get awards as you level up your garden and trough general game play.
Gifts - Allows you to send Garden World gifts to your Facebook friends who play the game too.
Conclusion
Garden World is a fun change from harvesting crops and will appeal to the female crowd. The game is similar to many other Facebook games and is produced by the company that brough Fish World to Facebook. The game has appeal due to all the decorative items and ways you can build your garden so the variety is there. You won't find anything out of the ordinary with this game but it should give garden lovers some fun with their own Facebook virtual garden.