Farmville Game on Facebook Review & Tips for Starting Out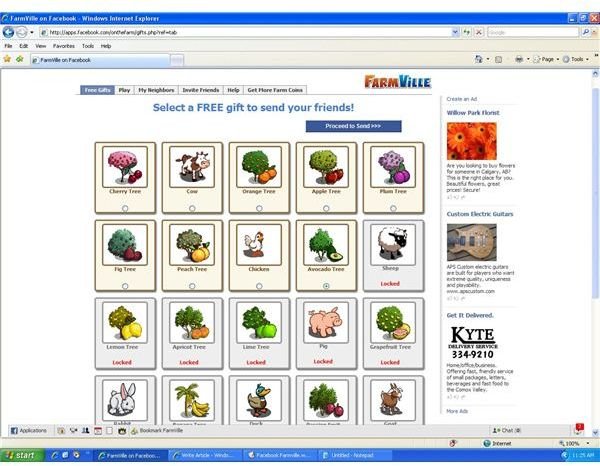 Game Play (5 out of 5)
Despite the simplicity of the game, Farmville is actually very fun to play. It is perfect for the casual gamer who doesn't have much time in a busy day to do much gaming. It is very easy to learn and even a game that a smaller child could play along with a parent. The graphics in the game are fine and do the job adequately. There is a soundtrack but it is the same song played over and over again which you may tire of quite quickly but there is a sound option button so you can turn this off. You can take a photo of your game with the photo option and send it to a friend so they can see your progress. To get the most out of the game you should try to find as many friends as possible to join and be your neighbors in the game it just makes the game play better for everyone and you can compete to see who can build the best farm. The new ribbon system gives you something to strive for when deciding what to build on your farm.
Overall Game Rating (5 out of 5)
Farmville is an easy game to play that is fun for all ages. To get the most out of the game invite your Facebook friends to be a part of your Farmville community. Grow some crops and compete to see who can become the ultimate Facebook farmer.
Keep in mind that while many other players are accessing Farmville, certain features may not always load correctly. This is due to an overload of activity or from a Zynga update. If this occurs, be patient and remember that if it's not loading for you, it's probably not loading for many others.
Farmville Tips For Starting Out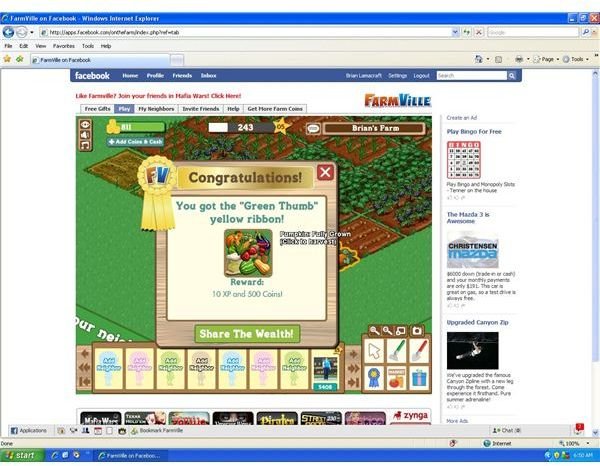 Plowing the land uses up game coins so watch how much you plant you want enough cash leftover for your seeds.
Some crops grow very quickly and will die if you can't harvest them on time. Pick longer growing crops if your going to be away from your computer for days at a time.
Visiting your friends farms and completing the occasional quest there will help you gain experience.
Make use of the gift system and send items with your new friends who might not have much on their farm yet.
Trees will continue to grow fruit after harvesting so you don't have to buy a new one.
If you've decided it's the right game for you, check out the Farmville Crop Guide on the next page.
Farmer Creation on Facebook Farmville (4 out of 5)
Farmville is one of the many Facebook browser farm games. When you start the game for the first time you will create a male or female farmer. You can set things such as hair skin and facial features with the avatar creator. It would be nice if you had a few more options for your avatar here. You can change your farmer's appearance as often as you want by simply clicking on him or her within the game.
Using Plots of Land with Others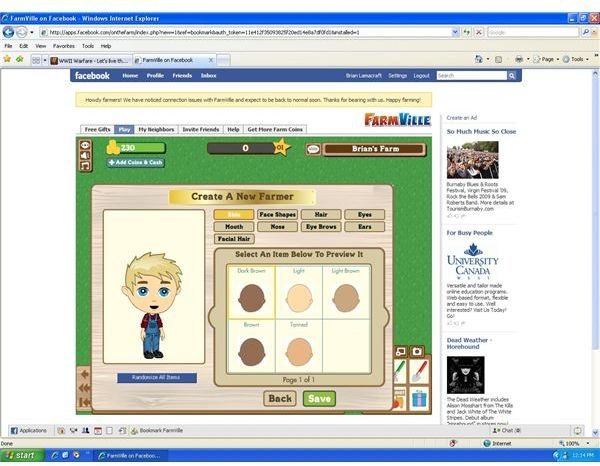 Once your character has been set you will join the game and have a few plots of land that you can work on. Farmville is both a single player and a multiplayer game but you are encouraged to play with your Facebook friends because this makes it easier to advance in the game. The game is very easy and it is suitable for all ages.
Tips on Planting Crops (4 out of 5)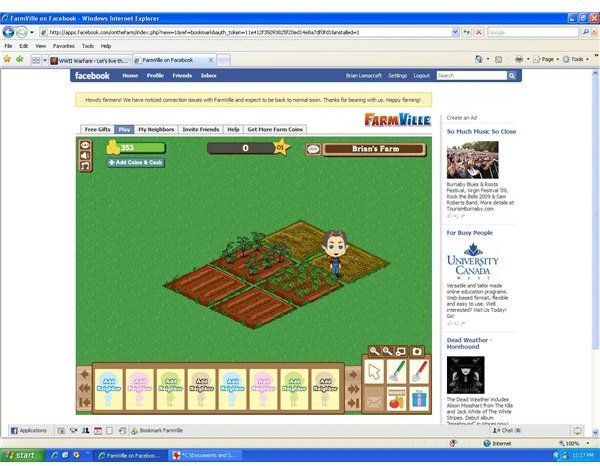 At your farm you will see several beginner plots of land that you can work on. Use the green hoe tool at the bottom of your screen to plow land you wish to grow crops on. To grow crops you need to buy seeds at the market and you can only buy seeds that match your current level. Each seed type will tell you how long it takes to grow with some crops ready in a few hours and others ready in a few days. Once you buy seeds you simply place your cursor over the plot of land you wish to grow the crop on and your seeds will automatically plant there for you. If you want to try different seeds, repeat the process on a new plot of land. You can continue to add plots of land until you run our of coins.
Guide to Harvesting Crops (4 out of 5)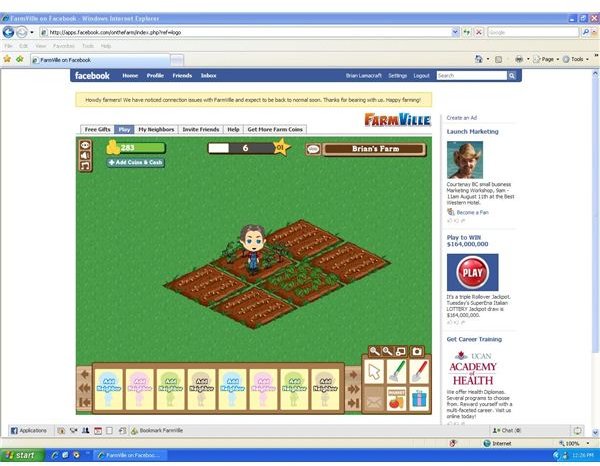 Once your crops are ready you can harvest them using the hoe tool. You should harvest your crops as soon as they are ready because they will wither if you let them sit for too long and you won't get any money. For example, if you plant a crop that is ready in one day, after two days the crop will die if you don't pick it. If you want to change your land, use the red shovel icon to remove plots that have already been plowed. The magnifying glass will allow you to zoom in and out of your farm and there is a full-screen toggle next to it to view your game in that mode if you want.
Plowing the land, growing crops and then harvesting them is very easy in this game. You might want to use some type of organization for your crops once you have dozens of fields so you can harvest them easier.
Making Money In Farmville (5 out of 5)
Farmville uses coins as your game currency. At the top of the screen you will see how many coins you have. You can gain more coins by harvesting your crops and once you do that the coins will automatically deposit into your account. You can also win some coins in a lottery that takes place each day which you are entered into automatically. You can purchase coins with real money if you want and pay by credit card or PayPal. Click the "get more farm coins" text at the top of your game screen to purchase coins. You can also complete advertiser offers for more coins for your account which you will find under the credit card and PayPal options.
Farmville Friends (4 out of 5)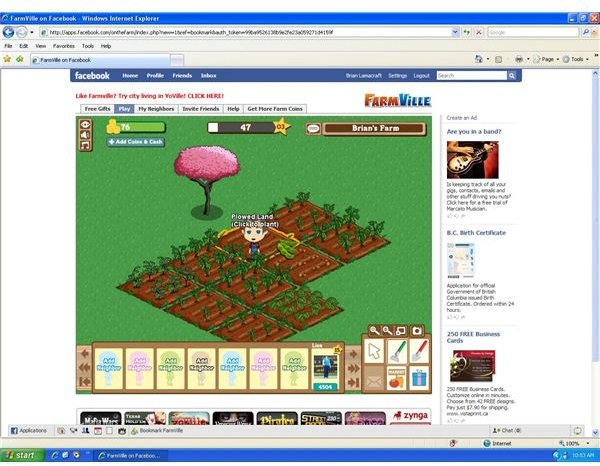 At the bottom of your screen you will find several "add neighbor" icons. At these locations you can request friends to join you. If your friends accept they will join your Farmville community and you can visit your friends farm by clicking on their name at the bottom of your screen. During some of your visits your avatar may complete a simple quest like removing weeds from your friends farm. This quest process is done automatically and you don't have to do anything. You will gain a small amount of experience doing the quest. Having Farmville friends will also allow you to build a larger farm and exchange free gifts that can be used to decorate your farm. You can leave a message directly on your friends farm by using the message icon located next to your farm's name. The game now allows you to collect ribbons and you could compete with your friends to see who can collect the most ribbons.
The Farmville Market (5 out of 5)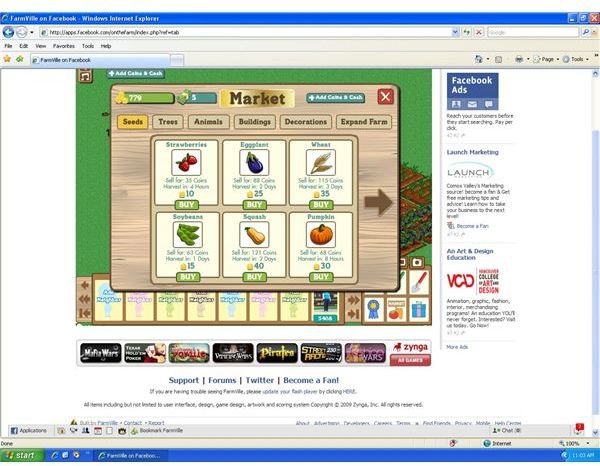 The market is where you can buy seeds and items to upgrade your farm. At the market you only have access to items at your current level. New items such as different crop types will unlock as you progress through the game. You will need Farmville friends to gain access to many of the higher end options like buildings, elaborate decorations, and larger farms. At the market you can buy animals such as cows, chickens and sheep which you can harvest for goods once they are ready. There are many decorative items such as hay bales, carts, buildings, fences, and trees that you can purchase for your farm. As you gain levels you will also receive some of these items for free.