Tiki Farm Review – Virtual Farming in the Polynesian Islands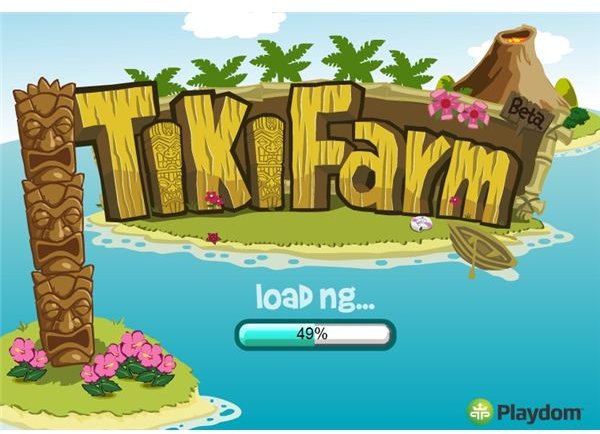 Tiki Farm
Playdom's Tiki Farm is a 2D social virtual farming game on Facebook. Although similar to other popular farm themed games like Farmville, Farm Town, or Country Story players start their quest on an island based off the Polynesian Isles. Plow, plant, water, and harvest crops for profit. Players grow a variety tropical fruits and vegetables ranging from yams to prickly pears. Help out neighbors at their farms or collect special items for blessing from the Tiki Spirits. Create your own tropical agricultural paradise with tree houses, custom pathways, workshops, exotic critters, and wild decorations. Tiki Farm mixes Polynesian tradition, fantasy, and harvesting for different type of farming experience.
Gameplay (4 out of 5)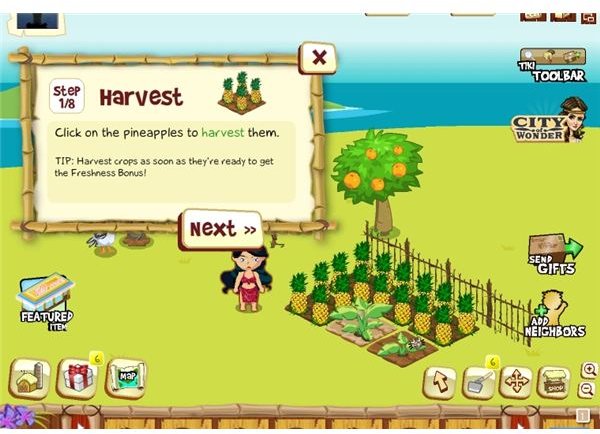 The gameplay in Playdom's Tiki Farm varies from other popular farming games. Players are dropped on a large island with white sandy shores and an active volcano. Islanders must plow, plant, and harvest crops while creating a tropical oasis. Grow a variety of crops including pineapples, bamboo, tara root, artichoke, and blueberries. Unlike Farmville or Farm Town where players can plow as many fields as they can afford Tiki Farm restricts the number of plots according to a player's level and neighbors. Click each plot to plow and instantly plant seeds. In Tiki Farm all crops require watering to grow. As the plants grow they are occasionally attacked by pesky insects that enjoy nibbling on leaves. Players have to manually remove these bugs when they appear by clicking. Crops do not wither easily.
.
Graphics & Sound (4 out of 5)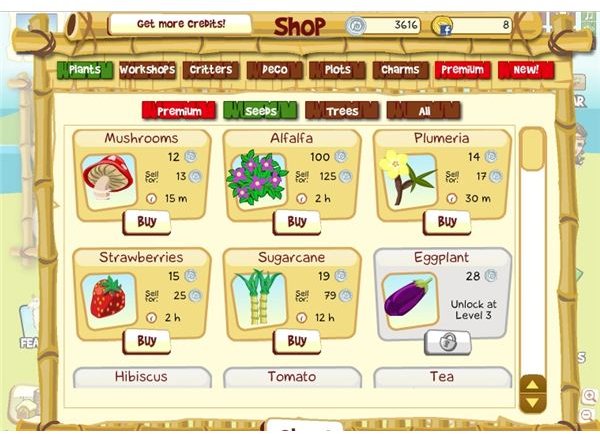 Diligent farmers are randomly blessed from the Tiki Spirits with seeds that haven't been unlocked yet or magical charms to boost crop growth speed. A Tiki will rise up from the fields notifying players of their new gift. Earn XP and shell coins for harvesting and decorating. Add detailed Cashew trees, stone pathways, fences, floral gazebos, waterfalls, hammocks, pirate monkeys, or a Tiki International Airport. The graphics are very colorful and animated giving the game a cartoonish feel. Although the musical score and sound effects are somewhat basic it blends in nicely with the overall tropical theme. The same tune plays continuously so some players may prefer to turn the sound effects off.
Smoothie Stands & Friends with Grubs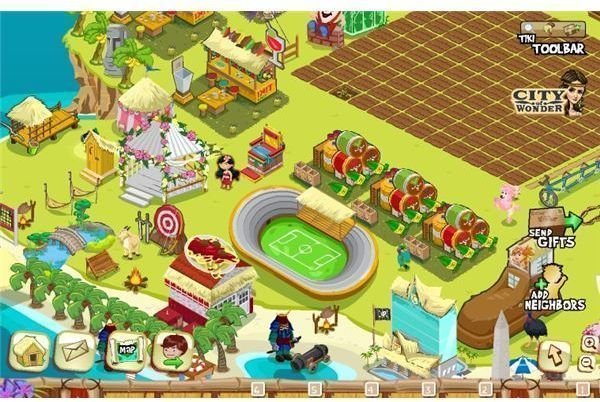 Players can also collect items, add workshops, and help out neighbors. Scattered throughout the island are vines, white grubs, driftwood, and shell coins. Collect them to sell or use with various workshops. Workshops in Tiki Farms operate much like the functional facilities in Farm Town. Players can plant pineapples and purchase a smoothie stand workshop to produce smoothies for profit or a dock to use white grubs as bait to catch fish. Visit your friends' islands to help with their crops, collect items, assist in storm clean-ups, or aid in the return of lost seagulls and dolphins back to the wild.
Overall Rating: (4 out of 5)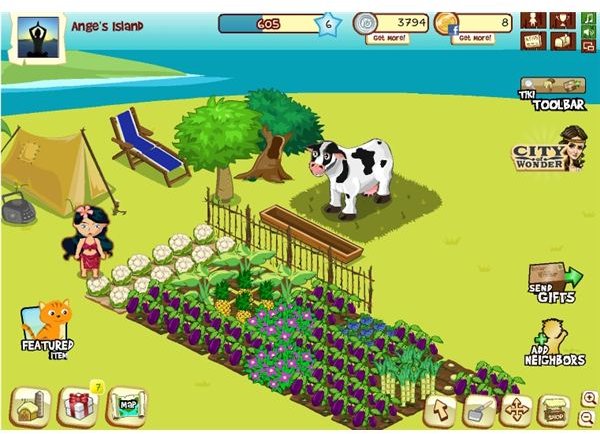 Tiki Farms is a virtual farming game with a cool tropical concept. Although, the plot restrictions can slow down gameplay at times it's still a solid game. Players can own multiple islands, decorate, build workshops, and of course farm. Plant prickly pears and be blessed by the Tiki Spirits with free seeds. Players can customize their islands choosing from a wide assortment of Polynesian garden décor and tropical themed items. Build seaside restaurants, set up smoothie stands, and live in a Moku Mansion. Buy exotic critters like the green gecko for company or visit friends. Anyone who enjoys games like Farmville or Farm Town will like Tiki Farm.