Farm Frenzy Gone Fishing Game Hints and Tips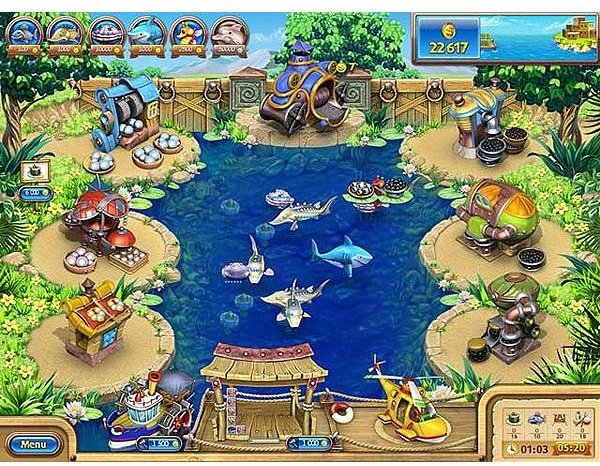 Scarlett has developed a reputation for revitalizing farms and turning them into profit making machines. As recognition for her hard work she receives an island farm. This particular farm is centered on a large pond. Inspiration strikes and Scarlett decides to turn it into a fish farm. Caviar and other products can be produced by different types of fish.
Game Play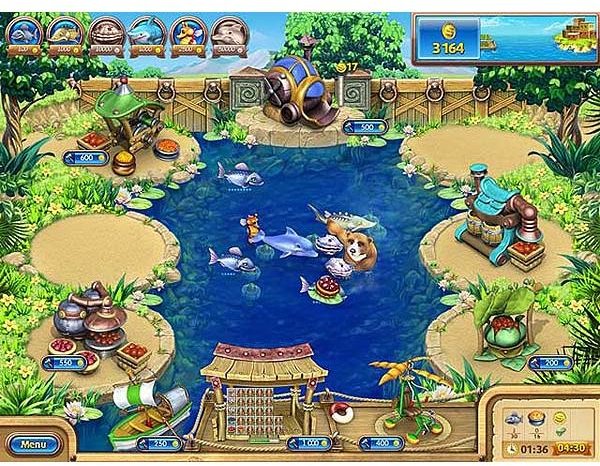 If you have played other games in this time management series, Farm Frenzy Gone Fishing will seem very familiar. Game play is the same except for the fish theme. Each level is timed. Different types of fish produce caviar that can be processed into other items or hatched into more fish. You will purchase fish and feed them so they will generate their product. Refineries will take caviar and produce a more specialized product.
Products made can be sold to market. An inventory storage facility holds these items until you decide to sell them.
Predators are an issue. When bears or other predatory animals appear in the pond, you will need to click on them several times to cage and move them into your inventory storage area. These animals can be sold for money.
In between levels, items can be purchased at the Shop. Upgrades, new refineries, decorative items and traps for predators are available. As you progress through the game, specific items will need to be purchased in order to play. If you do not have enough for the upgrades, any of the previous levels can be repeated to earn more money.
Farm Frenzy Gone Fishing has over 90 levels of play. Since levels can be repeated, the game has a lot of re-playability. Gold and silver trophies can be earned when levels are completed in a specific amount of time.
Game Tips and Hints
Fish can die quickly when they are not fed enough. Keep an eye on their life bar that is located next to them. If a bubbling sound is heard, that is a warning that fish are about to die.
The helicopter can purchase supplies needed on your fish farm. Click on it to select what you need. When the helicopter brings the items, they will be dropped from the sky by parachute. Collect them by directly clicking on the items to put them into your inventory.
If you are having difficulty completing a level successfully, play earlier levels to earn more money for upgrades. Purchasing upgrades for refineries and animal traps will give you a better advantage.
Scores earned in each level are based on profits earned and the total time it took you to complete a level. To make money, anything stored in your inventory can be sold. Items that are processed through a refinery will earn higher profits. However, this takes longer amounts of time. Sometimes it is to your advantage to sell volumes of unprocessed fish products (which are worth less) to earn a decent amount of money in a shorter amount of time.
Screenshot images for this game article were created by Sheila Robinson.