About Cake Shop 2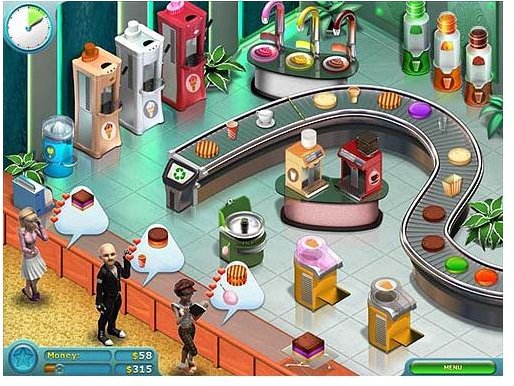 Emily is asked to take care of her friend Frederico's café. After helping him out, she decides to raise money herself by building five other cafes. It is a time management game with 19 upgrades and multiple types of customers.
How to Play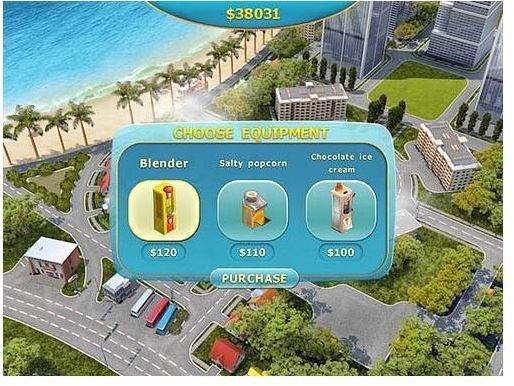 Your goal in each level of Cake Shop 2 is to serve cakes, snacks and drinks to a specific number of customers in a single business day. The café is a counter style environment where all food ingredients are placed onto a conveyor belt. Drinks and snacks are prepared by using machines.
Customers arrive and give you their order by thought bubbles above their heads. For cake items, click on the appropriate ingredients and then give them to customers. Drink and snack preparation requires taking a glass, cup or container from the conveyor belt and placing it on the appropriate machine.
At the end of each level a summary screen displays that shows the total money earned, tips, overall quality rating and number of customers served. Rating ranges from poor to excellent.
In between levels you can purchase a single upgrade for a new food machine, bonus items to improve game performance or items that go towards the construction of a new café.
Win the Cake Shop 2 game after you finish building the five cafes and have completed all associated levels.
Game Tips and Hints
To save time, prepare coffee, milk, soda and snack items before customers order them. If you have a juicer put a glass on the machine so all you need to do is add the appropriate fruit when an order is placed.
Food, drinks, cups and containers can be thrown out without cost or penalty.
To increase the patience of groups of customers, prepare a portion of their order. You can see their mood improve by the number of hearts displayed next to their heads.
Use the "fulfill part of an order" bonus item to help you out in levels with customers who have larger orders.
If you make a mistake on a cake order, place it on the side counter instead of throwing it in the trash. Eventually a customer will order it.
When making cakes, it doesn't matter which order you pick up the ingredients. They will always stack the way you need it.
The "patience bonus" is a useful upgrade that can help you in rounds where requested items are not appearing right away on the conveyor belt.
Deliver food and drink items faster by right clicking with your mouse (downloadable version). If you play the game directly online without downloading it you will not have this option.
When you add new food item upgrades, first select ones that do not require multiple steps to prepare them. These include the popcorn, cotton candy, ice cream, soda and coffee.
Image Credit
Cake Shop 2 screenshots were taken by Sheila Robinson.