Fun Cooking Games that are Worth Playing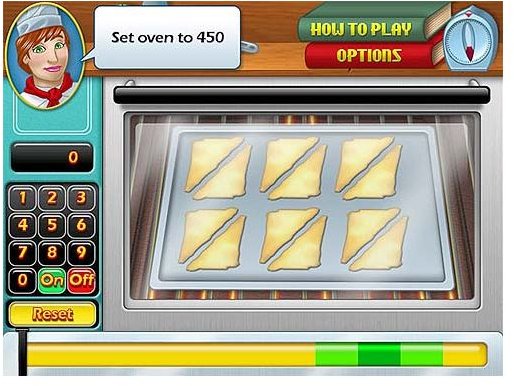 FUN COOKING GAMES
Cooking Academy
Do you wonder what it takes to become a gourmet chef? In Cooking Academy, you learn how to make all kinds of delicious food dishes for breakfast, lunch, dinner and dessert. Game play involves tasks that give you a virtual experience with dicing, mashing, chopping, frying and kneading food ingredients. Your score is based on your performance which is graded by the instructors. To move forward in the game, you will need to keep at least a C average. You win Cooking Academy by graduating and earning the rank of Master Chef. Find this game for purchase or free trial through the Shockwave.com or Big Fish Games.com website.
Go-Go Gourmet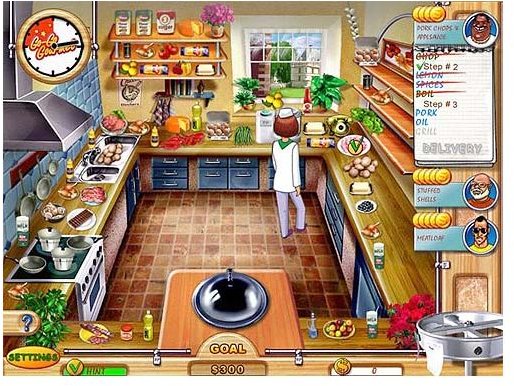 This PC game combines hidden object puzzle solving and time management style play. You play Ginger, who is training to become a Master Chef. Score points by preparing delicious gourmet dishes for customers in the restaurant kitchen. Tasks include baking, boiling, dicing and slicing food items. You can also play hidden object mini-games to score bonus points. Try out or buy this game through the Big Fish Games.com or Play First.com website.
Gourmania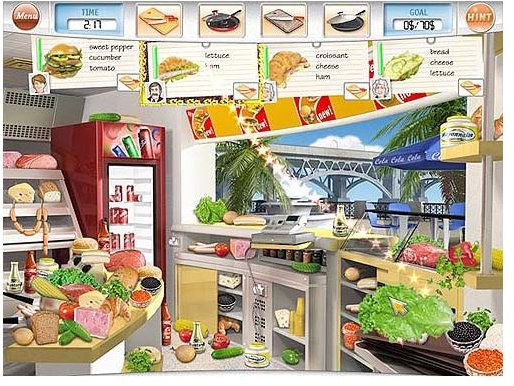 Gourmania is fun cooking game with hidden object puzzles and food preparation tasks. The goal is to become a top gourmet chef. It has a variety of competitive cooking challenges. Cooking skills in the game are improved by slicing, dicing, baking and frying a variety of food items with different types of cuisines. As your career advances, you will have access to new skills and equipment. Find this game through the Fenomen Games.com website.
Hell's Kitchen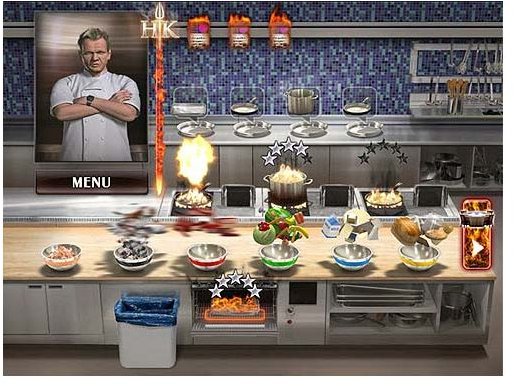 Do you think you have what it takes to work in Hell's Kitchen? In this rigorous boot camp style competition game based on the popular TV series, you are a contestant who hopes to win their own restaurant and become a Five Star Chef. However, Gordon Ramsey will not make it easy. Game play divides time management tasks in the kitchen and dining room area. To prepare dishes multiple ingredients are mixed and then cooked on the stove. Watching the clock is crucial in this game since each dish has a different preparation time. Over cooked dishes will result in a loss to your overall score and will need to be prepared again.
Once dishes are prepared, you will need to take them to the dining room area to be served to customers. You will also need to watch out for new customers that arrive and dishes that need to be cleared. Score the most points by making the fewest mistakes. If you make too many, you will need to repeat the same game level until your performance improves. Gordon Ramsey will also voice is disappointment with harsh and critical comments. Try this fun cooking game out for free or purchase it through the Big Fish Games website.
Hot Dish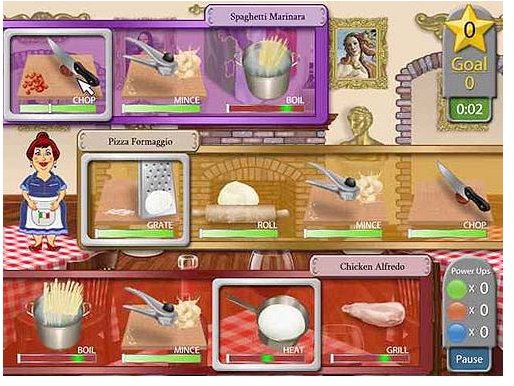 Hot Dish is a time management game where you are training to become a Five Star French Chef. Build gaining experience by working at various restaurants. You start off as a line cook, but move up in rank as your skills improve. Game play centers on preparing dishes of food for customers. Typical tasks are chopping, seasoning and cooking food items within a timely manner. The game also has an option to create custom recipes. Win the game after you successfully complete all levels in five different restaurants. Check it out through the Fenomen Games.com or Big Fish Games.com website.
Image Credit
Screenshot images for the fun cooking games article were created by Sheila Robinson.