Fun Cooking Games - Facebook Titanium Chef Review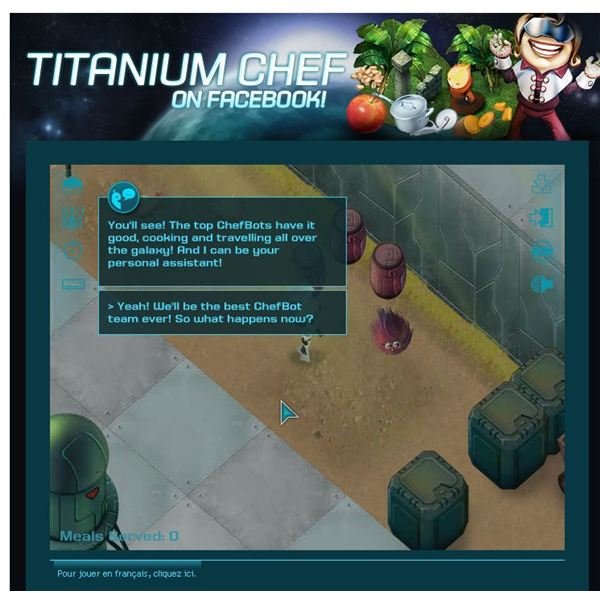 Game Basics (5 out of 5)
Titanium Chef is one of the many fun cooking games you can play on Facebook but it's also a great learning tool for children. The game is presented by the British Columbia Dairy Foundation. The whole concept behind the game is to take a robot and help him to become a great chef. Along your journey you'll encounter aliens who need to be fed food. You can collect recipes and answer questions to complete the meal for your alien friend. The game teaches you recommended servings from the Canada Food Guide. As the game progresses you'll lock more recipes to help you cook meals.
Playing Titanium Universe (4 out of 5)
The game play in Titanium Universe isn't that hard or much fun for serious gamers, but it is a great teaching tool and children will have a great time with it. You'll play as a robot and along with your sidekick Moxie you'll explore and meet different aliens who all need to be fed something. You can talk and interact with them a bit by following menus. As you encounter these aliens more recipes will be added to your inventory. Your alien friends will be hungry so you'll have to make them a meal which is based upon Canada Food Guide Servings. Players can have a look at ingredients in their guide and then put the right ingredient amount together to make the meal for the alien. Players get to learn other things too such as the importance of eating breakfast. This would make a nice game for parents to play along with their children at home. In some parts of the game you can't pass until you get the food guide servings from a meal correct.
Overall Game Play (4 out of 5)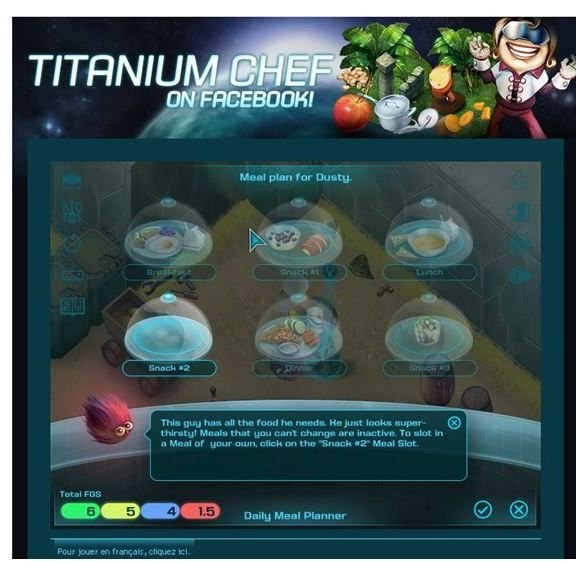 Titanium Chef is a nicely done learning game. Each NPC you talk to will move you to the next one in a logical fashion. There's plenty for kids to do while they learn. Sometimes they'll have to do a short quest and pick things up such as the pieces of "ancient scroll" from the Canada Food Guide that existed thousands of years ago. The quests re not difficult but they give the player something else to do besides just making meals. The game does suffer from some path finding problems where your little robot seems to get suck on whatever is near him but it's not too bad overall. The graphics are decent and get the job done.
Conclusion (5 out of 5)
Titanium Chef is a fantastic game for children, parents and educators. It's nice to not blow things up and actually learn something for a change. The game won't engage teenagers but younger children will enjoy Titanium Chef and learn about sensible eating with the Canada Food Guide. Titanium Chef is a recommended game for you and your family.