Defender Chronicles - Legend of The Desert King Review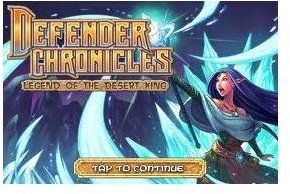 Introduction
Tower defense games are gaining popularity across different mobile gaming platforms thanks to the strategy and skills required to play them and because they offer a gaming experience with depth. The graphics are also quite stunning, even on small screens. One of these engaging tower defense games is Defender Chronicles, a game that integrates strategy and role playing games, or RPG, elements into the tower defense genre. This game is compatible with iPhone, iPad and iPod Touch. Let us take a look into Defender Chronicles and what makes it a good representation of where the tower defense genre is going in the world of mobile gaming.
Graphics and Sounds (5 out of 5)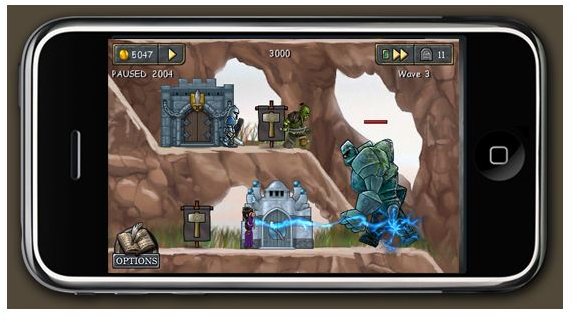 Although the game is in 2D and does not have the visual depth of 3D graphics, it still has a stunning look and feel to it. The game elements including the characters, the settings, the effects and even the maps are visually beautiful. The graphics are not the only element of the game that add a lot to its depth. The soundtrack that exudes an epic medieval mood helps provide an appropriate atmosphere for the gamer. Even the voiceovers convey an epic feeling to the whole gaming experience. If game quality is dictated by the visuals and the sound effects, this mobile game is superior to most of the games in its class. For its visually appealing look and feel, it gets a perfect score.
User Interface (4 out of 5)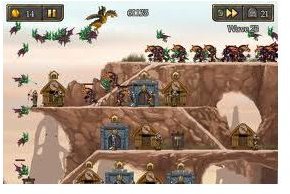 This game does not just have a visually stunning look and feel, it also has a very functional user interface. With RPG strategy and tower defense game elements combined, there are certainly a lot of options and statistics that are available to the player. These elements are easily accessible while playing the game without being obstructive to the gameplay. For an intuitive user interface that works well with the numerous options and menus of the game, it gets a rating of 4 out of 5.
Game Design (5 out of 5)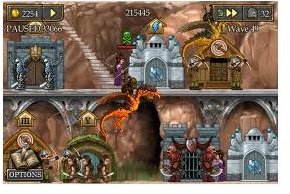 The player controls 6 different types of defenders that can be used to fight a variety of enemies that include orcs, gnolls, goblins, wyrm riders, giant golems and slimeballs. Skills, powers and defenses can be upgraded as the player takes on enemies and challenges during quests. One drawback in the gameplay is the inability of the player to choose where the towers can be built. This, however, is not a deal breaker. It is still a totally immersive game that offers replayability that is rarely seen in mobile games. For its impressive and immersive game design, it still deserves an excellent rating.
Features (4 out of 5)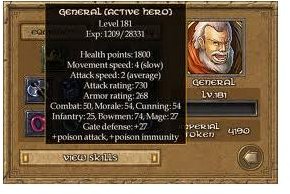 The game features 5 different game modes, including endless mode and campaign mode, and four difficulty levels per level. Outside the game, though, it doesn't have any extra features, which is not bad because the game itself offers so much already. For focusing the bulk of its features on the game itself, it gets a good score.
Conclusion (4 out of 5)
Possibly the best tower defense game right now, Defender Chronicles shows everyone how 2D tower defense games can be immersive and addictive without extra features like social networking or multiplayer modes. It simply relies on the strength of its game design and its beautiful graphics to win gamers' hearts. You can download this game from iTunes for only $2.99. An overall score of 4 over 5 is given to this mobile game.