Renaissance Kingdoms - A Review of the Online Browser Based MMO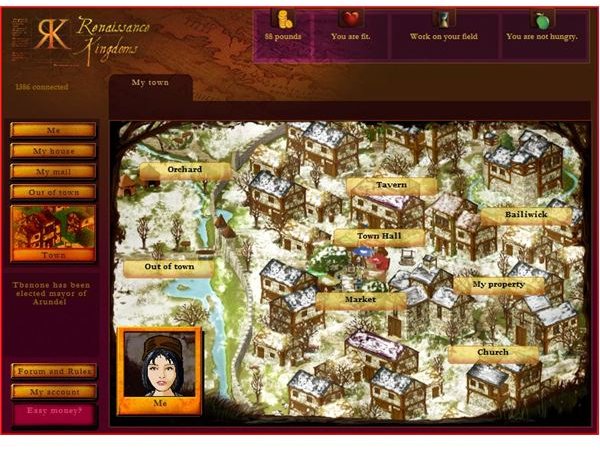 Introduction and Brief Overview of Renaissance Kingdoms
If you are looking for a simple online browser based MMO without much fighting and conquering to do, Renaissance Kingdoms is for you. There are no downloads and no payments to play. Just create an account and play directly from your browser. Of course there are a couple of special features that can be activated for a small payment, but the majority of the game is totally free to all.
Players are given a random in-game avatar, a fifty pound starting amount, and two loaves of bread. Your immediate goal is to advance to the next level. There are a total of five levels in the game. Players start at level 0 wearing nothing but rags. They then need to earn a certain amount before he or she can proceed to the next level. Slowly with each level, the player becomes more sophisticated, advancing until they reach the level where simply just having fun and relaxing are all that matters (the very new level 4).
This game would run extremely well on a Netbook.
Interaction and Roleplay in Renaissance Kingdoms (4 out of 5)
The best feature of the game is its interaction with other players. This, however is not applicable to everyone. I am not saying that the players don't always interact with you, or they are not friendly. It's just that you are in a big fix if you are from a different time zone just like me. Then, at certain times, barring a couple of RK addicts, the game is practically deserted.
Unlike many traditional MMOs, Renaissance Kingdoms focuses on player interactions to a significant extent. Similar to the real life need for a social life, Renaissance Kingdom encourages you to bond with other characters, have a couple or more drinks with them at the taverns, and enhance your mood.
Another key feature of the game is the forums which are a very integral part of the game. As the game focuses greatly on the roleplay (RP) feature, the forums provide you with a place to show your true renaissance colours. More details will be provided in a separate article - Guide to Roleplay in Renaissance Kingdoms.
Renaissance Kingdoms Graphics (5 out of 5)
Graphics are another positive feature of this game. Although there aren't any real-time dynamic graphics, the pre-rendered scenes and backgrounds create a mood and aura of the old world. Currently in its third version, the game's graphics have come a long way indeed. You can clearly see the various parts of the town you are in, as well as other aesthetically pleasing graphics. One particularly beautiful image is the fruit orchard with a glimmering stream running through it.
A typical RK town (Image courtesy: Renaissance Kingdoms)
A typical RK town (Image courtesy: Renaissance Kingdoms)
As you can see in the image, there is a small window in the bottom for the player character. You can clearly see the church, the taverns and other sections of the town. The forums can be accessed from the same page.
Crafting, Classes, and Professions (5 out of 5)
Other features like farming, professions, armies and guilds are also part of the game, making it a very diverse in terms of providing opportunities for the players. It encourages you to be what you want to be – a trader, a farmer, a vagrant or even a thief. Yes, you can become a thief, but don't forget, like in real life, there are players who are servants of the law and you can be prosecuted for every crime you commit!
The last I heard, there are still some more opportunities in the offing. There soon will be additional types of fields and professions, giving the players a wider choice in occupations and goods.
Players are encouraged to work their way into advancement, earn their keep, and become educated and wealthy citizens of their counties. As far as I am concerned, I give the game a thumbs-up and encourage all of you to join in the fun.