Microsoft Combat Flight Simulator 2 Review: Pacific Theater Revisited!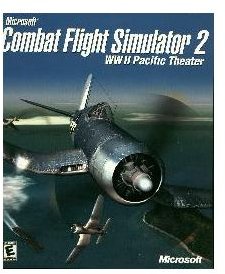 (4 out of 5)
The Flight Simulator series instilled a sense of fear and excitement associated with take-offs and mid-air maneuvers. Combat Flight Simulator WWII Europe took a further step by offering near-perfect military airplane simulation. The second installment of the Combat Flight Simulator series takes you to the vast blue Pacific and tries to recreate the historic air battles from both Japanese and American point of views.
Gameplay (4 out of 5)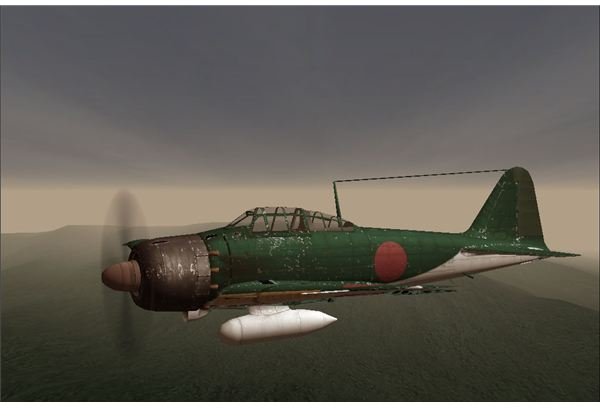 Microsoft Combat Flight Simulator 2: WWII Pacific Theater is a great addition to the WWII Europe series. The detailed airplanes and terrain, improved AI, enhanced damage effects and an improved virtual cockpit makes it a perfect successor to the WWII series.
The campaigns in this flight sim game are based on the historic Pacific battles. The game focuses more on carrier-based missions. There are many missions with different objectives including ground and sea attack, escort missions and interception. The objectives vary and can be very challenging because of good AI opponents; however, the most difficult part of any mission is to land on a carrier. For first-time players, a slight misjudgment can mean fatal failure. Most missions have to be completed after landing on aircraft carriers and sometimes it becomes very difficult for a damaged airplane to land on it.
There are many American and Japanese fighter planes ranging from Lockheed P-38F Lighting and Grumman F6F-3 Hellcat to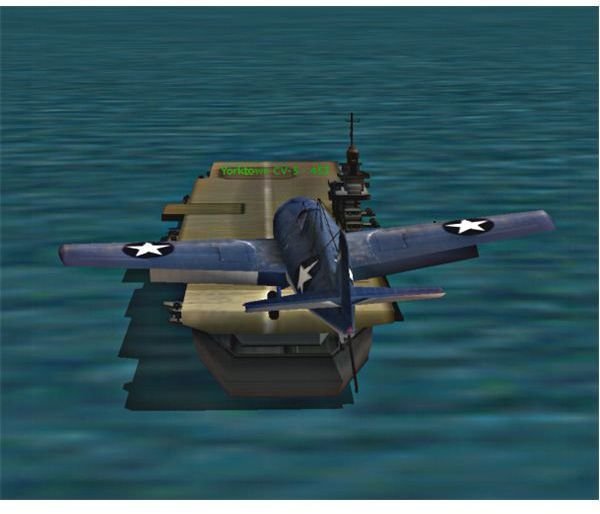 Mitsubishi A6M5 Zero and Kawanishi N1K2-J George. There are seven playable fighters in total and also AI-controlled fighters like the P-39 Airacobra, B5N2 Kate, Ki-43 Oscar and many others.
The controls might be difficult at first, but in later stages you can smoothly maneuver the fighter, thanks to a comprehensive 10-part training mission. It will teach the most basic levels of piloting the aircraft. Flight simulation games are always better with gamepads or joysticks, but the game can be played easily with the help of a keyboard.
For those who like to learn more about strategic gameplay, the game's 300-page manual can serve as the best walkthrough. The manual also gives access to fighter descriptions, combat tactics and rare factoids on the Pacific war theater.
The overall experience in controlling airplanes can be very satisfactory for an average sim gamer as well as a pro pilot. The carrier-based operations make the game very different from other combat simulators. The missions have good replay value. You can also edit the campaigns with the added mission editor. You can download Combat Flight Simulator 2 and enjoy additional features and whole new missions.
Graphics (4 out of 5)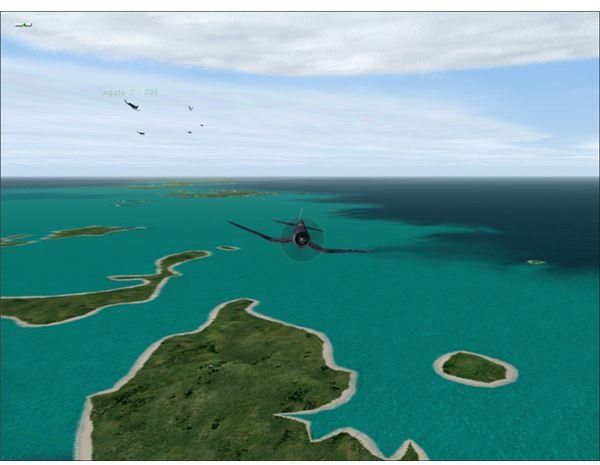 When you think about any flight simulator, it's the visuals that make or break the reputation of the game. This flight sim does a very good job in the graphics department. The terrain perfectly fits the atmosphere of the Pacific war scene. Developers did a very good job to make the sands and jungle look exactly like the terrain surrounding the Pacific Ocean.
With an excellent attention to detail and enhanced textures, the fighter aircrafts look strikingly similar like their real-life counterparts. They also display good damage effects. You can see a plane's inner components get exposed when your Hellcat shoots off the tail or wings of an enemy fighter plane. When a plane gets hit, the dense black smoke that comes out looks impressively realistic.
If you compare the cockpits of Combat Sim I and II, you will notice a stark difference. The three dimensional cockpits in Microsoft Combat Flight Simulator 2 have not only improved from a graphical point of view, but also easier to use. The overall graphics have improved tremendously, thanks to the T&L (transform and lighting) effects.
Sound (4 out of 5)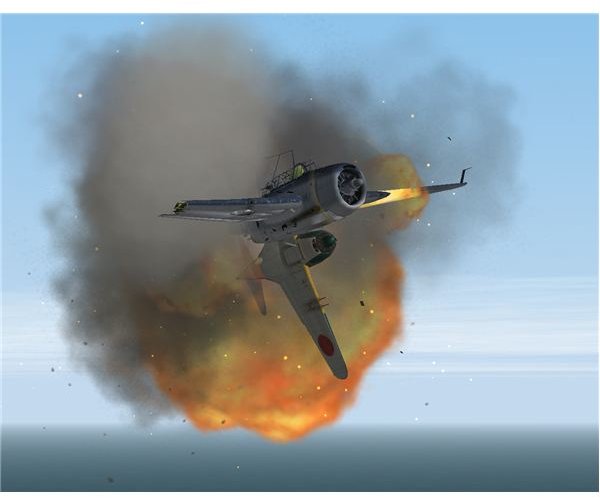 The sound of machine-guns spurting metal bullets, explosions and engine sounds are perfectly simulated. The cracking sounds of radiotelephony messages give you a feeling of being present in a real WWII air battle.
Overall
Microsoft Combat Flight Simulator 2 is best suited for both casual and hardcore flight sim fans. You can tweak the difficulty settings, select your favorite aircrafts and play several missions. Beginners can go through the training missions to learn all the basics of combat aircrafts. Hardcore sim fans might wish for more action and simulation, but the overall gameplay is superbly maintained.
System Requirements
Operating System: Windows 95/2000 or later versions
Processor: 266 MHz
Minimum RAM: 64 MB
Hard Disk Space: 350 MB
Graphics Card: Minimum 4MB of memory, 3-D graphics accelerator card with support for Hardware Texture and Lighting
DirectX 7.0