Big Fish Games Scores Again With Paradise Beach - A Superb Beach-Themed Time Management Game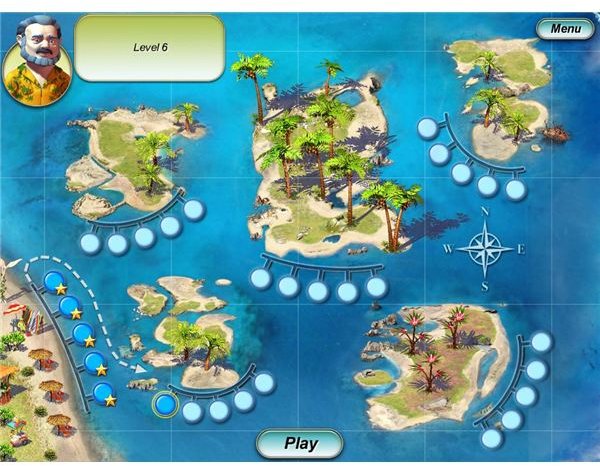 Paradise Beach
I can see it now - the white sand, the crystal blue ocean, the palm trees. Smell the pina coladas, the sea spray, and the surfboard wax.
And see all of those beach goers throwing their trash out, griping about the fruit stand, taking up all of the lounge chairs, and yes, even drowning because they swam out too far.
Yep, it's all here in one of the great time management games from Big Fish Games, Paradise Beach. You'll be right in the middle of the action, learning the ropes from one of the big guys, and then set out to take care of everything on your own. Let's go through some of the ups and downs of Paradise Beach from Big Fish Games and see if it's one of those casual games that you can't live without either.
Story Line (3 out of 5)
You are the newest understudy of a rich resort tycoon who's decided to take you under his wing and teach you the ropes in Paradise Beach. You'll learn how to keep your customers happy, how to make sure everything runs smooth, how to set up your beach correctly, and much more - so you can get a great beach resort rating and get more goodies for your resort. While the overall story line lacks a bit, it's not to say that it doesn't make for one of those great casual games that you can play for hours. So, I give the story line overall a 3 out of 5.
Game Play (5 out of 5)
Here is where Paradise Beach gets interesting. The game play starts off the same as most of Big Fish Games time management games do - you learn the ropes in the tutorials, learn what to do, what the tabs do and where to go to get what you need. All while an annoying little guy tells you what to do. You go through it, learn it, and then are ready to go out on your own.
Then, you find that this is not one of those sweet little casual games that will just let you play along. Oh no. The game play is suddenly kicked up about 10 notches and you're flooded with beach goers, all of who are cranky, want everything all at once and are overrunning everything that you have just set up on your beach.
I for one love time management games, and the harder they are, the better, as they offer me more of a challenge. Lately Big Fish Games has been really trying to get to me on some of their new games, and I have to admit - this one will get to you. More than once I wanted to strangle one of those little computer people because I just couldn't make them happy! Because of the game play actually getting really hard as you go, I give it a solid 5 out of 5. It will challenge you, it will have you frustrated, and you'll love it the whole time.
Sounds (1 out of 5)
Well, let me warn you right off - this is NOT a winning part of the game. I would really expect better sounds at my Paradise Beach, but hey - it's a game. The music is really just terribly annoying. I had to go into the settings and turn it completely off. The sound effects, well, they are really only to let you know when something needs fixed. Although, I do think it's funny when you click on one of the unhappy ladies on your beach and she says "uh-uh!" at you. Other than that, you're fine playing this time management game with the sounds compeltely off. This is the one part of the game that really lacks in my opinion, and I only give it a 1 out of 5 here.
Graphics (5 out of 5)
I like the little graphics here in Paradise Beach. The little people move smoothly, you can plainly see the trash they throw down, and you'll find that every little detail flows together great. As you can see from my screenshots below, the colors are great, and even when you are playing this little casual games on windowed mode, you won't have to worry about the details going away - unlike in some other time management games out there.
Paradise Beach Screenshots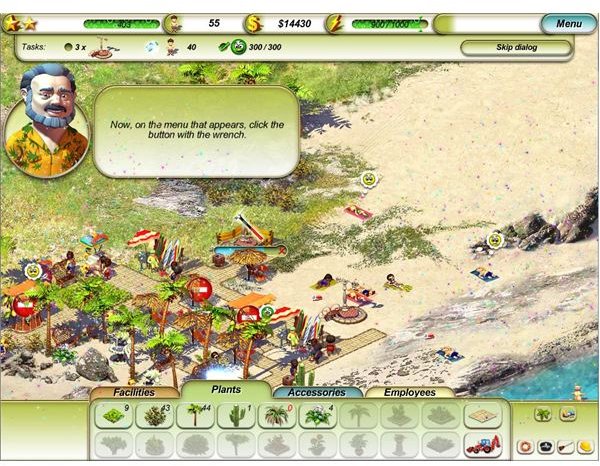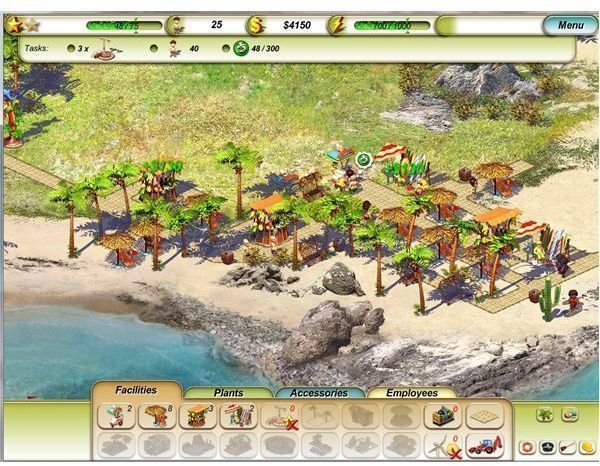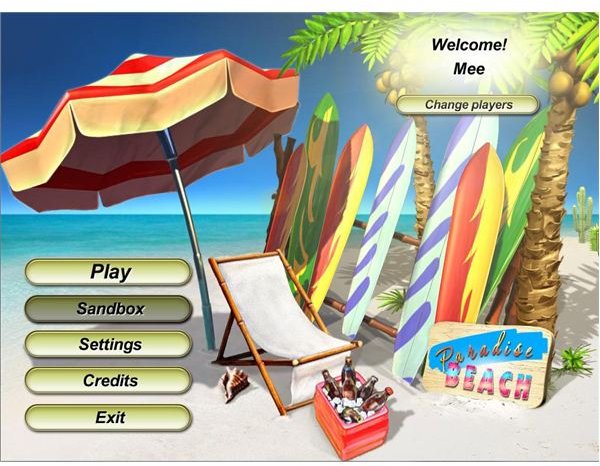 Overall
I bought Paradise Beach after using up the free online games trial that you can download. I really enjoyed playing it, and I'm still trying to beat it. For anyone that loves these great casual games from Big Fish Games, go over and check this one out. You'll find it in the free online games section and you can download it for a free hour long trial. You won't be sorry you did - especially if you like these types of casual games from Big Fish Games.
Here are some other casual games and time management games that you will like as well:
Mr. Jones' Graveyard - A Superb Time Management Game From Big Fish
Farm Frenzy - A Farming Time Management PC Game
Amelie's Cafe Review: Yet Another Restaurant Themed Time Management Game