Rock the Pharaoh's Knigdom in Style With Big Fish Games New Empire Builder: Ancient Egypt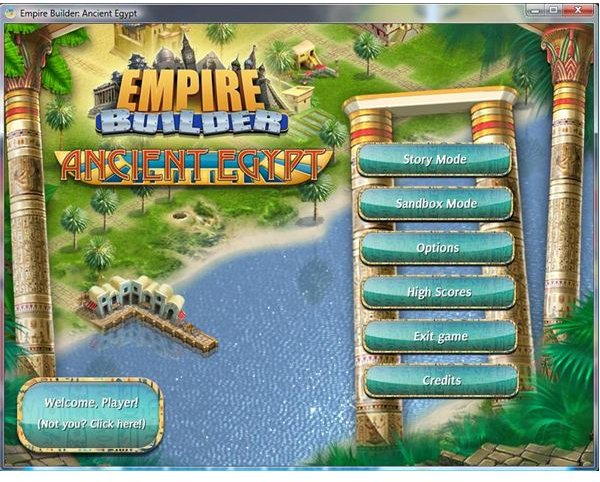 Build Your Own Empire in Ancient Egypt
Become the greatest master builder in all of ancient Egypt in Empire Builder: Ancient Egypt from Big Fish Games. Here, you'll build in the grand style of the Build-A-Lot series, completing new and unique buildings, upgrading them, providing reparis and much more to keep the Pharaoh and all of the people happy - and you might just have to chase some ghosts out of town while you're at it. Let's take a look at this fun little Big Fish Games title.
Story Line (2 out of 5)
Well, in my personal gamer opinion, I do feel that the story line could have used a bit of work. It is extremely similar to the Build-A-Lot series, except you are in Ancient Egypt. So, basically, you fulfill the master builder's and the Pharaoh's wishes for that level, and you pass it and move on to become the Master Builder. Other than that, well there isn't really much of a story line to this Big Fish Games title. I think that Big Fish Games could have easily put a bit more into the story line here to make it a little more interesting, but that's only my opinion. Probably because I have played every single Build-A-Lot out there WAY too much.
Game Play in Empire Builder: Ancient Egypt (4 out of 5)
For anyone that loves building games, Empire Builder: Ancient Egypt will be one you'll love as well. And, if you liked the Build-A-Lot series, you'll love it too. The game play overall is really well done in this city building games title, and you'll find that it's pretty easy to learn the ropes in the first few levels.
You will start off with some empty lots, sometimes a building or two, and build from there to complete your goals. Along the way, the Pharaoh will pop up with another request or two and you'll have those added into the goal list. You can build different types of houses, upgrade them, buy other properties to help you out, and repair those that get damaged. One of the things I like a lot about the game play is that in this building game, you can actually haggle with the seller of a property and see if they'll lower the price. You can't do that on any of the Build-A-Lot games, so this is a welcome change.
Of course, the game play gets a bit harder as you go, and once you complete a level, you can then go back and play the sandbox of that level and just build until your heart's content.
Graphics (4 out of 5)
Just like any Big Fish Games title, you can see that a lot of detail was put into Empre Builder: Ancient Egypt. Most Egyptian games don't hold a ton of graphical quality, which make them look more anime style, but this one is pretty well done. You can easily see from the screenshots below that there was plenty of work that went into this title. While the details are there, the colors are also pretty true to what building in Ancient Egypt would have been. The waters sparkle, the ships have great detail, the buildings are decently detailed, and even the little zombies that walk around sometimes are pretty darn good. So overall, the graphics in Empire Builder: Ancient Egypt are really good and you won't be disappointed here at all.
Screenshots from Empire Builder: Ancient Egypt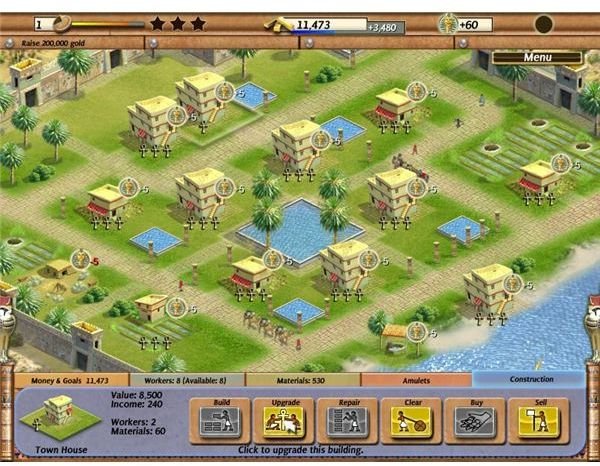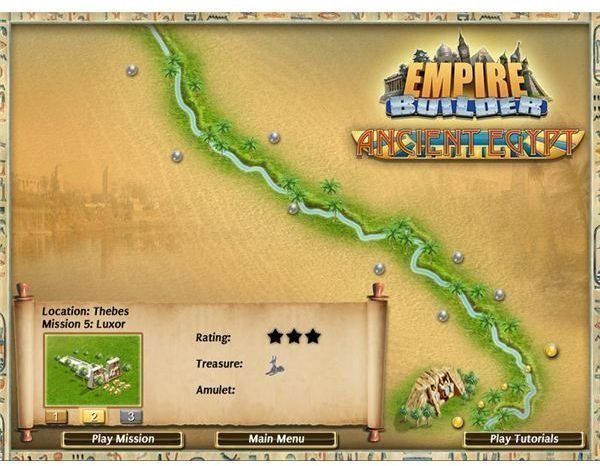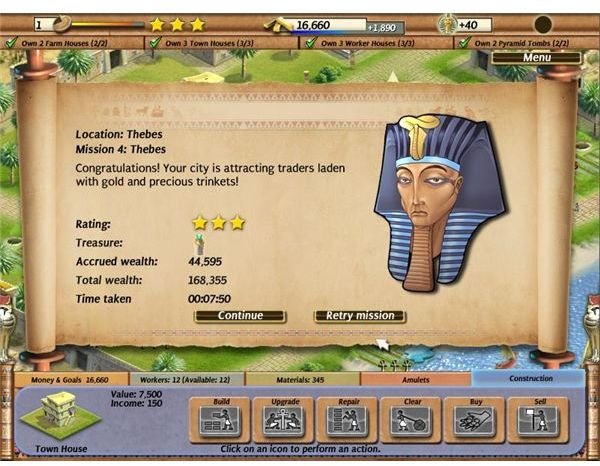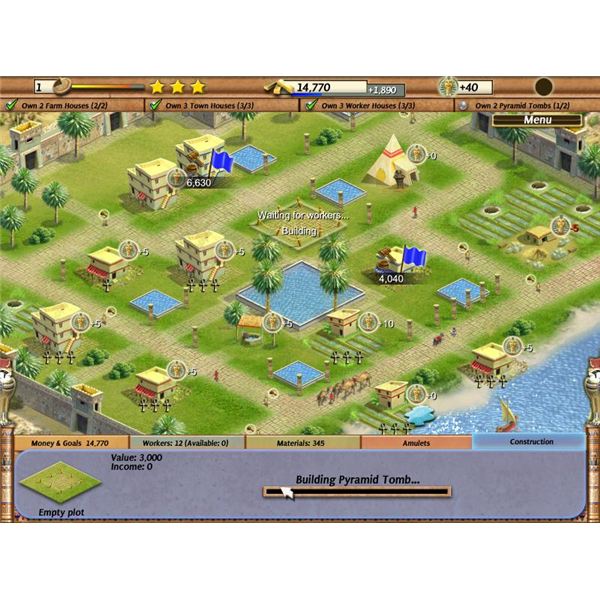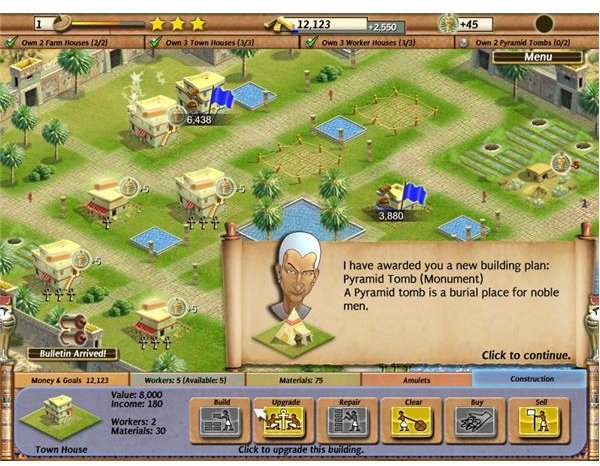 Sounds and Audio (2 out of 5)
This is one area of the game that I really didn't like. I mean, some of the sounds are decent, but the music reminds me of some old time elevator music that will drive you insane within a few minutes. So, I mainly played this game with the sounds off. I think that more could have been done here with the voices and the sounds to make the game a bit more in-depth, but it's just one of those casual building games, and it doesn't have to have sound - more than likely, you're playing it on the sly at work, so you won't have the sound on anyway!
Overall Impression of Empire Builder: Ancient Egypt (4 out of 5)
My overall impression of Empire Builder: Ancient Egypt was pretty good. I like building games, and I liked this one. But, I didn't like it enough to buy it. So, download the free Big Fish Games trial of this one and play it. You may decide differently and go ahead and buy the game.
Here are some other Big Fish Games titles that you won't want to miss out on either:
Mr. Jones' Graveyard - A Superb Time Management Game From Big Fish
Big Fish Games Scores Again With Paradise Beach
My Tribe - Review of My Tribe From Big Fish Games