Paradise Life Game Guide Part One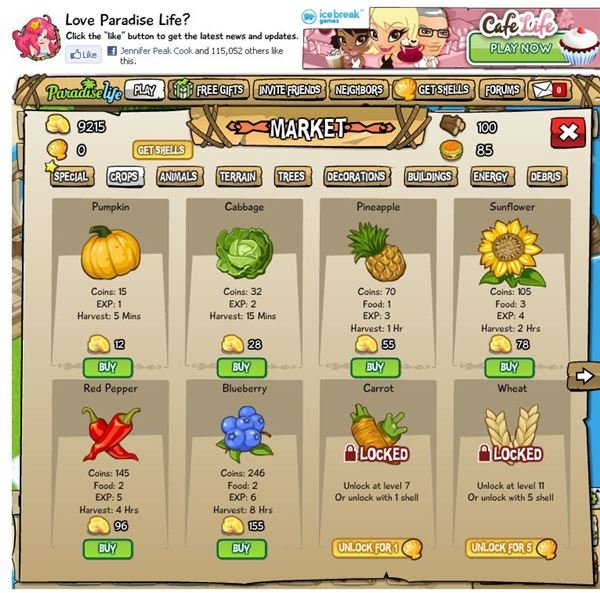 Paradise Life is much like Treasure Isle or Frontierville by Zynga. Players use energy points to clear their islands so they have room to construct buildings and add different decorations to their land. Crops can be raised which provide food for the player. Food is used to increase the energy reserves when they run low so the player can accomplish more during each play session. Players will occasionally uncover critters that they can fight for coins or other rewards. The game store features many different items for the player to add to their island and quests can be completed for rewards too.
Paradise Life Game Guide Part Two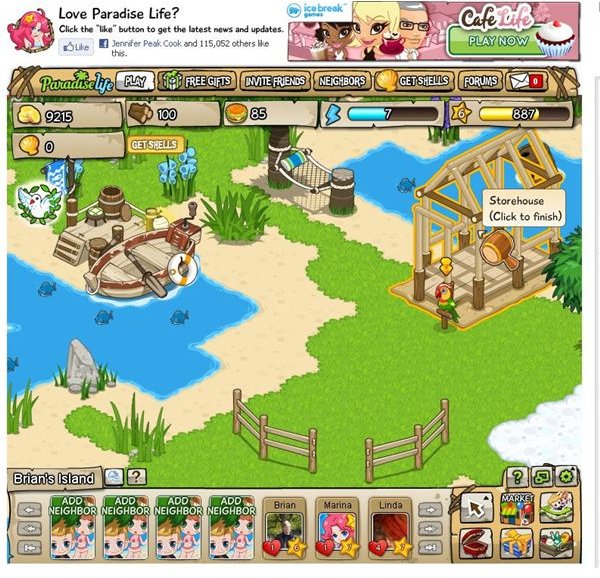 Crops are one of the main ways the player can make some money in the game. Currently twelve different crops can be grown including blueberries, watermelon, grapes, carrots, and wheat. Each crop will take a specific amount of game time before it's ready for use. Crops will provide coins, experience, and extra food that can be eaten for energy points. Animals are available as well but most of these cost game cash to own. Other options include trees such as mango, coconut, palm and banana. Having a good mix of items on the island will provide a steady steam of income for the player. Harvesting each item will cost energy points but crops are replanted without the use of energy.
Paradise Life Game Guide Part Three
The game features different terrain tiles including water, sand, snow, grass, and a stone pathway. You can make an nice looking island with plenty of different decorations including a fountain, gazebo, statues, bushes, shrubs, fences, pots, barrels and other decorative items. Many items also require wood to purchase. A hut, storehouse, general store, church, and hotel are available on the building side. These structures will require you to either buy parts or have your Facebook friends send you the parts to complete the structure. Special items can be bought to increase the speed that crops and fruit trees grow on the island.
Paradise Life Game Guide Part Four
The game features many reward quests. You'll find these quests on the left hand side of your game play area. More quests will become available as others are completed. After you do quests you also have the option to get married in the game and control other avatars. When you complete tasks on the island, you may loot a collection piece. As collections are finished, turn them in for rewards. Collections give coins and a special game piece decoration for your island. In your inventory, you can find gifts items and parts you need to complete items for your island.
Game Play Tips and Conclusion
Grow crops early to make use of the food for extra energy.
Have multiple Facebook friends to get many free items to help you on your island.
Be sure to place something on cleared land since trees and shrubs will grow back in that spot.
Paradise Life is a fun Facebook game that isn't that hard to play. Just be sure to have lots of crops and having a few Facebook friends will make the game much easier to play. Most social games require the use of friends to get the most enjoyment out of the game.