Farmville guides: English Countryside Sheep Pen Guide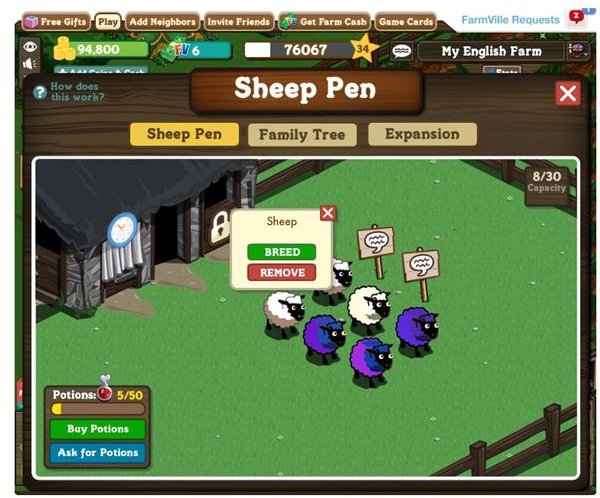 English Countryside Sheep Pen Guide: Constructing Your Sheep Pen
Like many Farmville structures, the sheep pen takes parts. You'll need boards, nails, and bricks to begin to construct your pen. The easiest way to get the materials is to ask friends for special delivery boxes or single parts. If you have enough special delivery boxes, you haven't opened yet there's a good chance you'll already have enough parts to make the sheep pen. Once the pen is constructed, you'll be ready to breed sheep and have them to give away or jeep on your farm.
Sheep Breeding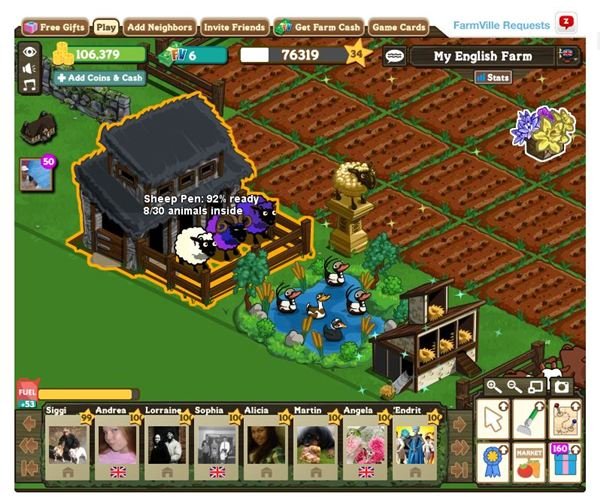 To breed sheep you need a ram and a ewe. You should find a ram in your gift box from English Countryside to get started breeding. Click on a ram and a ewe and select "breed" to start breeding your animals. The breeding process will take twenty-four hours but you can speed up the process with "love potion." You can get these by clicking on the potion icon inside your sheep pen and asking Facebook friends to send you some potions. Once you have five potions the breeding process will be over automatically. Once you expand your sheep pen, you'll be able to breed more sheep at a time providing you have more rams and ewes to breed. After breeding finishes, you'll receive a baby lamb.
Caring For Your Lamb
After breeding, you can give your lamb a name if you want and then you'll need baby bottles to feed the animal. You can also give the lamb away to Facebook friends if you don't want to keep it. Click the lamb and select "ask for baby bottles" to get some from Facebook friends. Bottles can be found under the gifts tab to send to friends too. Once you have fed your lamb enough bottles it will turn into a sheep. Your sheep may be white or different colors. In the market you can buy bottles for 1 farm cash under the "buildings-animal tab." Keep breeding sheep to get all sorts of different ones for your farm or sell the ones you don't want. Soon the sheep pen will feature a genealogy tree for your sheep. You'll also be able to win special prizes and sheep by becoming a master sheep breeder.
Sheep Pen Tips
Currently you can only own one sheep pen.
Mix different colors of rams and ewes together to get multicolored sheep. This process is entirely random so keep trying if you don't get what you want.
You need five love potions to produce a lamb instantally.
You can buy a five pack of love potions in the game store.
Ask Facebook friends for love potions and baby bottles to complete your sheep quickly.
Conclusion
Farmville English Countryside is off to a good start and the sheep pen is a fun addition. Look for more from this feature soon as well as other exciting additions to the game from Zynga. Be sure to make use of your Facebook friends to get the items you need to complete your sheep.
References
All images from English Countryside
Source: Article is author's own experiences playing English Countryside on Facebook.