Market Street Game Guide: Play shopping games on Facebook
Market Street Guide
Market Street on Facebook allows you to play shopping games but building your store takes some time so be patient. If your going to be playing and online for some time, it is best to pick items that will arrive in short periods of time such as those that take only three minutes to arrive. You won't make too much money at first but you will have a constant supply of goods to sell and your profits coming in. Once you level up you can buy additional shelves and clothing racks and buy more expensive items for your store. At higher levels you can also get more registers and hire your Facebook friends to work at the till. Good early items to sell include paint cans, sunglasses, ties, computer mouse, stud finder, Cds, and other small items that arrive quickly into your store. You can buy several lots of goods at once and be sure to add more from your stock room as the shelves begin to deplete of goods.
Racks and Shelves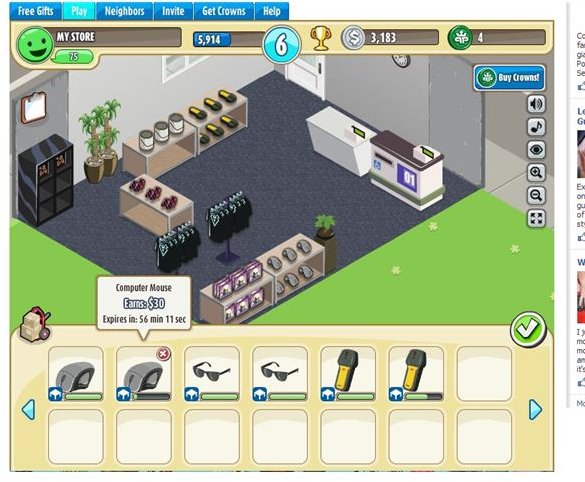 You have several options as far as racks and shelves you have for your store. It's a good idea to save up your cash and buy display pieces that hold more goods since this will bring you more money in a shorter period of time. The list of shelving units s lengthy so pick one that is going to suit your needs and make plans as to what you want to add next. Most clothing items need racks and won't fit on shelving units so be sure to buy some of those too. Basic racks will set you back 500 coins until you can buy the metal T racks for more capacity. Some items require oversized displays so make sure you buy the right one for the goods you want to sell.
Product Catalog
You can use the product catalog to sort items as to how they are displayed. Some items stack, others go on racks, while some require oversized display cases. You can use the icon buttons at the top to sort through the different categories of electronics, hardware, and clothing and match the product to the rack or shelf type that you want. So for example most tops require racks, while pants, ties and other clothing items need to be placed on shelves. Each item will tell you the shelving type it needs in order to be displayed in your store and beside it is the price the item costs to buy. The delivery time of the item and the products cost are displayed too.
Orders and Inventory
Once you order new stock it will take time to arrive on the truck to be delivered then you can access your goods from your inventory. Be sure to add more products as your stock runs low and go back and order more when your close to running out to keep that cash flowing. Note that items do expire so only order what you need for your store so you're not wasting money on goods.
Décor and Happiness
By adding décor items such as plants you can increase your happiness and your customer satisfaction. Always be sure to have your store fully stocked so your patrons don't go away unhappy. Adding more decorations will attract additional customers to your growing store, making you more money. Expand your store with crowns if you need more room or with Facebook friends a 20 x 20 store needs three Facebook friends or ten crowns. You will receive some crowns as you play the game so you can always wait.
Conclusion
It's fun to play shopping games like Market Street on Facebook. This game isn't too difficult to learn and get good at. Just buy items in a timely fashion and be sure you have your store fully stocked at all times. Remember that items can expire so be sure to use them up before they do from your inventory.