Racing Games: Facebook Title Town Racing Review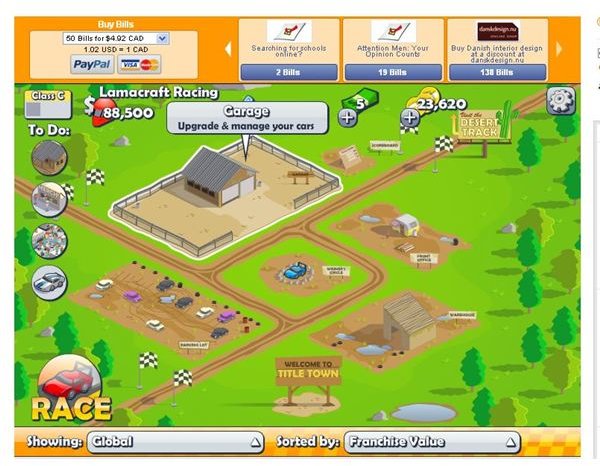 Title Town Racing Basics (3 out of 5)
Title Town Racing is a Facebook racing game. You'll start at the very beginning but as you race, you'll work your way up the ladder. Upgrade your cars in the garage and take part in practice. Race your cars against Facebook friends or NPC players. Visit the winners circle to view your achievements and awards earned in the game. Go to the racetrack and add buildings and other structures to your track. Add different stands and extras to increase your franchise value. Unlock different drivers as you level up in the game to race for you. Purchase new cars in the warehouse when you can afford them.
Title Town Racing – Your Cars (3 out of 5)
With Title Town Racing, you can own a wide variety of cars and upgrade them from the garage. You can change tires, engine, suspension, transmissions, and chassis of each car. Thee warehouse has different cars available for purchase in the game. Cars come with a basic rating but this can be changed in the garage. As you play the game, new cars will unlock. Complete tasks and earn different licenses to level up in the game and gain access to more cars and sports in your garage for them. Go to the winners circle and see your trophies, awards and other game achievements.
The Race Track (3 out of 5)
In the game, you can upgrade your racetrack with various buildings to earn money for your team. You'll find vendors here such as hot dogs, pretzels, nachos, soda machines, and others. Higher-level vendors will earn more coins. Having better stands at your racetrack will earn you fan points in the game. While adding extras to your game such as flags and a media tower will raise your franchise value. The race track feature is like a mini city building style game.
Racing (3 out of 5)
Click the race button to begin racing. Once you start a race, it opens up a mini game. In the game, you have to click various meters such as gasoline, turns and shifting. If you hit the meters in the green you stand a good chance of winning the race. You'll gain coins and fan points after you win. You can pick from NPC racers or challenge your friends playing the game.
Graphics Sound (3 out of 5)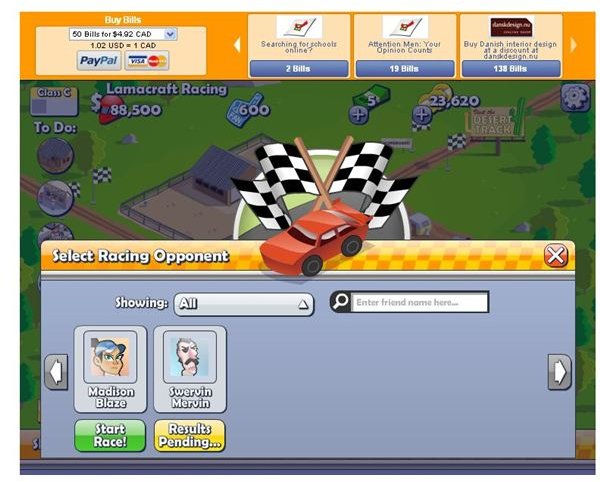 The game has some basic graphics and sound. Cars look decent enough but the main interface graphics are a bit bland.It's difficult to figure out where everything is without mousing over the game interface. It would be nice if the section of the game had their own menu to so you could click on something quickly without looking for it on the game map. The sound track is a bit plain without a real racing feel to it.
Interface (2 out of 5)
The game interface isn't the best for a Facebook game. The different sections of the game can only be located on the game map and you need to hunt for them. A menu to the side in addition to the map would be beneficial. Once you click a game section you can only hit a back button to get to the main screen and this is a bit of a pain. A menu at the top would solve this problem. In the forum section there doesn't even appear to be a back button and you need to reload the game to get back to the main screen. Hopefully this will be fixed soon as it is very annoying. The forums do have an add me feature which is helpful if you're looking for Facebook friends to play the game with you.
Multiplayer (3 out of 5)
A nice feature of the game is the ability to visit other players race tracks and see how they are doing with them. You can't click on anything or get coins so it's a bit of a letdown in terms of multiplayer game play.You can race your Facebook friends in Title Town Racing.
Game Play and Conclusion (3 out of 5)
Many sections of Title Town Racing such as achievelemts have not been implemented yet so this game should improve. As of right now Car Town is a better game if you want to get into some racing action. Title Town Racing still needs more content before it's a great racing game on Facebook. A better menu system for navigating would help the game some. This is just another average Facebook game but it can still be fun if you like racing games.