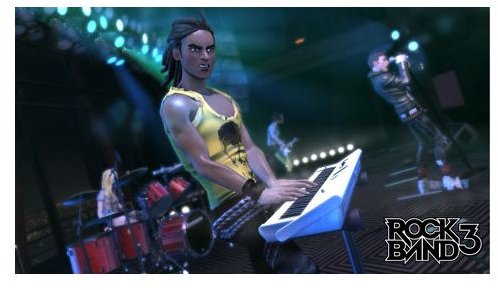 What's New? Rock Band 3 Preview
The Rock Band series has been one of the top-selling franchises of the current console generation. Because of this, gamers have become accustomed to a certain set of instruments over the past two numerical iterations of the game, but that's all about to change.
For starters, gamers are going to have the ability to rock out with one of the more obscure, yet crucial instruments in any rock ensemble; a keyboard. This means that, when combined with the ability to harmonize with two additional guitar players (ala Beatles Rock Band) there can a total of seven players enjoying the game all at the same time.
Additionally, if our guide to improving your rhythm wasn't enough, Rock Band 3 will give you some actual musical lessons along the way. With the new "Pro" mode, you can effectively take real music lessons as you're playing the game. This is sure to be ideal for hardcore Rock Band aficionados who are ready to take their music playing experience to a more legit avenue of expression.
The Music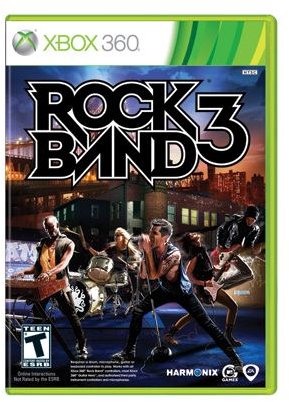 As with every other Rock Band game in existence, you can expect a metric ton of licensed music (83 new tracks to be precise) to rock out with. An extremely early playlist of included songs shows music from the last five decades, offering a range of music genres that puts past Rock Band games to shame. For example, you can rock out to Jimi Hendrix one minute, and The White Stripes the next. That's quite an impressive span of musical history, even for a huge franchise like Rock Band.
The Rock Band marketplace will also play a huge part in Rock Band 3. On day one, new Rock Band 3 owners will have access to every downloadable song they already purchased, as well as the current 1,500 songs available in the marketplace.
EA is promising that Rock Band 3 will be the smartest in the franchise, with a built-in song recommendation system that will keep track of things like your most played songs and then propose setlists for you that fit your style and level of skill in the game.
Rock Band 3 Squier by Fender Stratocaster
Perhaps the biggest announcement that came along with the reveal of Rock Band 3 is that it will be playable on an actual guitar. Fender and EA have partnered up to offer a version of their Stratocaster guitar that, while equipped with a full set of six guitar strings, can be used to play the game. The guitar can read finger movements as though it were a traditional plastic Rock Band controller, and will know when you hit or miss a note.
The coolest part about this is that when you're ready to move on to playing real music that same guitar can then be plugged into an amp and played in a more traditional means. The Rock Band 3 Squier will work hand-in-hand with the new "Pro" modes to give the player a proper foundation in playing guitar and then also provide a low barrier of entry to the world of real music.