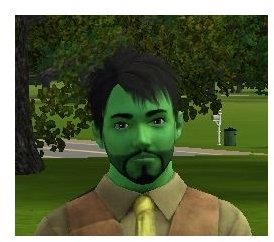 What Are Free Sims 3 Cheats?
Free Sims 3 cheats are free in themselves, as they are easily accessed within the game by pressing CTRL+SHIFT+C+ALT keys at the same time. The cheats themselves allow for a wide range of 'help' for your struggling Sim in their new world. These cheats allow for extra money, free housing, added relationships, and more.
Take our green friend here in the picture. He's a newly created Sim out in the world, but he's broke, has no friends, and lives in a one bedroom 'shack'. Well, with the free Sims 3 cheats, our friend here can get some help with the 'motherlode' cheat, enabling him to spruce up his house or even move into another one.
With the use of 'testingCheatsEnabled', we could change his personality traits, so he's a kinder, gentler guy or make it so he's geared to be a famous artist, music composer, or international spy; we can also make sure that everyone knows him, making his career goal of having a certain amount of friends easy.
We can even make sure he doesn't need that extra frills, like eating or bathing.
Short List
There are actually a lot of free Sims 3 cheats and while it would take a long time to actually list them all, I will list a few of the more popular and useful ones. One of the best places to find a listing of free Sims 3 cheats is the official website for the Sims 3, usually within the forums section. The Sims 3 forums have a ton of topics in regards to cheat codes, the best place to find them, as well as the best places to find downloadable content. The forums are a great source of free cheats as they are listed from actual players who have used them.

Now for that list! All cheats need to be entered within the cheat window while playing the game. Some cheats, like testing Cheats need to be done on the neighborhood screen.
Popular Cheats
Kaching - adds an additional 1,000 simoleans to a Sims income.
Motherlode - adds an additional 50,000 simoleans to a Sims income
jokePlease - posts a random joke onscreen
testingCheatsEnabled - enables the cheats function (enter on or off after enabled)
freeRealEstate - allows for housing despite cost to Sim (works with TCE enabled)
Modify Traits - allows to change the current trait of a Sim (works in game from selected sim; need to have TCE enabled)
Set Career - allows to set the level of any career (works in game from mailbox; needs to have TCE enabled)
The above list is small, however there are a lot free Sims 3 cheats floating around on the Internet. You can also utilize the 'help' command from inside the game in order to get a list of cheats as well. The cheats in themselves allow for a bit of flexibility when it comes to Sims just starting out, especially families. With the freeRealEstate cheat, you can move in your Sim family of five into that three bedroom house you may not have had the money for.
The cheats also allow for greater designing abilities for those that enjoy building a house from the ground up. There are cheats that allow for the manipulation of the layout in order for you to design that dream house you've always wanted.