The Magical World of The Sims 3 Hidden Springs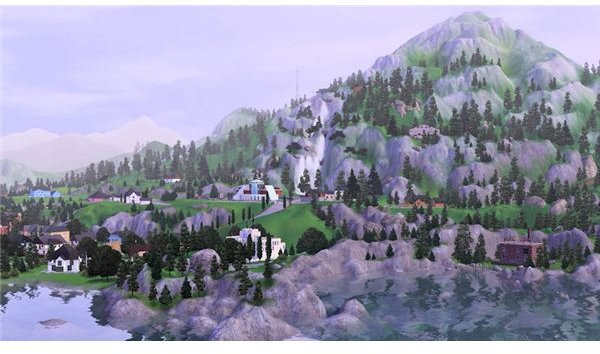 The official The Sims 3 store has released a few new worlds that players can purchase and add to their game. The first was "The Sims 3 Barnacle Bay" which had a pirate theme. Then next one is called "The Sims 3 Hidden Springs" and it has a laid back, lake town feel. Don't let it fool you; there are mysteries here which may surprise you!
These new worlds are purchasable on the official store website and cost SimPoints to purchase. Unless you catch the SimPoints on sale, they cost $10 per 1,000 points. There is a special promotion going on for the release of "Hidden Springs" for it to cost 2,250 SimPoints until September 24, 2011. After that date, it will cost 2,450 SimPoints to purchase.
This new neighborhood might be available at a later time as a boxed version, which is what happened with the "Barnacle Bay" neighborhood.
What is this World Like?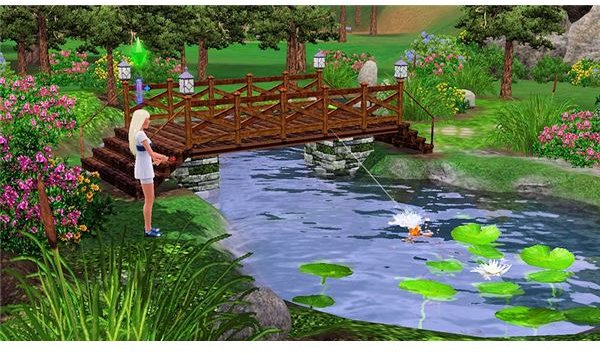 The Sims 3 Hidden Springs neighborhood is my favorite world to play the game in, at least for right now. The developers for this world really took their time to create a magical world where Sims can live and enjoy life. It doesn't look like it was just thrown together at all, each lot looks like it had a significant amount of time to be created and decorated with items that would fit that specific lot. It was beautifully done!
This neighborhood is a relaxing area for Sims to enjoy their time in. They can do just about everything that they can in other neighborhoods, and if you have the other expansion packs, and stuff packages, you can add what you want into this world too.
There are new buildings, items, and of course Sims. Some are really quite mysterious and their skin is a pale shade of green. If you are looking for a luxurious and mysterious world for your Sims, this is the one for you!
New Buildings and Objects
This neighborhood has newly designed residential lots and community lots. These buildings all look beautiful in the town, and were really designed with close attention to detail. The Redwood Heights Luxury Lodge, Crystal Solarium Rejuvenating Waters, Fairyfolk Park, and many more await you in this new world.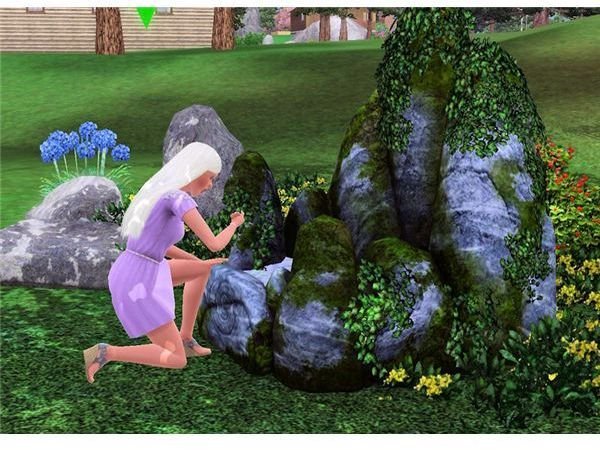 There are dozens of new items that were added with this new world. These new objects include everything from a new mailbox, fountains, building items, clothes, and much more.
The best and most sought after new object that was added is called "Leon's Fountain of Youth." Sims can use this fountain to wish to be younger, and also drink from it. This is an extremely expensive item to add on a residential property. It can be found in the "Décor" section under "Sculptures" or as a "Lawn Ornament" and costs $495,000 if placing on a residential lot. However, if you go into the "Edit Town" mode, you can place it on a community lot and get around this money issue. If it is something you really want on your Sim's property, then use The Sims 3 money cheat.
New Sims and New Clothes
There are quite a few new Sims and Sim families with this addition to the game. The Sims included have a bit of a fairytale feel to them. The Vanderburgs are a rich family in the town and they are trying to marry off their "prince" Sebastian. Another family has two daughters and a step-daughter that takes on the Cinderella role.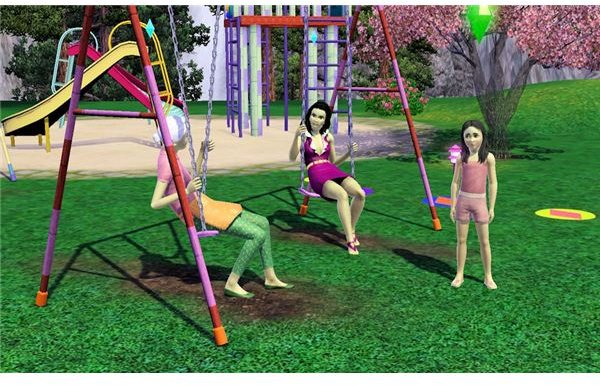 Many of the Sims that lives in the woodsy area of The Sims 3 Hidden Springs neighborhood is a pale shade of green. It is still unknown as of why they are this shade. They could be The Sims 3 aliens, or maybe they are that color from drinking too much of the water from the springs.
I really enjoy new clothing options for my Sims, so having new clothing that is quite fashionable added in with this neighborhood is a major plus for me. More clothes were added for female Sims than for males, but all of the new additions are quite nice and have the luxury spa look to them.
Overall…
"Hidden Springs" is one of the most detailed and beautiful The Sims 3 worlds that you can play the game in. I think that everything that was added with it really does make it worth the price. This is my favorite neighborhood so far, and I can't wait to start telling more stories with my Sims in it. If this town looks like something you'd like, go ahead and make the purchase – it is worth it!
References
All screenshots and references from The Sims 3.

Screenshots provided by the writer.