The Sims 3 Worlds and Neighborhoods Guide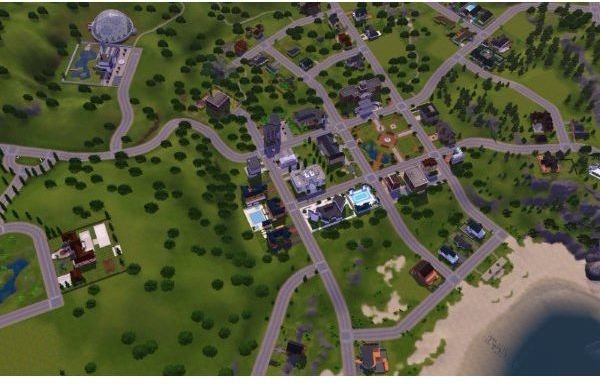 The Sims 3 Worlds
The Sims 3 lets gamers play new games in the form of worlds (though you can create more in a single world for different stories). Sims 3 worlds and neighborhoods are essentially the same thing. The base game gives just one neighborhood, but additional expansion packs provide more options, as does the official website. You can even create your own Sims 3 neighborhoods with the Create a World tool (available for free).
Sunset Valley - Sims 3 Worlds
The only world that came with The Sims 3 base game is Sunset Valley. This is a large world that has 97 lots, many premade Sims, a downtown area that is beautifully centered around the park, and has recreational activities ranging from going to the gym, spa, beach, pool, and many more.
Riverview - Sims 3 Worlds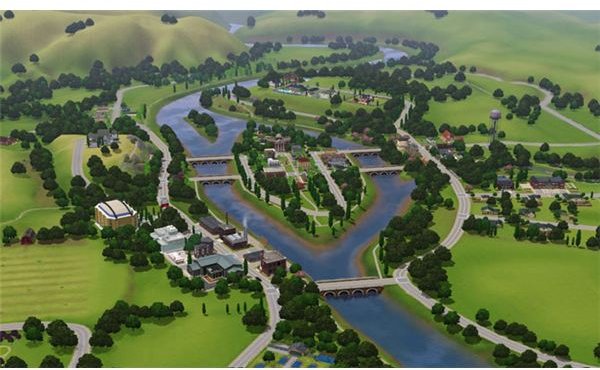 The Sims 3 worlds also have a free neighborhood to download from The Sims 3 website. Riverview is however, only available for those that purchase and register The Sims 3 base game. Download Riverview here.
The sleepy little town of Riverview has the small town charm for those Sims that like a more country setting. It has farms, pastures, and a beautiful winding river. Riverview offers many community lots, new Sims and families, and new secrets for your Sim to learn about the town.
Barnacle Bay - Sims 3 Worlds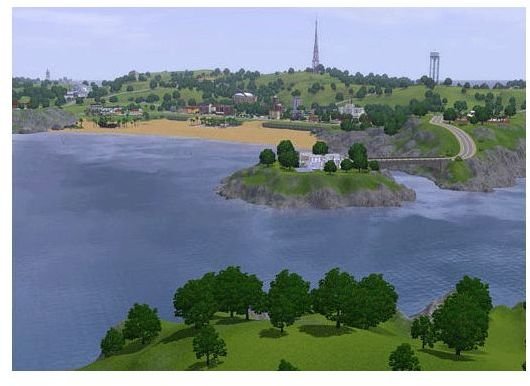 The first purchasable world available for download from The Sims 3 Store is Barnacle Bay. It costs 1,650 SimPoints and comes with a wide variety of pirate themed objects, clothes, and more.
Barnacle Bay is an island that is surrounded by the Simuyan Sea. It features a restaurant on a pirate ship, campgrounds, parks, beaches, and a modern downtown area. This new neighborhood also has 57 new Sims, ghosts, and a bit of a mysterious adventure for those curious Sims seeking it out.
New Worlds from The Sims 3: World Adventures
The Sims 3: World Adventures expansion pack brought with it three new worlds that Sims can visit for vacations. The longer your Sims want to travel, the more Visa points they need to earn while visiting these new Sims 3 worlds. Sims earn these points by completing quests, searching tombs, and more while there. When Sims are visiting other countries, they can't use their car. Instead, they must use a bike, The Kenspa or a motorcycle.
Al Simhara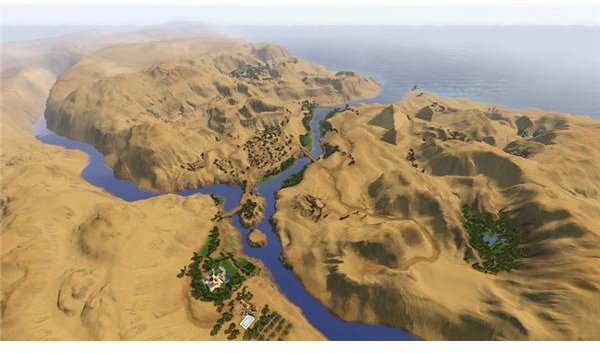 Al Simhara is the city that Sims can visit in Egypt. It is located alone a river and is full of mystery and magic. This world has pyramids with mummies, crocodiles in the river (which you can catch and bring home), and much more!
While in Al Simhara, Sims can learn new recipes, buy a snake charming basket, adventure in tombs, search for relics, and uncover the secret behind this mysterious neighborhood.
Champs Les Sims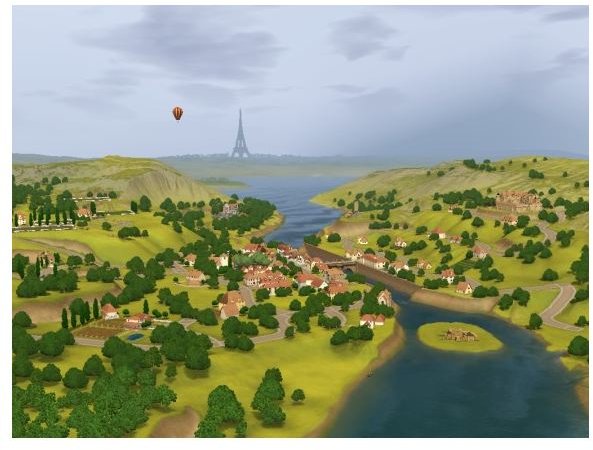 Champs Les Sims is the city that Sims can visit in France. It is resembles a small rustic town in France that is full of history. When Sims greet one another in France, they kiss each other on the cheeks.
Sims can learn the art of Nectar making while in Champs Les Sims, and even bring home a Nectar Maker while visiting a local shop. If you use make nectar with Life Fruit, you can even extend your Sim's life! Sims can also go fishing for new animals like Frogs, search for relics, and explore tombs!
Shang Simla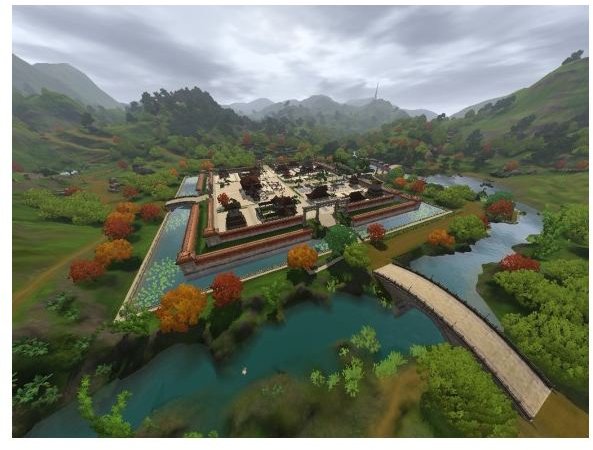 Shang Simla is the city that Sims visit that is in China. This neighborhood is set in a peaceful mountainous area near a Great Wall. Sims from this world bow to one another, and eat with chopsticks.
While Sims are visiting Shang Simla, they can learn the discipline of Martial Arts and bring home a Training Dummy and Board Breaker to practice. Sims can also come home with a Fortune Factory Fortune Cookie Maker, incense burner, take beautiful photography (and raise their skill) and much more!
Twinbrook - Sims 3 Worlds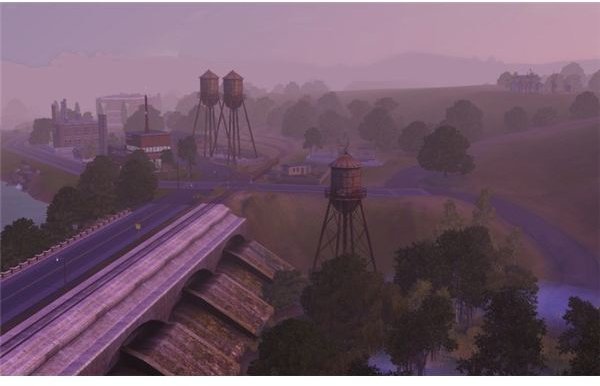 Twinbrook became available with The Sims 3: Ambitions expansion pack. It was designed to show off how much more advanced the world designing crew is working on making memorable and enjoyable Sims 3 worlds for gamers to play. Twinbrook is located on a bayou (or swamp), has many bridges, and the architecture is very much French inspired. This gives a feel for the town being in a suburb in Louisiana by the swamp. The swampy areas in the town make it very dark and misty, perfect for soon-to-be Sims 3 vampires with the addition of The Sims 3 Late Night!
Bridgeport - Sims 3 Worlds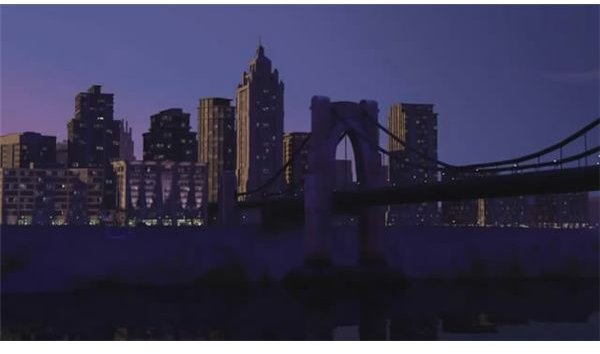 Bridgeport is not yet released. This is the new world that is available with The Sims 3: Late Night expansion pack. It will be featured around late night activities, have a large downtown including penthouse lofts and high rises. Vampires will also be introduced with this expansion pack, and they even have their own vampire bar called The Plasma 501 where your Sims can meet them, and even become one.