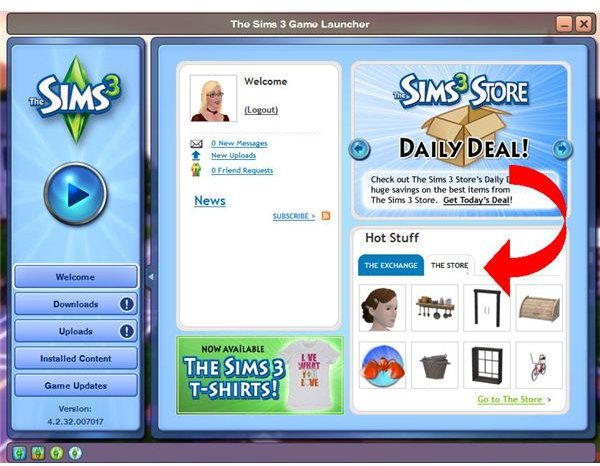 TheSims3.com
The Sims 3 offers an exceptional website for their gamers which can be found at www.thesims3.com. It offers information about their Sims 3 games as well as a place for their members to communicate on their forum, download from The Store, exchange creations with others at The Exchange, access to free items, and much more.
Their website also offers free creation tools including Create a World and Create a Pattern for those gamers who like to create more than just edit designs already included in the games.
The Sims 3 Store
There are three ways to access The Sims 3 Store. The simplest is to simply go to www.thesims3.com. The second way is to open up your Sims 3 game launcher and then select The Store from there. Doing this while logged in automatically logs you in on their website as well. You have to be logged in to buy and download from The Store, so go ahead and login when you go there. The last option is to access Shop Mode while playing The Sims 3.
The Store gives players the ability to download what they want instead of buying tons of Stuff Packs they may just have a couple items they want (though they do have Stuff Packs available for The Sims 3 as well).
The categories available as of now include: Sets, Home Décor, Home Improvement, Clothing, Hair, My Page Goodies, Branded Content, Transportation and Sale!
One of the new additions to The Sims 3 Store is the Daily Deal which offers random single items or even sets of a discount usually around half off. Quantities are limited each day, so be sure to check it out in the morning before they sell out!
How To Get SimPoints
By simply purchasing The Sims 3 and The Sims 3: World Adventures and then registering them on www.thesims3.com, your account will be credited with 1,000 for each game.
There is so much great content on their store though that those 2,000 SimPoints could be spent rather quickly. It is pretty simple to get more though, but you have to purchase them. The current going rate is $10 USD for every 1,000 SimPoints. The Sims 3 accepts Visa, Mastercard, American Express and PayPal.
How To Download Items From The Store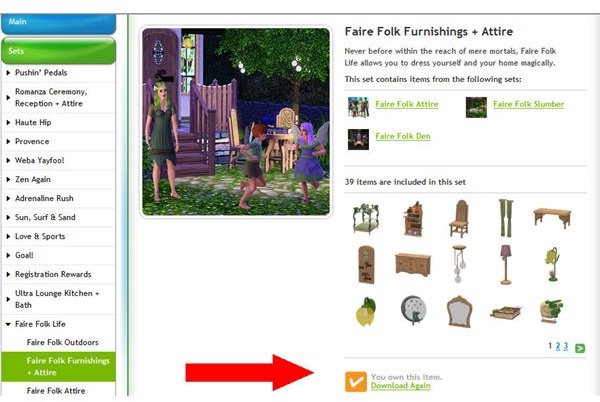 After you've found something that you simply cannot play The Sims 3 without (or is perhaps free), go ahead and buy it or download it. Downloading items from The Sims 3 store is quite simple once you get the hang of it.
First thing you need to do is make sure you have enough SimPoints (if needed) to buy it. If you do, then select the Buy Now button on the item or set you want.
Then select the Download button on the item and it should start to download to your Sims 3 launcher. If it doesn't start, try using a different internet browser (such as switching to Internet Explorer if using something else). If it still isn't wanting to work, which has been the case for some, then under your internet security settings turn your protected mode off – just for this. After you've downloaded it, turn it back on. Do this at your own risk, but it has worked for many to get it to work.
After your item is downloaded, go to the Downloads section on your Sims 3 Game Launcher and select the item and install. Voila! It should now appear in your game!