The Sims 3 Fashion Career Guide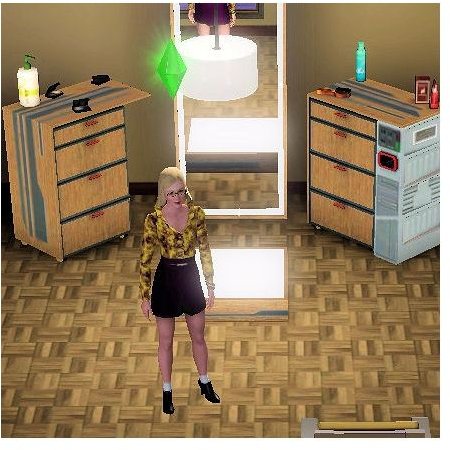 Basic Information About Careers and Professions
Sims have been able to have careers since the first Sims game. However, with each new version (and The Sims 3 Ambitions expansion pack), Sims have been able to have more advanced and fun career options.
Basic careers like the music or business career means that your Sim goes to work at their set time and you don't have to do anything while they are working. Much like when the kids go to school. However, with the profession careers you get a weekly stipend and also earn additional money from completing jobs around town in your profession.
The Sims 3 fashion or stylist profession is one of the new professions introduced from the Ambitions expansion pack. It is a highly involved career path, but one that is quite enjoyable and fun for those who are interested in fashion.
Sims need to have either a profession or career in order to make enough money for their bills, food, and other expenses without the use of cheats.
Love Fashion?
Does your Sim love fashion and often laugh at the other Sims around town for their lack of style? If so, this is the perfect profession for your Sim! You can either choose to give Sims fantastic makeovers or give them a bad makeover (especially funny for your Sims' enemies).
In order to be hired as a stylist, your Sim needs to head over to the salon and apply. The salon is a new building available with The Sims 3 Ambitions expansion pack. Once it is in your town, your Sim can apply there.
Sims start out in this profession path as a Fashion Fledgling. No skills are needed to be hired, but it is a good idea to have some high painting skills ready so you can practice your work skills at any time and also to have good relationships already built with other Sims so you can soon solicit your fashion services to them. Also, a love of Sims 3 fashion in real life will be a big plus for yourself because some makeovers can become heavily involved (especially if using lots of custom content) and perhaps take a long time to finish.
How To Get To The Top
Getting to the top of The Sims 3 fashion profession takes time but is well worth it. Here are some tips to reach your Sims' goals of becoming a Fashion Phenomenon:
Painting skill. Reach the highest tier you can in the painting skill before applying to be a stylist. This will help tremendously.
Artistic trait. Having the artistic trait for your Sim will help them to reach the level 10 painting skill much faster and sketch better on your drafting table.
Buy a drafting table. Buy a drafting table for your Sim to use at home right away. This will allow your Sim to raise their stats in the stylist profession faster and at home – even during non-job hours.
Build your portfolio. Have your Sim place each job finished as well as their fashion sketches from the drafting table into their portfolio to show other Sims for freestyling makeovers around town for extra cash.
Discuss fashion to clients. If you choose to Discuss Fashion and Compliment Fashion Sense to your clients before giving them a makeover, they are more likely to like their makeover and improves your relationship with them.
Keep stylin! After your Sim reaches level 10 in this profession, they can continue to get profession skill points by doing makeovers and sketching, so keep it up. Each time the experience bar is full, your Sim will make more money per job!
Stylist Profession Track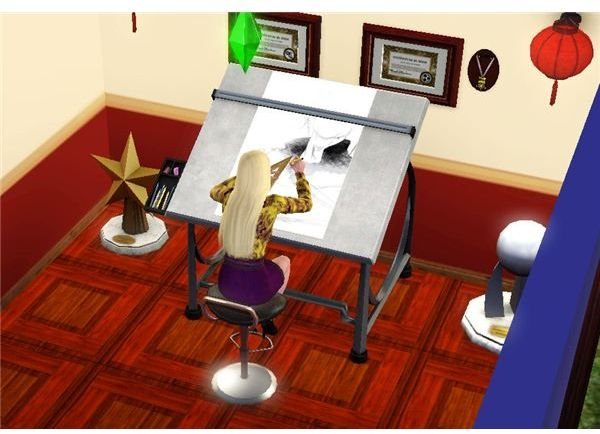 The stylist profession in The Sims 3 is quite profitable and fun for those who love fashion and want to makeover the town's fashionably clueless Sims. How much your Sim can earn is entirely up to you. If you want to earn lots of money, perform each job available and constantly seek out others while you are out on the town for freestyle makeovers.
The Sims 3 fashion profession path has 10 levels from Fashion Fledgling to Fashion Phenomenon:
Fashion Fledgling
Jobs Available: Tue-Sat from 9AM-7PM
Earns: $182 stipend per week + money earned from completing jobs
Unlocks: Discuss Fashion with other Sims
Taffeta Trainee
Jobs Available: Tue-Sat from 9AM-7PM
Earns: $240 stipend per week + money earned from completing jobs
Unlocks: Job Pay Increases
Polka Dot Specialist
Jobs Available: Tue-Sat from 9AM-7PM
Earns: $298 stipend per week + money earned from completing jobs
Unlocks: Freestyle Makeovers
Houndstooth Soothsayer
Jobs Available: Tue-Sat from 9AM-7PM
Earns: $444 stipend per week + money earned from completing jobs
Trendsetter in Training
Jobs Available: Tue-Sat from 9AM-7PM
Earns: $458 stipend per week + money earned from completing jobs
Unlocks: Job Pay Increases
In Vogue Virtuoso
Jobs Available: Tue-Sat from 9AM-7PM
Earns: $700 stipend per week + money earned from completing jobs
Unlocks: Give Fashion Advice to other Sims
Haute Hot Shot
Jobs Available: Tue-Sat from 9AM-7PM
Earns: $984 stipend per week + money earned from completing jobs
Couture Connoisseur
Jobs Available: Tue-Sat from 9AM-7PM
Earns: $1310 stipend per week + money earned from completing jobs
Unlocks: Job Pay Increases
Fashionista
Jobs Available: Tue-Sat from 9AM-7PM
Earns: $1352 stipend per week + money earned from completing jobs
Fashion Phenomenon
Jobs Available: Tue-Sat from 9AM-7PM
Earns: $2306 stipend per week + money earned from completing jobs
Unlocks: Permanent Stylin Moodlet +20