Guide to Everything New in The Sims 3: Pets Expansion Pack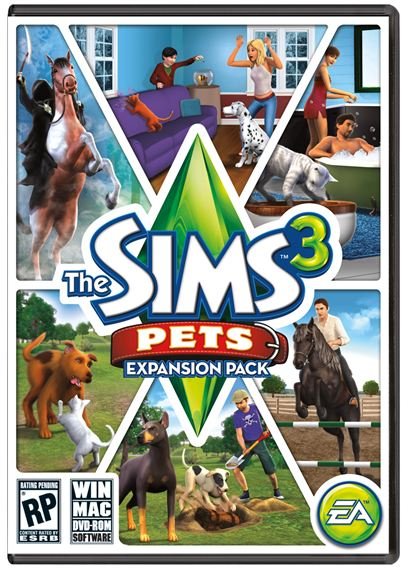 The Sims 3: Pets Expansion Pack
Want to have a pet in your Sims game? Maybe you want to play as a pet? You're in luck because The Sims 3 Pets: Expansion Pack allows you to do both of those things. If you've played other The Sims titles that had pets too, this will likely be one of your favorite expansions. It adds more to the game with pets than ever before. This expansion adds in three main types of pets that you not just add to your family, but also play as. These include cats, dogs, and horses. There are also more types of animals that you can add to your home including: birds, reptiles, snakes, rodents, and more! If you like pets, this is a must have expansion pack for your game. Use this guide to everything new in The Sims 3: Pets expansion pack as your guide, and see for yourself.
How to Adopt a Pet
When creating a family in the "Create-A-Sim" mode, you can add your pet in there. This is the best way to go about it (if you are starting with a new family) because you can customize your pets to look exactly like you want. You can only create a cat, dog, or horse in this mode. You can also find a pet to adopt from the newspaper, find a pet in the wild, get a pet from the pet store, stock a cage, or get one from a neighbor that had breeds pets, and adopt one from them. If you have the pet items on your property, you might even find that a stray animal finds you!
Birds
The Sims 3 birds are one of the easier pets for Sims to take care of. They don't require as much maintenance as cats, dogs or horses. They do need to be feed, have their cages cleaned, and given affection. If you don't provide these things, they will escape and leave! One of the best things about this type of pet is that they live a really long time!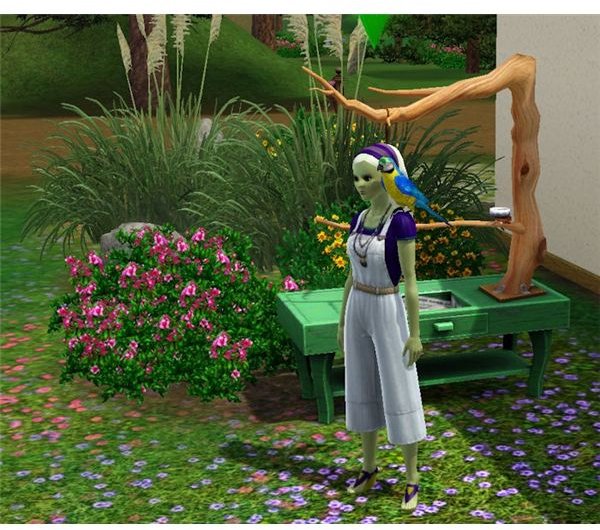 Simply buy a bird cage and place it in your Sim's home. From there, you can stock it with one of the birds available. However, if you want one of the rarer types of birds, you'll have to find it in the wild. Sims can teach their birds how to talk. They can learn certain types of words in each of these categories: angry, greetings, happy, love, scared, and songs. This is a fun trick to teach them, especially when you take your bird around town with you. Caution: If you have a cat in the same home as a bird, be careful! Cats love to eat birds and will hunt them down and attack when you aren't paying attention.
Cats
The Sims 3 cats are a playable pet. Once you adopt a cat, they will be added to your family and you can play as them. Before your cat arrives, be sure to have a bed for them to sleep in, a food dish, and a litter box. If your Sim has the extra cash, go ahead and splurge on some cat toys to keep them entertained. Cats need attention, so be sure that your Sim has time to give them affection and to take care of them. Your Sim will build a relationship with your pet, and you need it to stay in the positive. If you don't take care of your pet, the cat can be taken away by the social worker.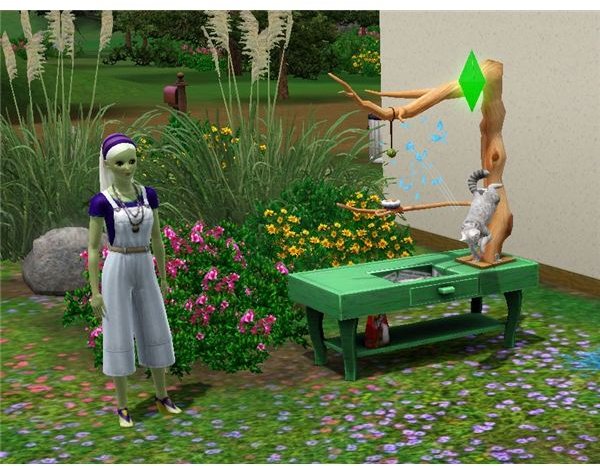 Cats can learn the hunting skill. To build this skill quickly, have your cat play with the toys that are in the "Pet Toy Crate." Cats can hunt bugs, birds, lizards, rodents, snakes, and even turtles. Once your cat has a high enough hunting skill, they can find these animals by having them "Locate Prey" or "Stalk for Prey." Cat owners can also instruct their pet to "Go Catch Something" or instruct them to catch a specific type of animal.
Dogs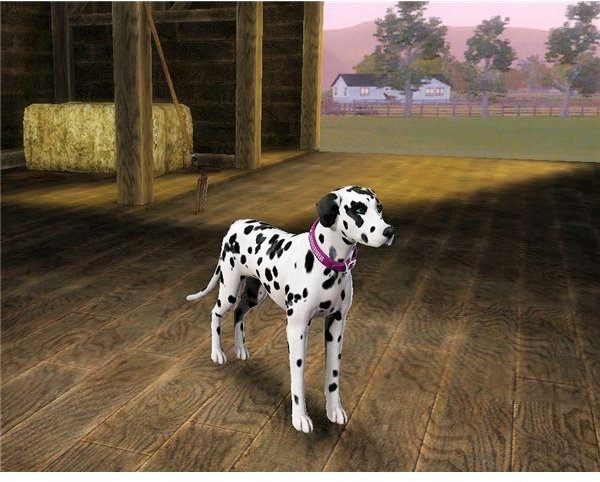 The Sims 3 dogs are a playable pet with the expansion pack. After you adopt a dog, be sure to have a bed for them and a food dish. If your Sim has the extra Simoleons, buy them some toys or upgraded sleeping areas. Dogs also need quite a bit of attention to stay happy. It is your Sim's job to take care of them and build up the relationship with them, so be sure that they have time to do it before taking on the responsibility of owning the dog. If you can't do it, the social worker will come to take away your pet. Dogs can also learn a hunting skill. Sims are able to teach their dogs how to hunt. It is a rather tiring process for dogs to learn, so make sure to not overdo it on the training sessions. Dogs that learn how to hunt, can "Dig Up" at the "Dig Spots" that are found throughout the neighborhood. Dogs can dig up everything from gemstones, rocks, metals, sculptures, and even skeletons.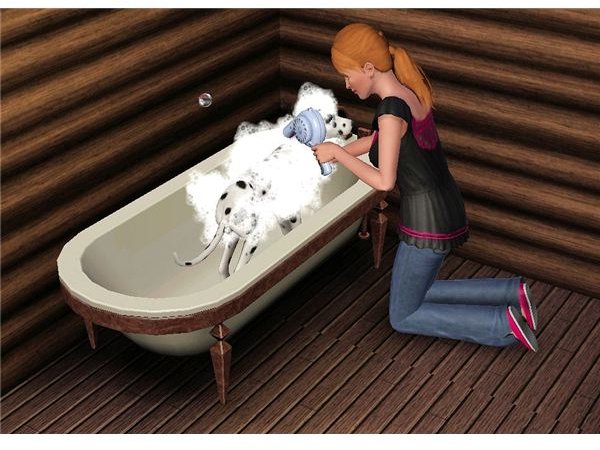 Sims that take their dogs with them to community lots can also use their pet to "Fetch a Date" for them. Caution: If your pet stays outside for too long, they might catch fleas. To get rid of them, you'll have to bathe them (possibly a few times). If your Sim gets too close, they can catch them too. For a Sim to get rid of fleas, they have to take a hot shower.
Horses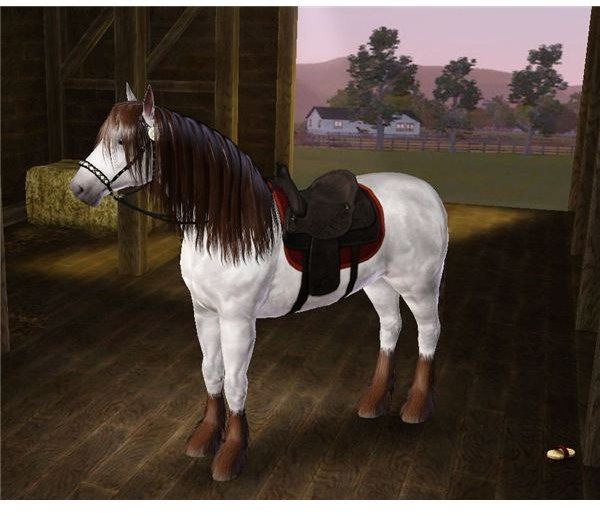 The Sims 3 horses are another playable pet that was added with the expansion pack. Sims that have a pet horse will require a larger residential space than other Sims. Their horse stable takes up space, as does their exercise equipment and area. Horses require a stall, hay, and a water trough. Horses also need plenty of care and affection to build up a positive relationship with their owner. Be sure to provide this or the social worker will come and take away this pet, too. Horses can learn the jumping skill and the racing skill. This is a really fun thing for them to learn, because they actually enjoy exercising and learning how to do these skills. The skills also help them to do better when performing in competitions at the Equestrian Center. Sims can ride their horses, and will learn the riding skill when doing it. They can also learn this skill by attending a riding class or by reading books about riding.
Minor Pets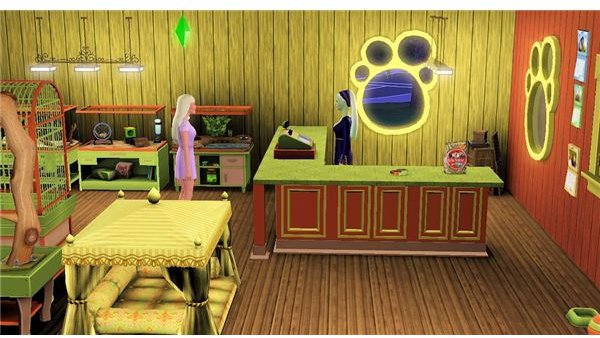 Aside from the main types of pets, there are also some additional pets that you can have in the game. These include: fish, ant farm, lizards, rodents, snakes, and turtles. These are called "minor pets" and the common ones can be purchased. However, the rarer ones you'll have to find in the wild. If you have the "Collection Helper" you can now use it to locate these animals. These pets do require attention and clean tanks. If at any time you don't want them anymore, you can set them free in their natural habitat. Note that these are different from the smaller types of The Sims 3 pets that you can collect, such as the insects, butterflies, and fish.
New Items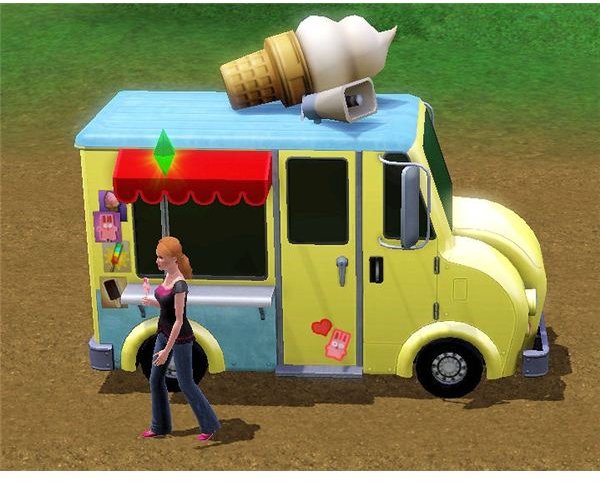 The new items for the pets can be found in the "Buy Mode" under the "Pet Essentials" section. From there, you can search by pet type or view all at once. Everything you need for your pets can be purchased this way, or you could go to the pet store and buy them from there. Before you buy or find a pet, it is best to have your home ready for your new pet, so be sure to purchase everything required for your pet before you bring it home. You'll also notice other new things around the neighborhood, such as The Sims 3 ice cream truck. You can't buy this item to drive around in, but you can buy frozen treats from it. Plus, if you're a dog – you can chase after it!
New Clothes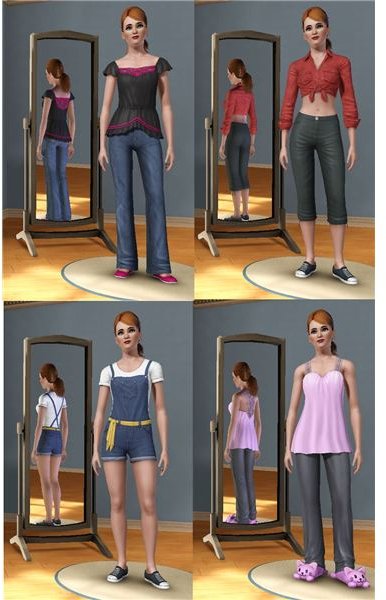 As with all of the expansion and stuff packs, new clothing options were also added. I was quite surprised to see how many new clothes were added in with the expansion. The clothes are rather pet-lover friendly, but they are rather cute and very wearable for your Sims. There are also some of The Sims 3 sexy clothes available too, so if your Sim has it – flaunt it!
New Lots
This expansion pack added in four new community lots for the pets to use. After you install the new expansion, when you load the game you will have the option to place these new lots. If you have empty lots available to place these new pet lots, you can add them right into your game. If you don't have available lots, you'll have to remove some that you have in your town, and zone it for the type of building it is to place it later. Dog Park This new lot is called "Faux Paw Dog Park." This is the place for dogs to go, or for Sims to bring their dogs to hang out and play. Cat Jungle This new lot is called "Litter Acres Cat Jungle." Cats can go here to hang out and play with other felines. Equestrian Center This new lot is called "Petite Pony Equestrian Center." This is where you can go to buy a horse, sell your horse, breed your horse, and enter an equestrian competition. Horse Ranch This new lot is called "Pump It Up Pony Training Grounds." This is where you can go to let your horses run around and learn how to jump and do tricks. If you have a smaller lot, this is great because you can just bring them here to do those things instead of having to buy them and place them on your lot.
Overall…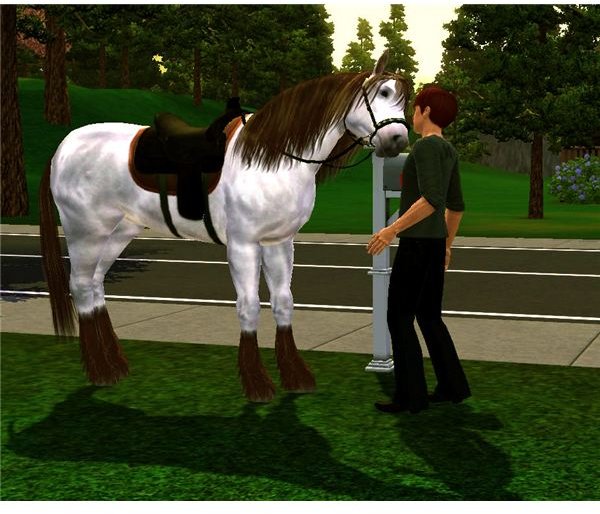 This Pets expansion pack is much better than any of the similar expansion packs that were added with other Sims titles featuring animals. There is a substantial amount of new content that was added, and really changed how you can play the game. I'm a pet lover, so having the ability to have a pet in the game besides fish or butterflies is a huge bonus for me. I love everything that was added, and I am really enjoying playing it. I hope that this guide to everything new in The Sims 3: Pets expansion pack helped you to decide if this addition to the game is worth it for your playing style. If you have it too, which pet is your favorite? Are there any specific things that you really liked with this expansion? Share your thoughts in the comment section.
References
All screenshots and references from The Sims 3.