The Top 5 Best Android Tower Defense Games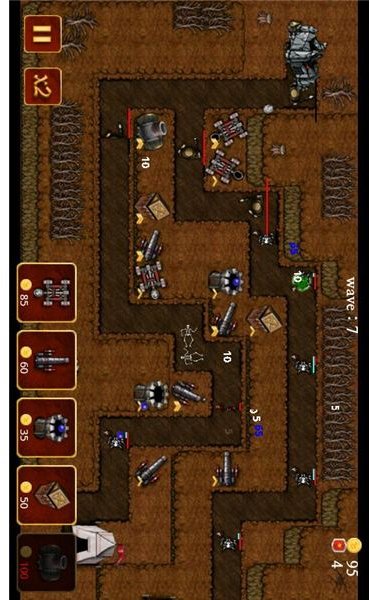 Tower defense games have earned admiration and respect from the gaming crowd because of their immersive and quick gameplay. The main objective is building turrets and zapping down waves of enemies before they reach your castle or base. You also have the option to upgrade towers as the waves of creeps get stronger and more immune to your turrets.
The first Tower Defense (TD) games were released for the PC in the early 1990s and today there are plenty of free online tower defense games, each having a distinct plot and some variations in gameplay. Apple iPhone and Google Android game developers have developed splendid tower defense games for both platforms. Here at Bright Hub we take a look at some of the best Android tower defense games that include a few twists in gameplay and boast good maps.
5. Medieval Castle Defense
Medieval Castle Defense is one of the top-rated tower defense games for the Android platform. It throws in a medieval flavor and allows gamers to defend their castle from waves of enemies of various abilities. There are multiple tower types, including catapult, multi shot tower, net tower and many more. You will also find some ultra-modern and unique additions to the arsenal of assault towers, such as the teleport tower and ballista.
Medieval Castle Defense follows a set-path maze where enemies run through a maze and you have to place the towers alongside the path to kill them. The initial missions start with two towers and as you progress further, you can upgrade to new towers and increase your firepower. The enemy infantry won't be that easy to beat and will consist of shamans, rams and healers with special powers to heal the basic infantry. The game also has a solid grading system that ranks you based on how well you cleared the level. There's also an achievement system that makes the game more challenging – you can collect all hidden achievements by fulfilling tasks.
4. Armored Defense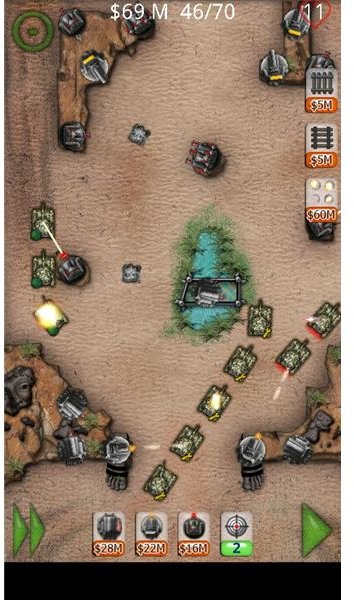 With big maps consisting of different terrain types and excellent features, this military tower defense game provides plenty of challenging missions and hours of tank-smashing fun. The best part of Armored Defense is the extremely detailed, large maps that provide opportunities to strategically position turrets and eliminate waves of invading tanks before they reach their destination. You can zoom-in and out to get a closer or bird's eye view of the devastation caused by your turrets. Each tank has special weapons and equipment, such as stealth and anti-missile, to attack incoming waves of invading armored vehicles. You can also use special equipment and traps such as rail tracks, minefields and bombers and put a well-planned attack together to eliminate hoards of enemy tanks.
Armored Defense has a tutorial mode to explain basic gameplay and test your strategy with towers. The game has good graphics and sound effects, and is one of the most addictive Android tower defense games.
3. Robo Defense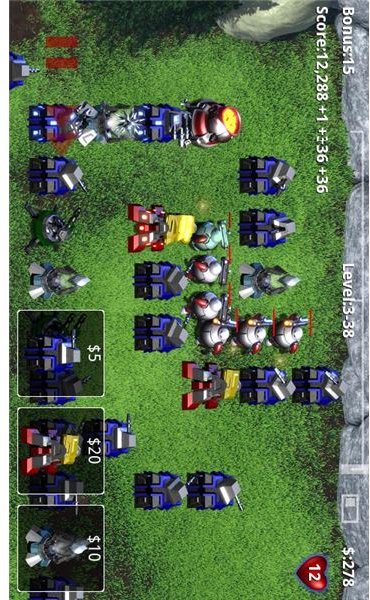 Robo Defense keeps the tower defense formula intact and has a familiar premise. However, it does not have a set maze, and you will have to create your own maze of turrets and missile towers to eliminate invaders before they reach their target. You will have enough upgrades to increase your firepower, including flame, slowdown lasers and homing missiles. The points earned after eliminating waves of enemies can be used to upgrade mech turrets between games. You can also earn achievements for unique strategy like saving cash and other tactics. As one of the best Android tower defense games, Robo Defense is a highly addictive and satisfying strategy game.
2. Grave Defense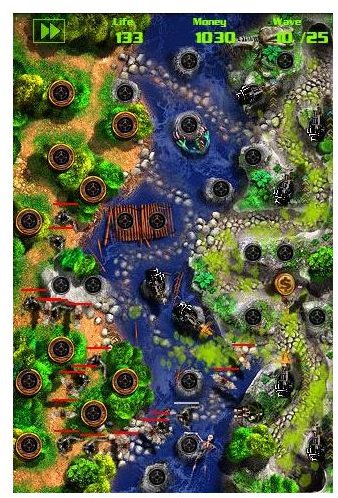 A tower defense game with a post apocalyptic setting, Grave Defense allows players to set up ultra-modern turrets to defend humans against the undead. There are plenty of maps, zombies and upgradable weapons. With a set-path maze, Grave Defense lets you place robo towers and eliminate any invading zombies using projectiles and laser beams. The unique aspect of the game is that some of the mutated zombies have special abilities that can slow down, or destroy towers. On the other hand players can earn bonuses on successful kills and use them to upgrade or repair damaged towers.
Grave Defense is available in two versions, Silver and Gold (paid). The Gold version has more levels, tower types and different types of mutated zombies. If you like tower defense games with a unique backdrop, then you should buy Grave Defense.
1. Guns 'n' Glory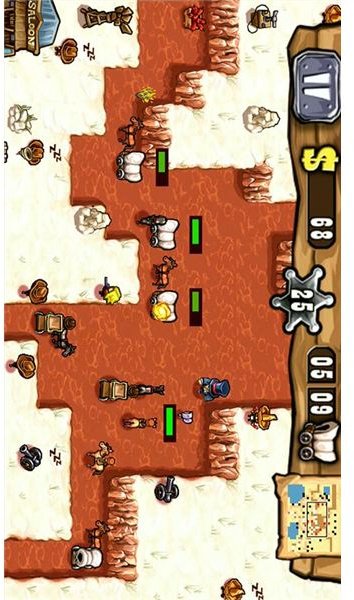 While most Android tower defense games follow a similar pattern, games like Guns 'n' Glory steer away from the usual stuff and generate quite a buzz with their distinct gameplay. The game marries off the TD formula with RTS and boasts a Wild West setting with cowboys and coaches instead of towers and castles.
The game's rather unusual premise puts you into the shoes of a Mexican band of bandits that will rob waves of coaches, wagons, trains and settlers for you and rake in cash. Yes, instead of protecting castles and caves from invading zombies, aliens and medieval knights, you will be the invader and destroy any coaches that come your way. You control 5 different units armed with Gatling guns, flaming arrows and an arsenal of dynamite and weapons to rob and plunder trains and wagons. You have cowboys and bow and arrow-armed natives to do the job and these units will be lazing off somewhere on the map. You will have to tap on them, pay some gold and hire them to wreck havoc on any incoming coaches or settlers. The unusual concept and refreshing gameplay together makes Guns 'n' Glory one of the most satisfying Android strategy games.
References