iPhone Word Game Review: WordsWorth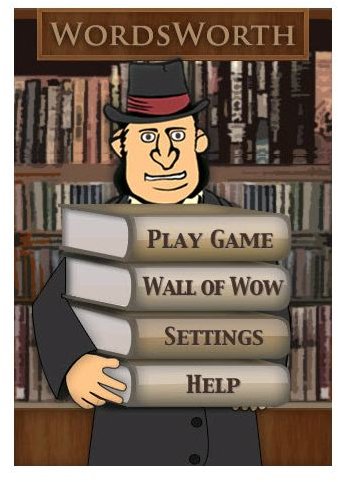 Bookworm fans will recognize similarities in WordsWorth, but they have a few differences. Instead of a cute bookworm, WordsWorth has a surly looking guy with a top hat.
Instead of squares as in Bookworm, the grid contains hexagon shapes like a beehive. The goal is to make words from adjacent letters. The nice big letters makes it easy to slide your finger across the screen in creating your word. Bookworm can be a little tricky in letter selection, while WordsWorth handles this better. You also have the option of tapping each letter and tap the checkmark button to submit them.
The game comes with Timed and Untimed modes. However, Untimed mode has a small timer that appears on occasion. A red letter drops down with a clock requiring you to scramble to make a word with that letter before the time runs out and ends the game. This takes away the relaxation factor, but on the other hand – it adds a challenge. This feature is both good and bad. The purpose of untimed mode is to provide a stress-free experience.
Timed mode puts set time on the clock. You have that long to earn as many points as you can to fill up the meter. You get more time on the clock and it starts after once you fill up the meter. The time counts down when it reaches below 10 seconds and makes you scrambles. If the meter isn't full when time runs out, the game ends. At the end of the level, you get a promotion and new title such as Wordthrift and Wordkeeper. The game froze during timed mode when time ran out. To fix it, turn off the iPod.
Starting to see too many of the same awful letters such as "I" or "V"? Shake your iPhone for a new set of letters. Of course, there's a catch. You'll get a timed tile, but at least it's only one tile whereas Bookworm pops in a handful of fiery tiles (bad thing) that leave players scrambling to get rid of them.
Bonus tiles appear on occasion to give you more points, shake up the grid for newsletters with no timed tile penalty and blank letter to be any letter you want. Bookworm doesn't have the latter feature. The blank letter gives you the opportunity to learn new words, create longer words or remember words for future use. WordsWorth also posts a special word for another bonus, which also appears in Bookworm. However, WordsWorth's special word can be longer than Bookworm's three lettered-words.
WordsWorth works well on the iPhone's touch screen. With its blank tile creating opportunities, word lovers will enjoy passing time with the game. You can try the game before you buy as WordsWorth Lite is free and has only three levels as opposed to the full version's 30. WordsWorth sells for $1.99 in the iTunes App Store.
Screenshots from WordsWorth for iPhone by 99Games