Buddies Bowling Game – Free Play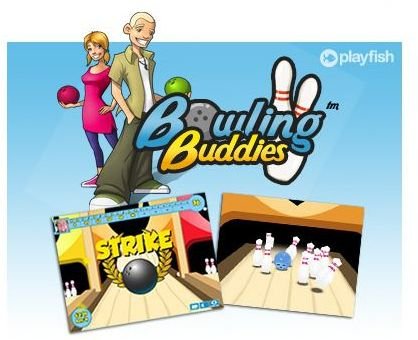 Bowling has long been the sport of the everyman, available to all but those with the most severe of physical ailments, it's a sport that can be enjoyed by young and old alike. It was the bowling game in Wii Sports that was responsible for much of the system's early popularity, and the Wii Motion Plus-enabled version in Wii Sports Resort was no less popular.
The usual problem with bowling, even the type that is performed on a gaming console, is that you usually need to do it in a very specific location or use some very specific equipment. It would be impossible to say, play Wii Sports bowling to keep yourself from nodding off during yet another boring biology lecture.
Many people, however, have discovered the joys of surreptitiously browsing Facebook during mind-numbing meetings or inane classes. Now, thanks to Bowling Buddies by Playfish, the joys of bowling have finally been combined with all of the advantages of Facebook, allowing you to bowl strikes pretty much anywhere you have access to a computer. Read all about Buddies Bowling Game – Free Play.
Gameplay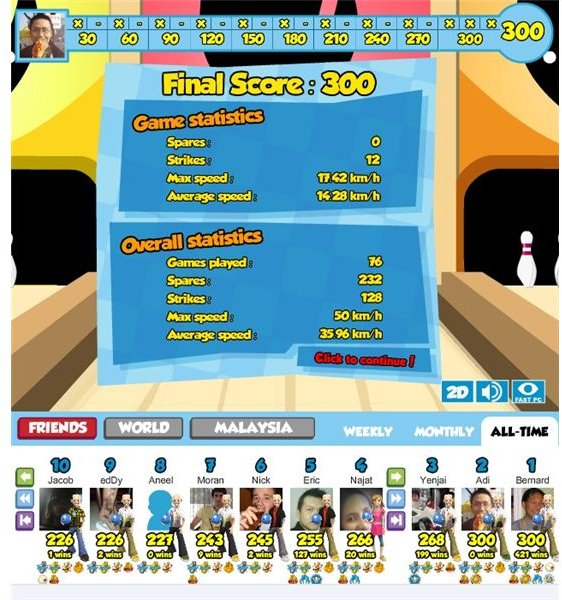 The basic premise of Bowling Buddies is a simple one, a browser-based bowling game that is accessible through Facebook. You use your mouse to send a ball flying down a lane toward a set of ten pins, applying spin to the ball by moving to the left or right following your release. The speed of the ball is determined by the speed of your throwing motion.
The game keeps track of your high scores, and ranks you on a ladder against your Facebook friends who play following each session. As you play, you can also earn "Bowling Bucks" which can be used to unlock new avatar customization items. The "Bucks" accumulate slowly though, so those dead set on a customized avatar might wish to consider buying some for real money (2500 Bowling Bucks for $5).
This being 2010, no game would be complete without a set of achievements to unlock. These achievements are awarded for completing various tasks (reaching a score of 100, 200, or 300, for example), and come with bonus Bowling Bucks.
One thing that sets Bowling Buddies apart from many of its Facebook competitors is the skill element. Many other games require strategy, for sure, but Bowling Buddies actually requires you to develop a bit of skill in order to consistently achieve high scores.
Graphics
This being a Facebook game, gamers should not expect Xbox 360 quality graphics. Still, the game looks very good for a browser-based game, even featuring some rudimentary 3D effects. The graphics can be adjusted depending on the speed of your computer, but look pretty similar on either setting.
There are many options for avatar customization (shirts, shoes, bowling balls, etc…), but there are only five base avatars per sex to choose from, with no options to customize facial or body features. Additional avatars must be unlocked with Bowling Bucks, so unless you pony up some real-world cash, you're going to be stuck with "Blonde Guy" or "Blonde Girl" for awhile.
Social Aspects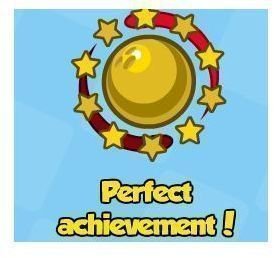 Facebook is all about socialization, and the best games designed for it tend to embrace this concept whole-heartedly. Bowling Buddies is no exception.
Players are constantly reminded of their position amongst their peers. Your friends leaderboard appears at the bottom of the game the entire time, and you're given a recap of your standing following every game. You can see your friends avatars and achievements, as well.
It's a great feeling to finally pull ahead of that friend you've been chasing on the leaderboard, and I imagine that some will quickly develop heated rivalries with their Bowling Buddies.
Challenges are another great way the game encourages you to play with friends. You send a challenge to a buddy, play a single game, then wait for them to do the same. Afterward, the one who scored the highest is declared the winner. The game keeps track of your challenges won and displays the number below your avatar.
Ads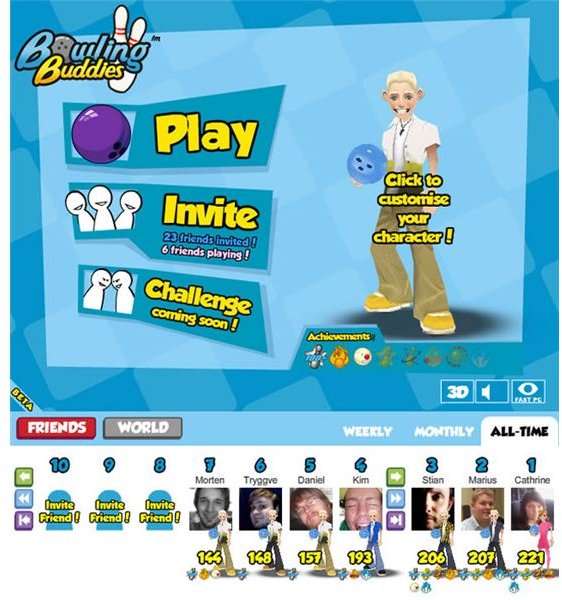 Of course, this being a free to play game, gamers can expect to deal with some form of advertisement. In Bowling Buddies, commercials play after every completed game.
You can skip them after the first ten seconds or so, but it does get pretty annoying having to watch the same "Project Runway" promo over and over as you practice.
The game sounds can be muted, but it doesn't appear that the ads can be. This can lead to some unwelcome attention for those trying to play without being noticed. Muting your computer is definitely recommended.
The Bottom Line (4 out of 5)
With a simple game like this, the only thing that really matters is whether or not it is enjoyable. Sure, the controls can seem a little wonky at times and the ads are annoying, but the basic bowling gameplay is addicting and entertaining.
The next time I find myself fighting sleep in class, I imagine the prospect of throwing down a few Bowling Buddies frames will seem pretty appealing to me.
This post is part of the series: Guide to Bowling Buddies for Facebook
Our complete guide to the hit Facebook game Bowling Buddies covers the game from top to bottom including hints, tips, cheats, and our full review of the game. All the Bowling Buddies information you're looking for is but a click away.