Diner Dash Wiiware Wii Review: Gameplay, Aesthetics & Overall Impressions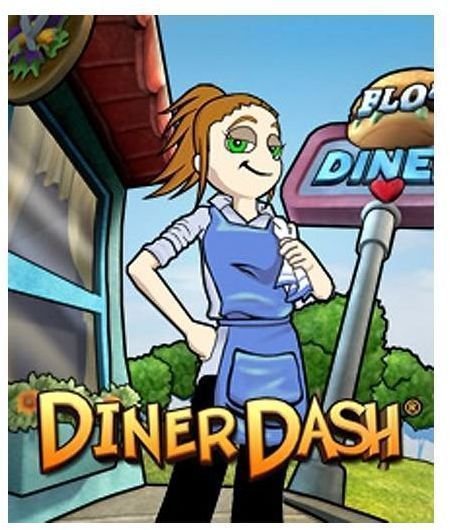 Wiiware Wii Review
Diner Dash has seen various incarnations, on many separate platforms, however the recently released Diner Dash Wiiware version is up on the slate in this Bright Hub review. A real time strategy based game, micro-management and constant shuffling between different actions is the mode of gameplay used in Diner Dash, this addictive archetype becoming the fulcrum on which the entire experience hinges.
Setting (1 out of 5)
As the name portends, Diner Dash (Wiiware version included) takes place in a diner. With main character Flo upping sticks from stockbroking and deciding to trade in her life for the thrills and constant "dashing" of running a restaurant. Throughout the career mode, Flo will renovate the restaurant and eventually buy three new properties, in order to create a change of setting and aesthetics to the game.
Gameplay (3 out of 5)
When you play Diner Dash, the first thing noticeable is its micro-management based action strategy mechanics. You're given a time limit to cater to customers before they become bored, tired of waiting or infuriated by their service, this is denoted by a heart which gradually lessens over idle time spent in the diner.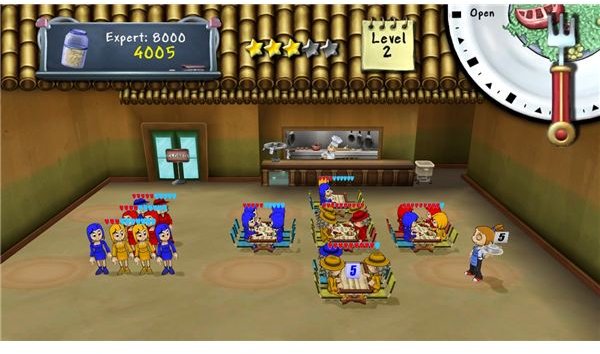 To appease the customers, Flo must seat them, give them menus, take the order and place it at the chef's pass. Once there, the chef will invariably do his own magic, while Flo takes a breather and digresses between getting another order and setting one down at the pass. After the food is cooked, Flo will pick up the food and deliver it to the waiting consumers. When the customers feel happy with the meal and finish up, Flo will have to collect the dishes before a new set of customers may sit on the now empty table.
Doing this will give you points and a monetary gain as you progress through the level. It's not really pertinent to constantly search for money and rewards in Diner Dash, however it serves as a gateway towards advancing through both the career mode and survival modes that Diner Dash has to offer. Online co-operative doesn't offer much either and the lack of players with the game is a sign of its less than stellar appeal.
Aesthetics (1 out of 5)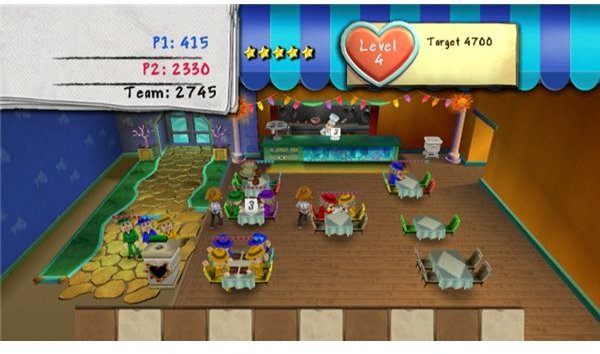 Diner Dash (Wiiware version) comes with a neat and cartoon-inspired graphical look. Although it often becomes blurry and lacks the quality expected of a console port. In comparison to handheld ports; it fails to upscale the textures and it looks quite bad on a decently sized TV screen or monitor. The HUD is clean, although the actual action is too acutely spread across the screen and begins to hurt the eyes of avid players, given enough time at least.
Overall Rating For Diner Dash Wiiware Release (2 out of 5)
When you play Diner Dash, it becomes clear what its attributes are, the game is addictive and can easily draw you in with its frenetic pace and micro-management. However, its fair to middling controls and pretty terrible graphical presentation make Diner Dash, Wiiware version especially, nothing more than a throwaway title with little to no lasting enjoyment. If you do take the plunge on Diner Dash, the Wii version is definitely not the one to purchase, with a steep price tag and poor porting job the main reasons.