About Diner Dash Hometown Hero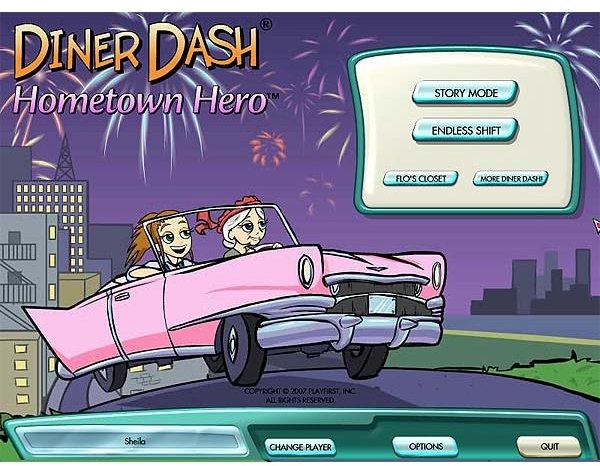 In this Diner Dash style time management game, Flo's hometown is falling apart and running out money. Flo and Grandma make it their mission to fix up five of the most run down locations in their home town. To do so, they will need to raise a lot of money by making and serving food to customers.
How to Play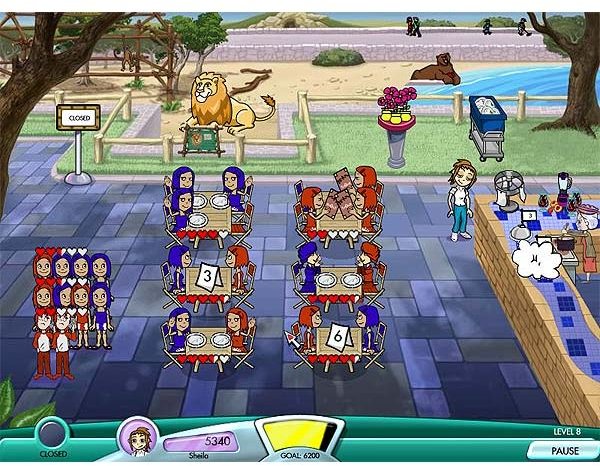 Game play in Diner Dash Hometown Hero is basically the same as other titles in the series. Customers wait in line at the diner. Click and drag them to an available table to be seated. Wait for them to choose what they would like to eat. Take the order tickets to the counter. When the food is prepared, pick up the trays and take them to the customers. After they finish eating, collect the money and remove the dirty dishes to make room for new customers.
Each level has a particular monetary goal that must be achieved in order to move on in the game. The amount needed to earn an expert score is also displayed.
After finishing a level a scoreboard report displays. It will tell you how many tables you served and lost as well as how much money you earned. In between most levels, a selection of three upgrades will be available. They will be items for enhancing the décor of the diner; improving Flo's walking speed, new menu choices and increasing the efficiency of food appliances.
Game Hints and Strategy Tips
Small tables can be dragged together to form a larger one that can hold bigger groups of customers.
Teen girl and boy customers are loud with their cell phones. Try to keep them away from other type of customers (except other teens).
As levels are completed, there are new outfits available for Flo to wear. Visit Flo's Closet through the options menu of the game.
Placing flowers on tables and giving drinks to customers will boost their mood and earn bonus points. The podium is also a good tool you can use to boost customer mood.
Customers who make reservations will only sit at tables marked with a "reserved" card. Try to avoid seating any customers who don't have reservations at these types of tables.
Chain Flo's actions to earn more money and points. Flo can carry two items at once. For instance, pick up two food orders, clear two plates, or collect money from two customers. When chaining, be careful to avoid chain breaking actions. These include bringing drinks, snacks, desserts and taking pictures.
Seating teen girls next to teen boys earns a flirting bonus and keeps them from chatting on their cell phones.
During the waiter competition rounds, focus on taking and delivering orders. Your rival will tend to focus on bringing drinks. Secondary actions should be clearing the tables and seating new customers.
Color matching customers to tables earns bonus points. After every successful color match, the bonus increases by a multiple of one (1X, 2X, 3X etc.).
Lovebird customers will only sit at a two seat table.
Bring a high chair for babies to keep them from crying.
In the Diner Dash Hometown Hero game, every customer that leaves the diner will cause you to lose points.
Try to seat Celebrity customers in a central location so you can get the most out of the "star struck" bonus.
Snacks and desserts will be requested by happy customers. Delivering them will earn bonus points.
Seat customers according to their level of patience. Handle the most impatient types first since they are more likely to leave if not taken care of right away.
Resources
Image credit: Diner Dash Hometown Hero screenshots taken by Sheila Robinson.